Matcha, a powdered green tea is known to contain a high level of antioxidants. I have always been a lover of matcha tea and that probably explains my avid interest in incorporating it into some of my recipes. It works exceptionally well with desserts especially cakes.
It all started when a friend of mine brought over some tiramisu a couple of years ago. It tastes simply amazing and I was over the moon! That was probably the best tiramisu I had ever tasted. My special thanks to him for being so kind and generous to share the recipe with me. Since then, it is my preferred choice each time I need to impress at gatherings.
After a while, I started to replace coffee (normally used in the classic tiramisu recipe) with matcha powder. There was no going back since then because it tastes just great. I especially enjoy serving it to friends who had never heard of matcha before. It is always so pleasant to see the surprised look on their faces, not to mention their heaps of praises once they sink their teeth into the cake.
Type of matcha powder
I normally use cooking-grade matcha powder which is usually cheaper than ceremonial and premium grade matcha. Cooking matcha is said to be more bitter but it creates a delicious balance when paired with the sweet Mascarpone cheese layers. In fact, the bitterness of the matcha powder is not noticeable.
Just remember to sprinkle matcha powder on the top of the tiramisu shortly before serving, if you like a thin powdery layer. Matcha powder soaks up the liquid from the cream rather quickly and changes into a darker shade of green.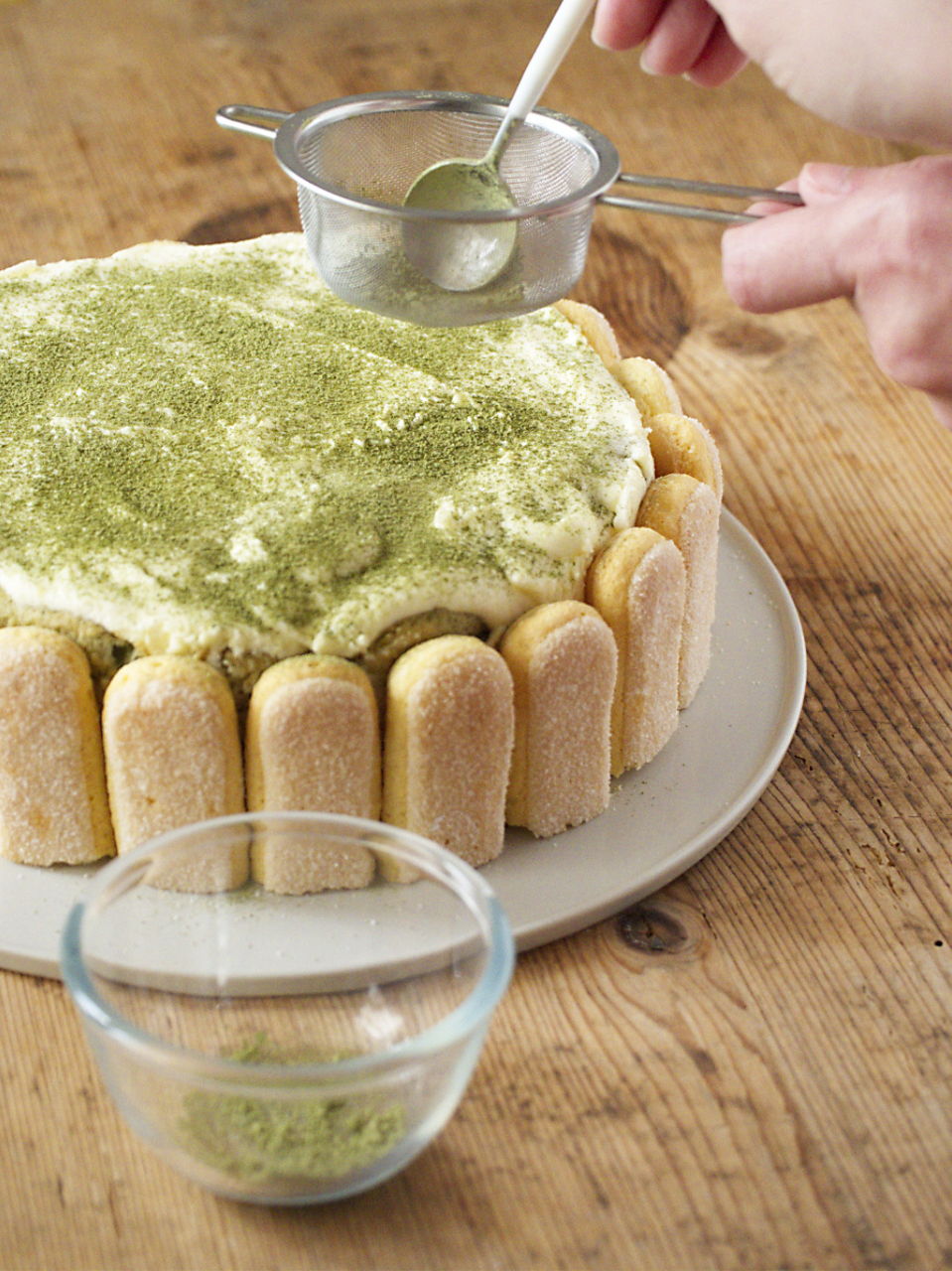 Substitute for coconut liquor
In Italy, many enjoy adding alcohol such as Amaretto, brandy or dark rum into tiramisu. I found that pairing it with coconut liquor is perfect as it compliments the matcha by giving it a sweet nutty flavour. If you don't have coconut liquor, substitute it with any of the mentioned alcohol or simply omit it from the recipe.
Vanilla sugar
There were many questions about vanilla sugar. It is simply granulated sugar which has been infused with vanilla beans for its aroma. If vanilla sugar is unavailable in your local baking store or supermarket, substitute it with a few drops of vanilla aroma or one whole vanilla bean.
Texture of Mascarpone cheese
Mascarpone cheese has a very thick consistency as seen in the photo below.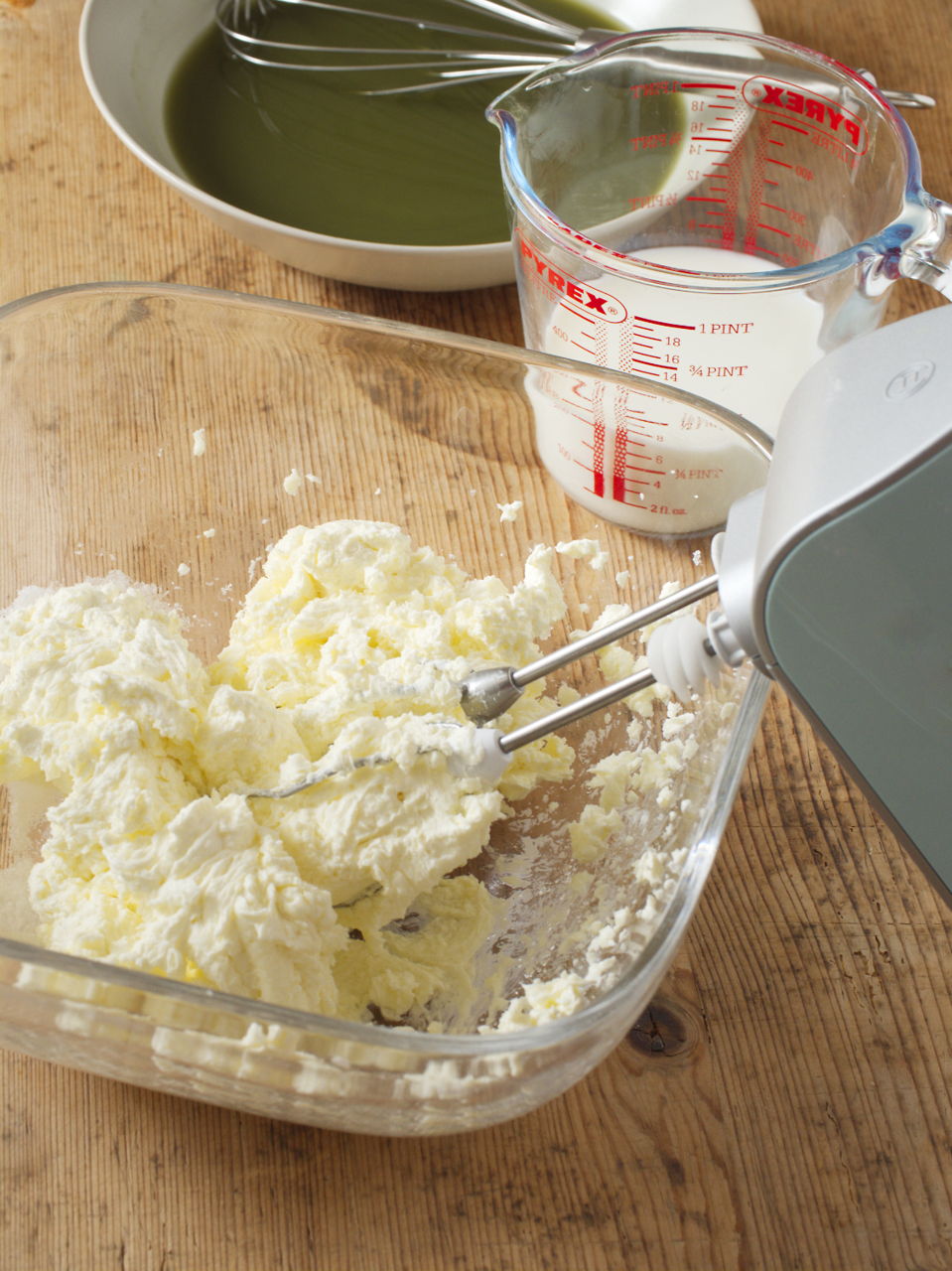 After adding milk and alcohol, it has a very fluid texture and you are supposed to beat the ingredients until they come together creating a stiff Mascarpone cheese mixture.
If you do not have an electronic mixer, it might take a little longer to beat the Mascarpone cheese manually. Just ensure that it is well mixed, stiff and has a thick texture to enable it to hold the cake together. At the same time, avoid over mixing as it may then curdle or split. Trust me, after all the effort, you will smile while enjoying the cake
The arrangement of ladyfinger biscuits
I love arranging them very closely to each other, simply because I enjoy eating a whole layer of biscuits. You may arrange them slightly apart to allow the Mascarpone cheese to sit between the biscuits if you prefer a less dense tiramisu with more cheese.
Wait for 4 hours
Tiramisu may be the easiest no-bake cake to attempt. The only drawback is the waiting time. We recommend to wait for at least 4 hours before enjoying the cake. This allows the Mascarpone cheese to take its form spreading between the biscuits evenly and for the flavours to develop further. The matcha tiramisu cake tastes even better the next day. That being said, you can of course enjoy the cake immediately after assembling it.