This variation of corn custard pudding is a must-make recipe. It doesn't require any baking, eggs or dairy products. In fact, this is a vegan dessert! Whenever my mom makes them, my family and I would always try to steal a piece before it's dessert time. The creamy custard texture is so smooth that it melts in the mouth. The best part is every bite is filled with soft corn kernels. really a dream come true for corn lovers.
Can I use fresh corns?
Fresh corns do not have the same creaminess found in canned creamed corn.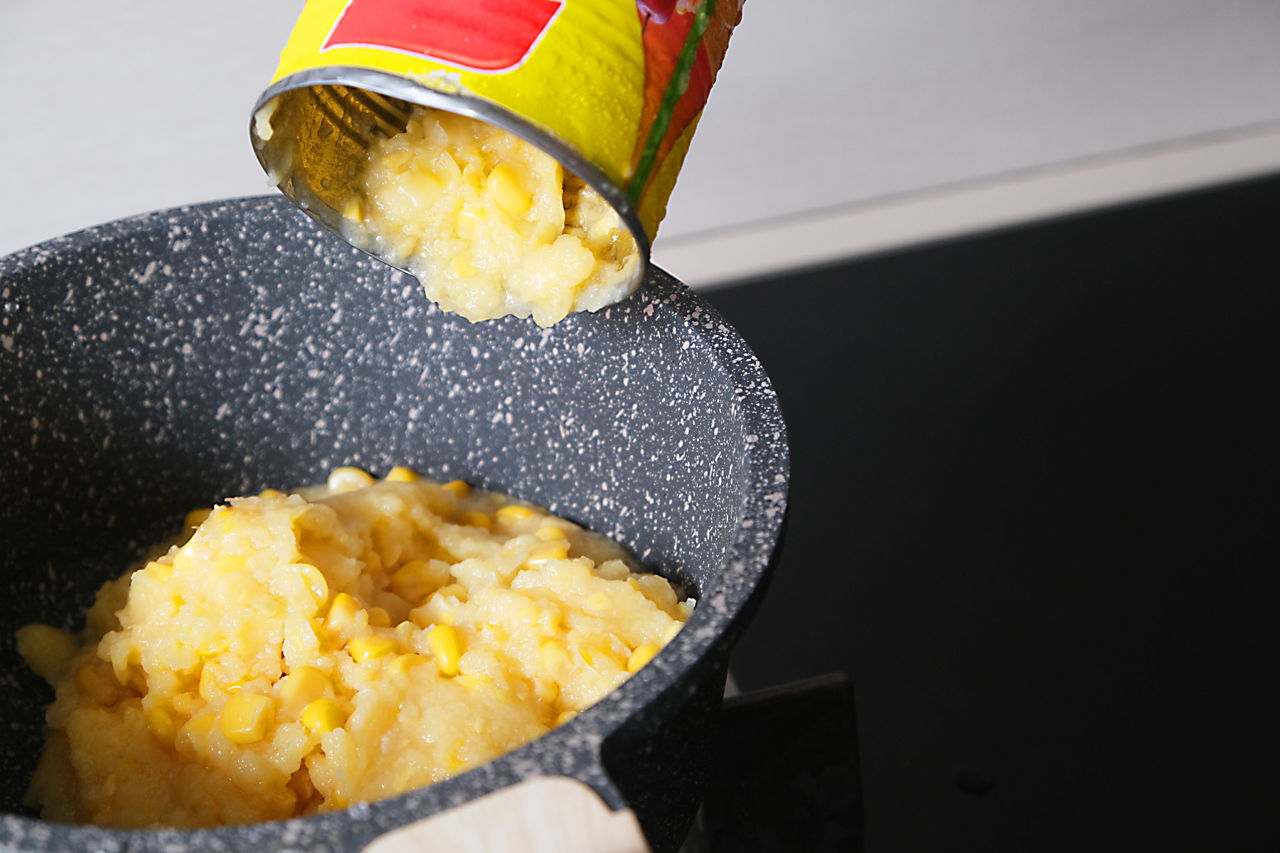 To recreate the creaminess, roughly blend the fresh corns kernels. This will release some milky liquid from the corn. Avoid blending the kernels until smooth. Heat up the blended corn kernels and thicken with some cornstarch slurry. Add salt and sugar to taste.
Substitute for coconut milk
Just like many other desserts in Malaysia and Singapore, coconut milk is often used instead of dairy milk. Coconut milk makes the pudding rich, fragrant and really yummy. However, if you don't prefer coconut milk, substitute it with soy milk or any type of milk of your choice.
Custard powder vs custard flour
There is no difference between these ingredients. They are both referring to the same ingredient and are often used interchangeably.
Is this corn custard pudding really vegan?
Yes! Most custard powder sold out there are vegan. They are usually made of corn starch, flavouring and colouring. If you're a strict vegan, always check the ingredients to see if milk powder or eggs are a part of the ingredients.
As for creamed corn, they too do not contain any dairy product.
Substitute for custard powder
Since custard powder's main ingredient is corn starch, you can use it instead. Just add a few drops of vanilla extract for flavouring. However, the final result may not have the same shade of yellow as when using corn flour.
Avoid watery pudding
Use the recommended amount of water to dilute the custard powder. It's not a big problem if you've used more water. Simply take a longer time to cook the mixture at step 3. The mixture should not be runny and must thicken before pouring it into a mould. Otherwise, the pudding will be watery and will not set.
How long can this dessert be kept?
The pudding must be refrigerated before serving. This is important to ensure that it is solid and will not fall apart after cutting. Once it is settled, it can be kept in the refrigerator for 3 days. Always cover the pudding with a layer of cling wrap to prevent it from drying or absorbing the smell of other food kept in the fridge. Otherwise, keep them in an airtight container.
How to serve the pudding?
Enjoy the chilled corn pudding as it is. It's usually eaten on its own. However, if you aren't on a diet, add a scoop of vanilla or coconut ice cream. They taste really good together.