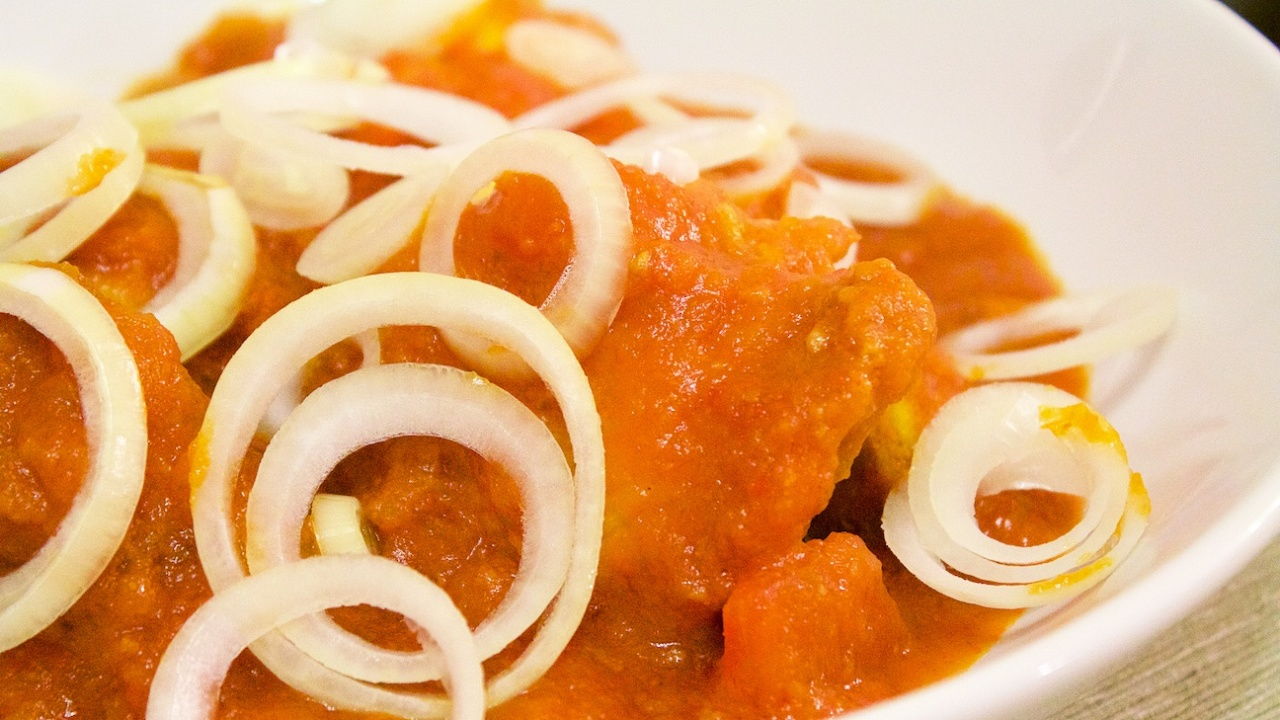 Ayam Masak Merah
'Ayam masak merah' is a delicious turmeric fried chicken dish which is simmered in a mildly spiced tomato gravy until it thickens. It is a very flavourful and appetizing dish that will definitely tantalize your taste buds.
Total Time
Preparation 30 mins
Cooking 30 mins
Alternate Names
Spicy tomato chicken
---
Ingredients
550

g

chicken meat

1

tbsp

turmeric powder

1⁄2

tsp

salt

250

ml

oil

1

yellow onion(s)

3

cm

ginger

2

garlic clove(s)

6

chilli peppers (dried)

2

tbsp

oil

3

tbsp

tomato sauce

1

tomato(es)

3

tbsp

ketchup

250

ml

water
---
Nutrition per Serving
Calories
1697 kcal
Carbs
53 g
Fat
139 g
Protein
66 g
---
Community Food Snaps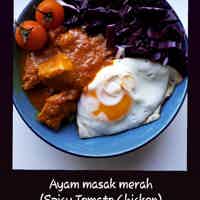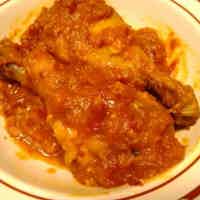 ---
Background
Ayam masak merah is literally chicken cooked in red sauce. The red sauce here comes from tomatoes and is mildly spiced with aromatics such as ginger, garlic and dried chillies. The chicken pieces in must be marinated with turmeric powder and deep fried before braising them in the spiced tomato gravy. As the gravy thickens, it develops more flavours along with the fried turmeric chicken.
Fresh turmeric vs turmeric powder
While turmeric powder is used in this dish, you can opt for fresh turmeric. Use at least 2 tablespoons of fresh turmeric. Pound the turmeric with the skin removed until it becomes a paste. Optionally, add 0.5 tablespoon of water to it and mix the chicken pieces with the turmeric paste and salt.
Tomato puree instead of fresh tomatoes
Tomatoes are added to the dish for the colour and also to add sweetness to the gravy. In summer, tomatoes can get exceptionally sweet while winter offers tomatoes which are milder in taste. Instead of using fresh tomatoes, substitute with half a can of tomato puree for this recipe.
Non-spicy ayam masak merah
Ayam masak merah is only mildly spiced. If you do not want it to be spicy, just omit the dried chillies from the recipe. Otherwise, simply follow the tips in handling dried chillies to reduce the spiciness.
I adore the slight hint of spiciness in the dish. Normally, chicken meat is mixed with plain flour before they are fried. In this recipe, turmeric is added to the flour. The addition of turmeric enhances the flavour of the fried chicken meat, thus they can be eaten just as they are. However, if you love flooding your plate of rice with gravy, this is the perfect dish for you.
---
Steps to Prepare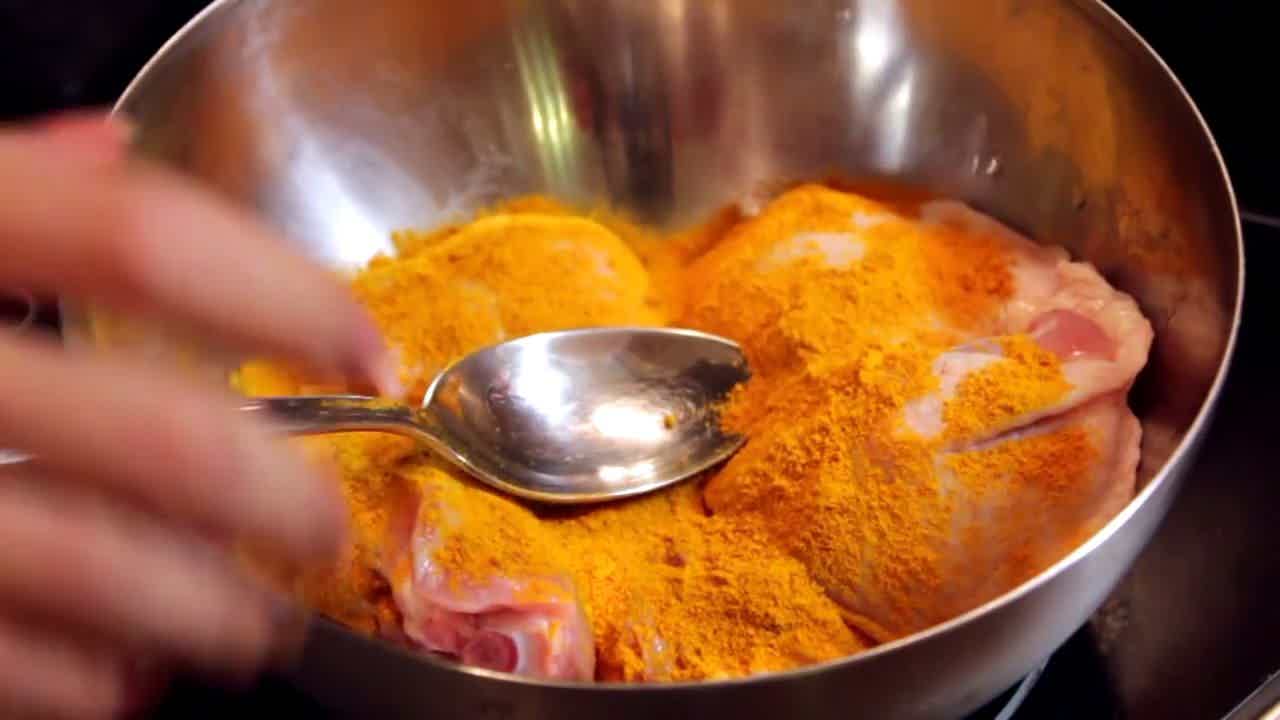 Step 1 of 4
550

g

chicken meat

1

tbsp

turmeric powder

1⁄2

tsp

salt
Marinate chicken meat with turmeric powder and salt for 15 minutes.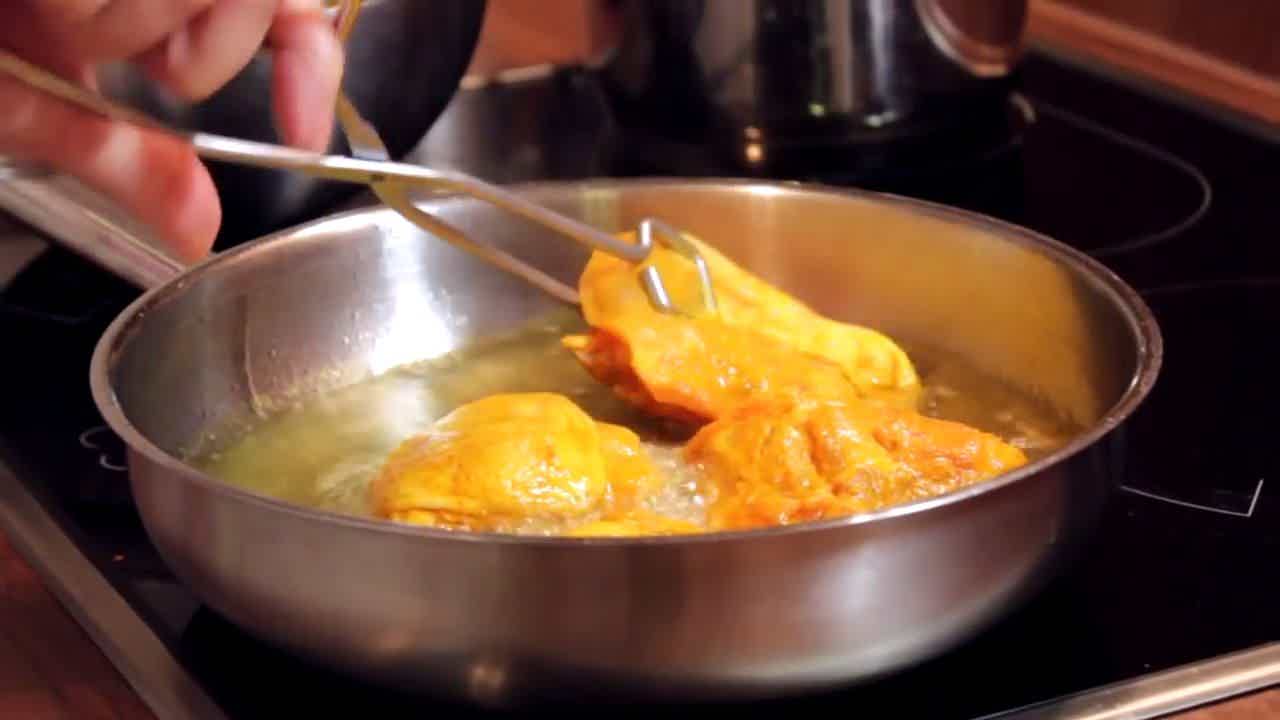 Step 2 of 4
Fry chicken meat after they had been marinated for 15 minutes.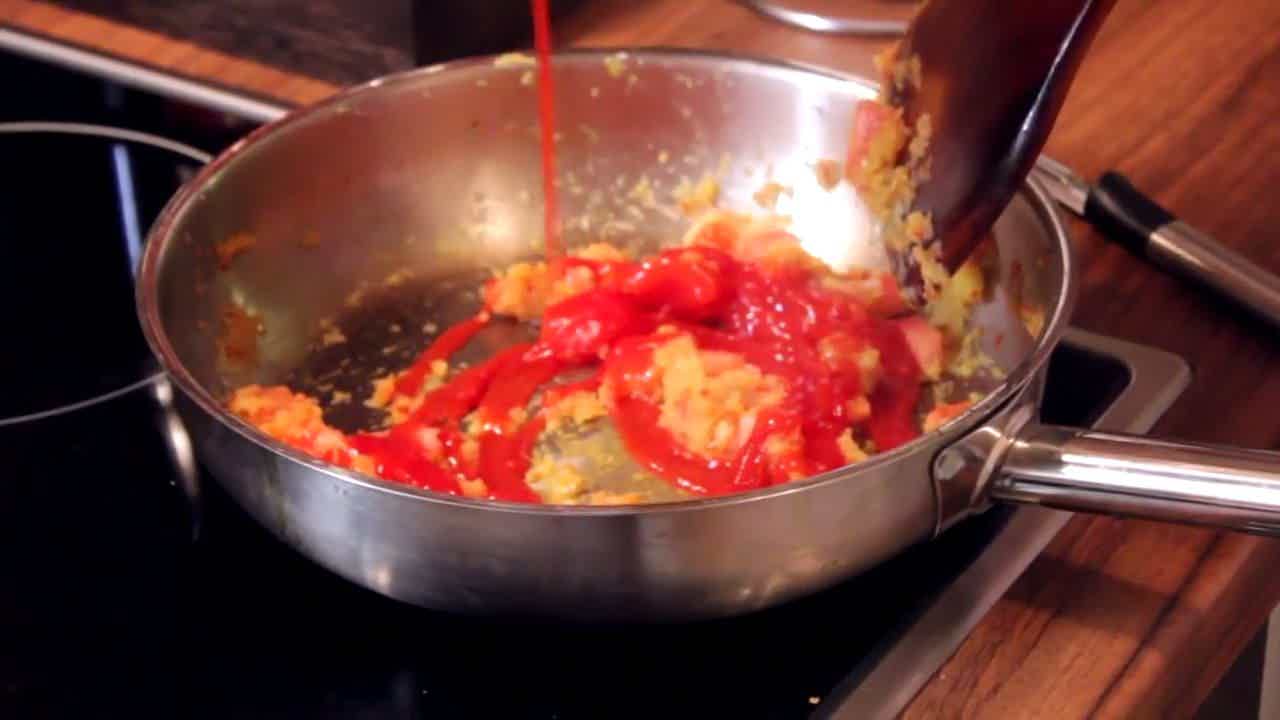 Step 3 of 4
1

yellow onion(s)

3

cm

ginger

2

garlic clove(s)

2

tbsp

oil

3

tbsp

tomato sauce

1

tomato(es)

3

tbsp

ketchup
Blend yellow onion, ginger, garlic and chillies. Sauté blended ingredients in oil over medium heat until fragrant. Then, add the diced tomato and ketchup.
Step 4 of 4
Add water to the sauteed ingredients and cook at highest heat. Once the gravy starts to boil, reduce heat to the lowest to allow it to simmer. When gravy thickens, add the fried chicken meat and mix well.
Published: November 20, 2012
---
0 Discussions
Give us your opinion! Log in and start posting.