Sweet and sour cauliflower is a dish loved by vegans and non-vegans alike. Even avid meat lovers have been cheated into loving this dish. Instead of the classic sweet and sour pork, this dish is plant based. Definitely a must-try if you want to have a very flavourful vegetable dish.
How to clean cauliflower?
Check if the cauliflower has any bruises. These bruises exist due to oxidation and can be easily removed with a knife. Cut it into smaller florets and rinse them with water.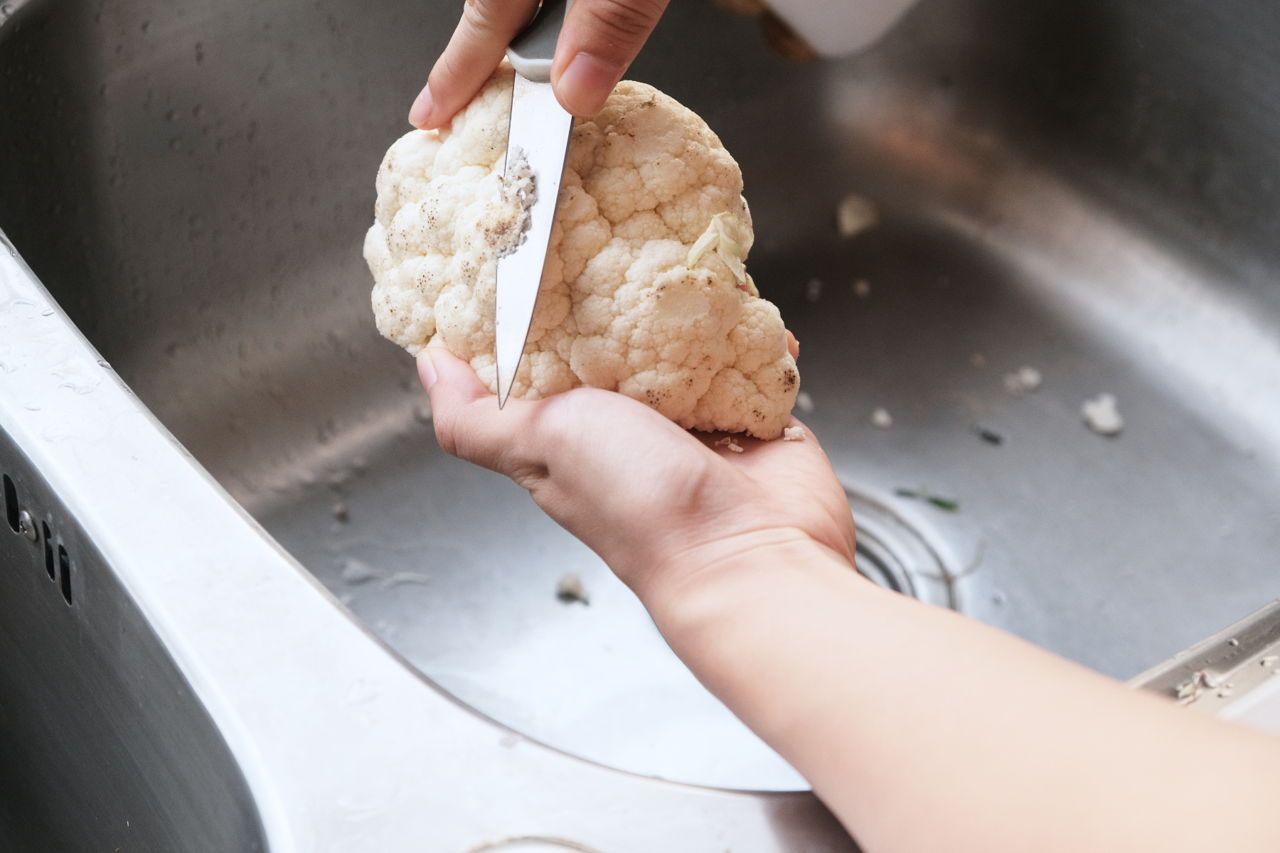 Avoid uneven cooking
When cutting the vegetables, ensure that they are cut into similar sizes. Uneven sizes may result in some parts cooking faster than the other. You'd want the vegetables to be cooked and yet have a little crunch to it.
Secret ingredient in the batter
The ingredient that makes a big difference in the dish is curry powder. Do not worry about it being spicy because only a minimal amount is used. Adding curry powder to the batter immediately elevates the dish making it so tasty. It blends very well with the gravy as it does not overpower the ketchup based sauce. I normally use meat curry powder but you can use any type of curry powder mixture available. It is the mix of spices that makes the dish stands out.
Why add baking powder to the batter?
It can be omitted. However, baking powder helps to make the batter crispier and provides a better shade of golden brown when fried.
3 tips for a crispy dish
The best tasting sweet and sour dishes rely on one crucial factor, that is the crispiness of the meat. In this recipe, the cauliflower. To perfect the crispiness, you need to ensure the perfect batter blend, heat for frying and amount of gravy.
Instead of using all-purpose flour exclusively for the batter, a combination of glutinous rice flour and all purpose flour at a 1:1 ratio yields the perfect crispy batter.
Frying cauliflower over medium to high heat so that they crisped up and brown faster. The shorter the time, the better. This is to prevent the cauliflower from turning mushy.
Having too much gravy will make the fried cauliflower soggy. The suggested ingredients for the gravy may seem too little initially but it is actually sufficient to coat the cauliflower. If you want more gravy, simply double the measurements of the sauce but the dish will turn soggy pretty quickly.
Vegetables and fruits in the dish
Just like the classic sweet and sour pork dish, pineapples, carrots or even lychees may be added. The vegetables need to be quickly sauteed before adding the gravy mixture. However, if you prefer crunchier vegetables, you can skip the step and directly cook them along with the gravy.