Roasted Turkey with Black Pepper Sauce
Roasted turkey recipe using Asian herbs which guarantees tender and succulent meat. Perfect for the festive seasons, Thanksgiving or Christmas.
Preparation 30 mins
Cooking 120 mins
Ayam Belanda Panggang dengan Sos Lada Hitam
---
Ingredients
---
Journal Snaps
Be the first to take a snap!
Log in
and click the in the top bar.
---
Background
In Malaysia, Christmas is widely celebrated too. It may be pretty weird to see Santa Claus and artificial snowflakes when the temperature is around 30 degrees Celsius. Nevertheless, we love the spirit of Christmas and celebrate the joyous occasion with loved ones. The Christmas dinner menu ranges from Italian pasta, Indian curries with rice and noodles or the classic western dish like roasted turkey. In fact, turkeys are increasingly popular lately and are therefore in great demand.
For this recipe, I created a brine made up of some spices and herbs commonly used in Malaysian cuisine. They not only provide an amazing taste but also deliver a wonderful aroma to the dish. The accompanying sauce to complement the roasted turkey is the black pepper sauce. It serves to enhance the taste of the tender and succulent meat of the turkey.
To make the dish more beautiful, I added some colourful vegetables which are grilled with a bit of olive oil, salt and a dash of pepper. Although the preparation is time consuming, it is definitely well worth the effort.
---
Steps to Prepare
Step 1 of 5
To create the brine, add salt, sugar, soy sauce, garlic, ginger, lemongrass, curry leaves, star anise and cinnamon in warm water. Then, add some cold water to lower the temperature of the brine. Cover turkey in brine and refrigerate it overnight.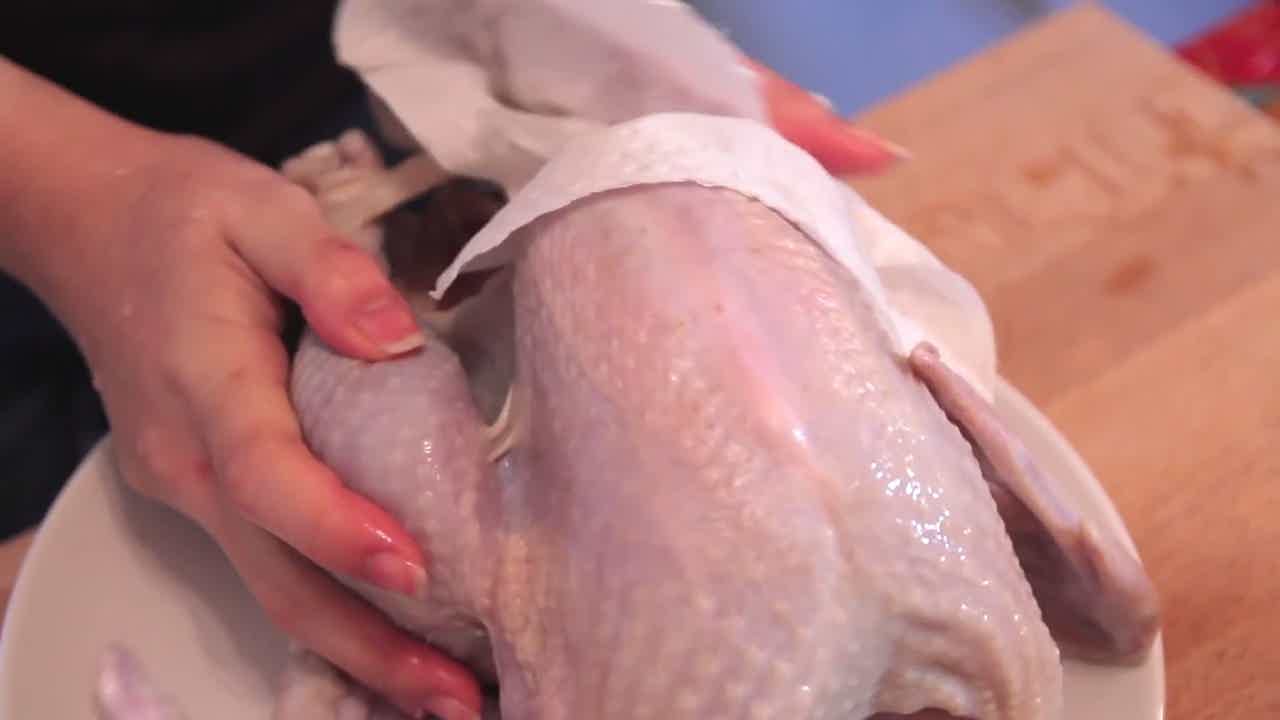 Step 2 of 5
The next day, rinse turkey and pat it dry. Rub butter and turmeric mixture on the inside and the outside of the turkey.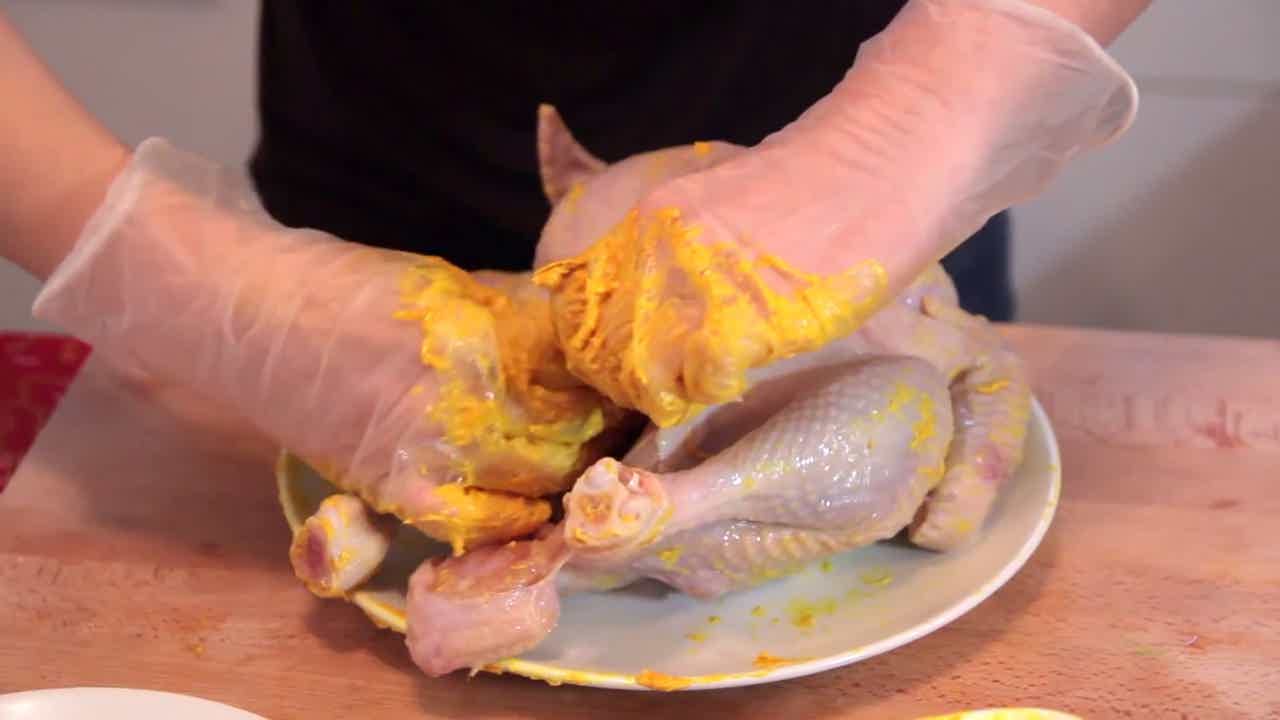 Step 3 of 5
Stuff turkey with chilli, onion and lemon. Secure the drumsticks together with a string. Sprinkle some salt and pepper on the turkey before baking at 160 degrees Celsius for about 1 hour 15 minutes. It is ready when the temperature of the turkey breast meat is at 75 degrees Celsius.
Step 4 of 5
To prepare black pepper sauce, saute shallots and garlic with butter over medium heat until fragrant. Add water, sweet soy sauce and oyster sauce and let the gravy boil. Once it boils, add black pepper and milk. Allow gravy to simmer at low heat. After that, increase heat again, then add cornstarch and water mixture to the gravy.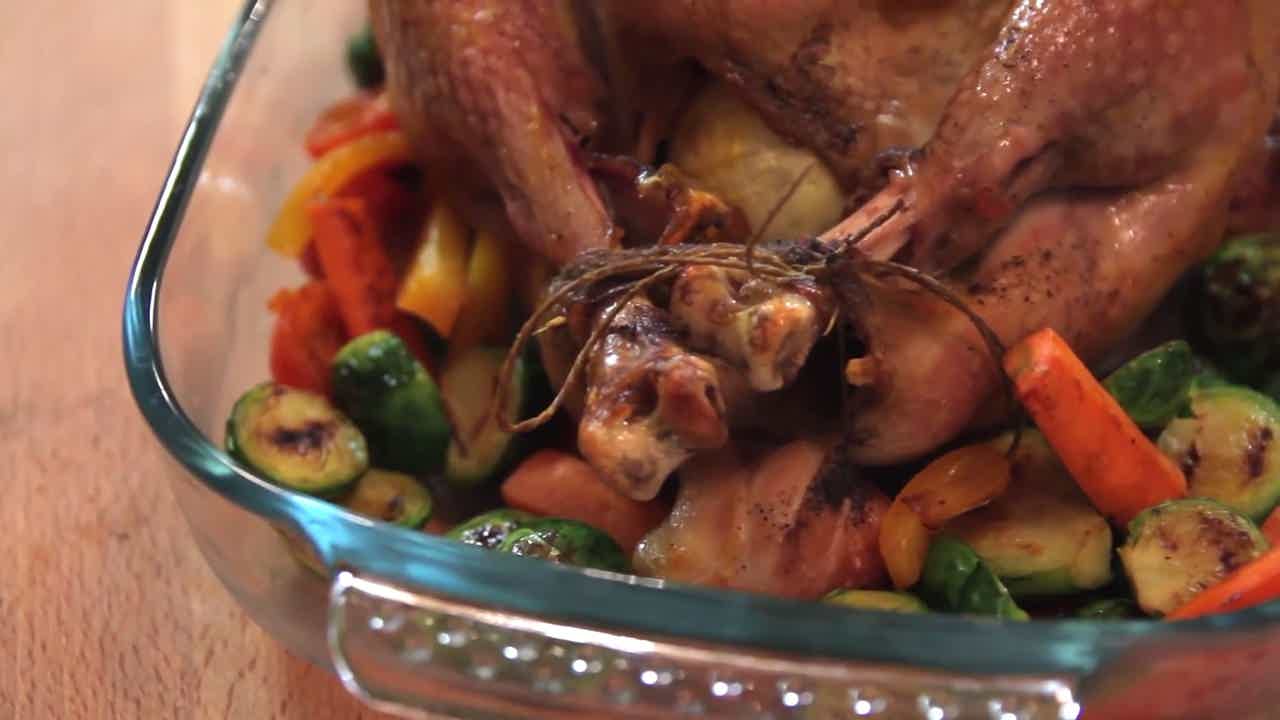 Step 5 of 5
Serve turkey with grilled vegetables and black pepper sauce.
Published: December 2, 2013
---
0 Discussions
Give us your opinion!
Log in
and start posting.