Pad Kra Pao
Pad Kra Pao, a classic dish from Thailand. Pad Kra Pao means stir-fry basil, making it the main ingredient. The fragrance of Thai basil, spicy chillies and pungent fish sauce make a delicious tasting dish. As a quick stir-fry dish, it is also a weekday dinner favourite.
Total Time
Preparation 10 mins
Cooking 20 mins
Alternate Names
ผัดกระเพราไก่, Pad Ka Prao, Thai Minced Meat with Basil
Cuisines
Malaysian, Singaporean, Thai, Vietnamese
---
Ingredients
1

egg(s)

1

garlic clove(s)

1

chilli peppers (fresh)

1

shallot(s)

1

tbsp

oyster sauce

1⁄2

tbsp

dark soy sauce

1 1⁄2

tbsp

fish sauce

250

g

minced meat

—

french beans

1⁄2

tbsp

sugar

—

holy basil
---
Nutrition per Serving
Calories
252 kcal
Carbs
13 g
Fat
8 g
Protein
32 g
---
Background
Thai holy basil makes stir-fry dishes more exciting. The slight tinge of peppery taste and fragrance makes this dish flavourful and appetizing. In Thailand, Pad Kra Pao is available at humble street stalls as well as in established restaurants. Due to its easy preparation in using the minimal ingredients, it is no surprise that it is loved by many. Fish sauce is the other core ingredient that makes or breaks the gravy of Pad Kra Pao, in my opinion. It is the gravy that goes wonderfully well with rice.
Type of minced meat for pad kra pao
I used minced chicken in this recipe but feel free to use other types of meat to make either Pad Kra Pao Nua (Thai basil beef) or Pad Kra Pao Moo (Thai basil pork). Cooking this dish at high heat helps in browning the meat a little. This will ensure that more gravy gets to coat the meat easily.
Alternatives to holy basil
Pad Kra Pao recipe calls for a big bunch of holy basil to be added to it. If you are not able to find Thai holy basil, sweet basil which is commonly found in most supermarkets is the closest choice. Adding a dash of pepper will help to deliver the light hint of peppery taste that sweet basil does not have.
Vegan or vegetarian pad kra pao
If you are looking for a vegetarian version of Pad Kra Pao, I had experimented preparing it with some minced firm tofu. They were browned with a little bit of oil first. This would dry the tofu pieces and gets rid of the soy taste. Although it might take some time but trust me, you would not even miss the meat which is normally used in this dish. You may substitute fish sauce with soy sauce and a little bit of lime juice if you want to make this dish strictly vegetarian.
French beans are not used in the original Pad Kra Pao dish. I hate to admit but I may have germanized this dish without realizing it. Quite a few of the Thai restaurants in Germany serve it with french beans which is fine with me. After all, everyone needs a fast, balanced meal with meat and vegetables. This is it, a perfect delicious combination!
---
Food Snaps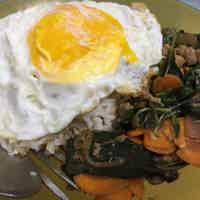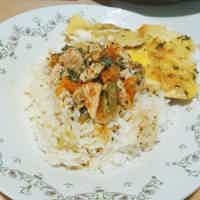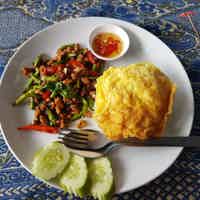 ---
How to Prepare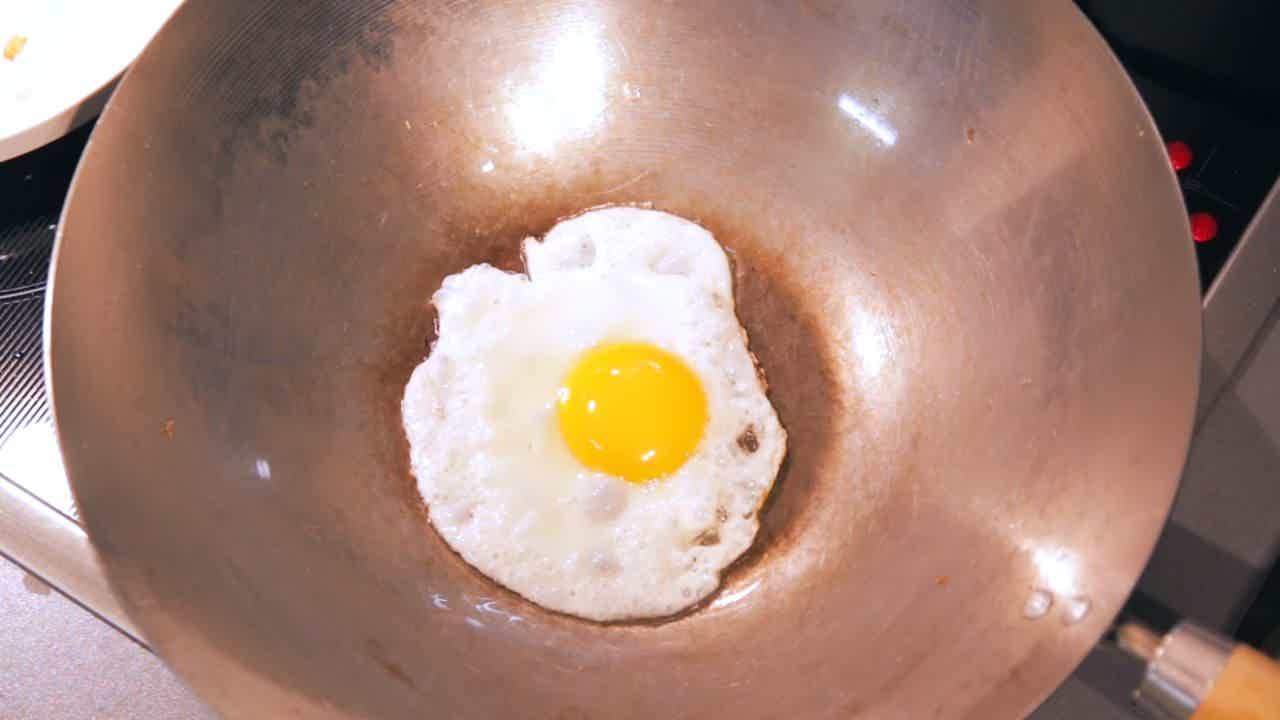 Step 1 of 4
Prepare sunny-side-up egg
Heat wok at medium heat before adding oil. Fry egg when oil is heated.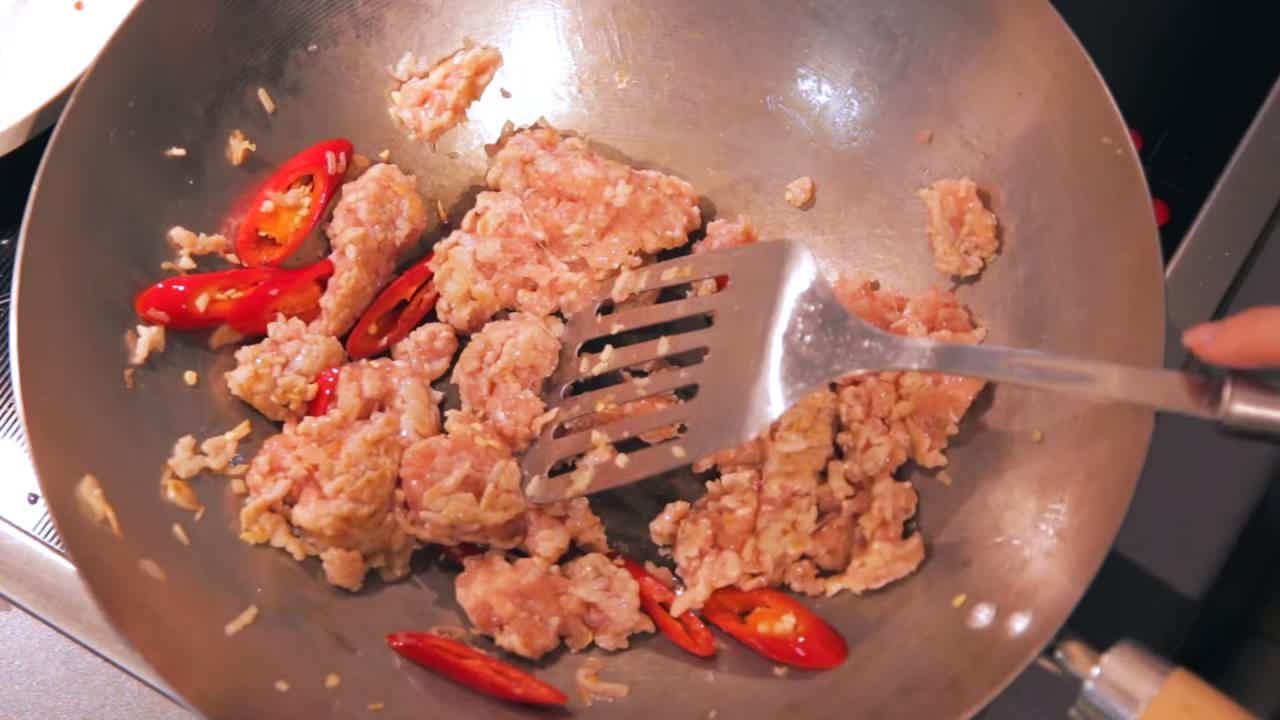 Step 2 of 4
Sauté aromatics and meat
1

garlic clove(s)

1

chilli peppers (fresh)

1

shallot(s)

1

tbsp

oyster sauce

1⁄2

tbsp

dark soy sauce

1 1⁄2

tbsp

fish sauce

250

g

minced meat
In a wok heated at medium heat, sauté minced garlic, sliced chilies and shallots until fragrant. Then, add minced meat. Once meat is slightly browned, add oyster sauce, dark soy sauce and fish sauce.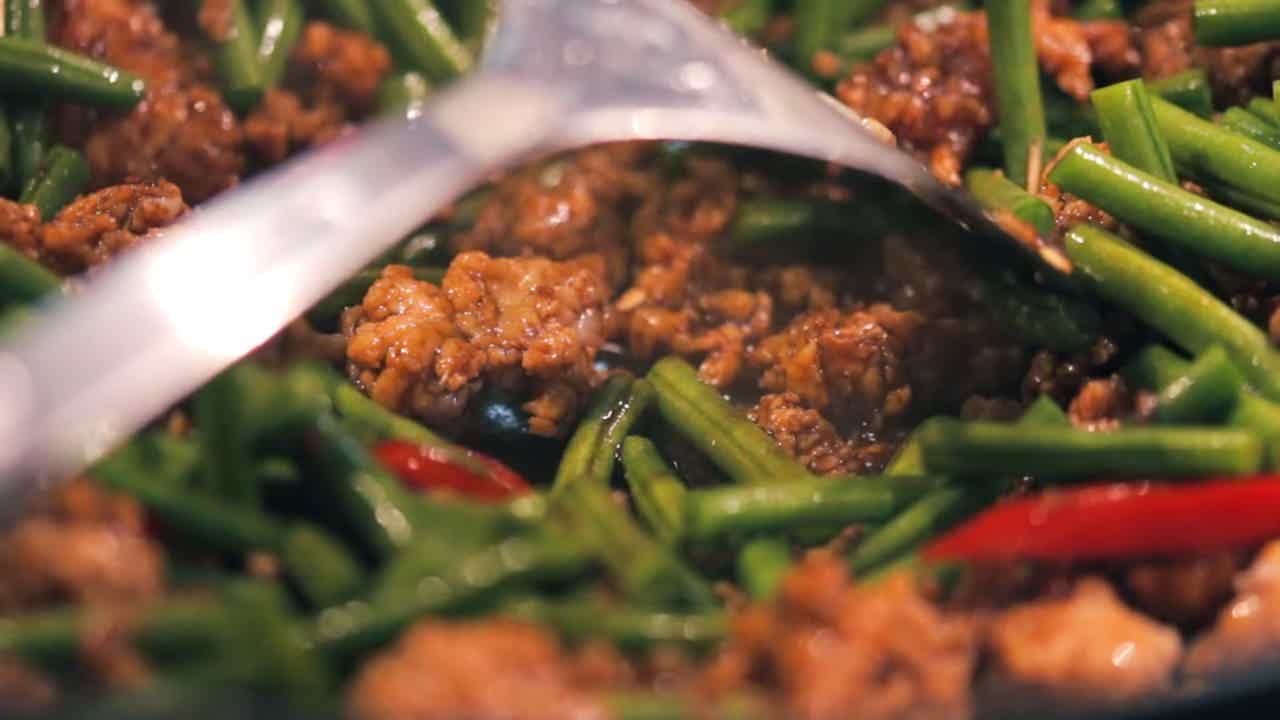 Step 3 of 4
Fry vegetables and basil
french beans

1⁄2

tbsp

sugar

holy basil
Add french beans and cook until slightly softened. Stir sugar to taste and also a handful of basil.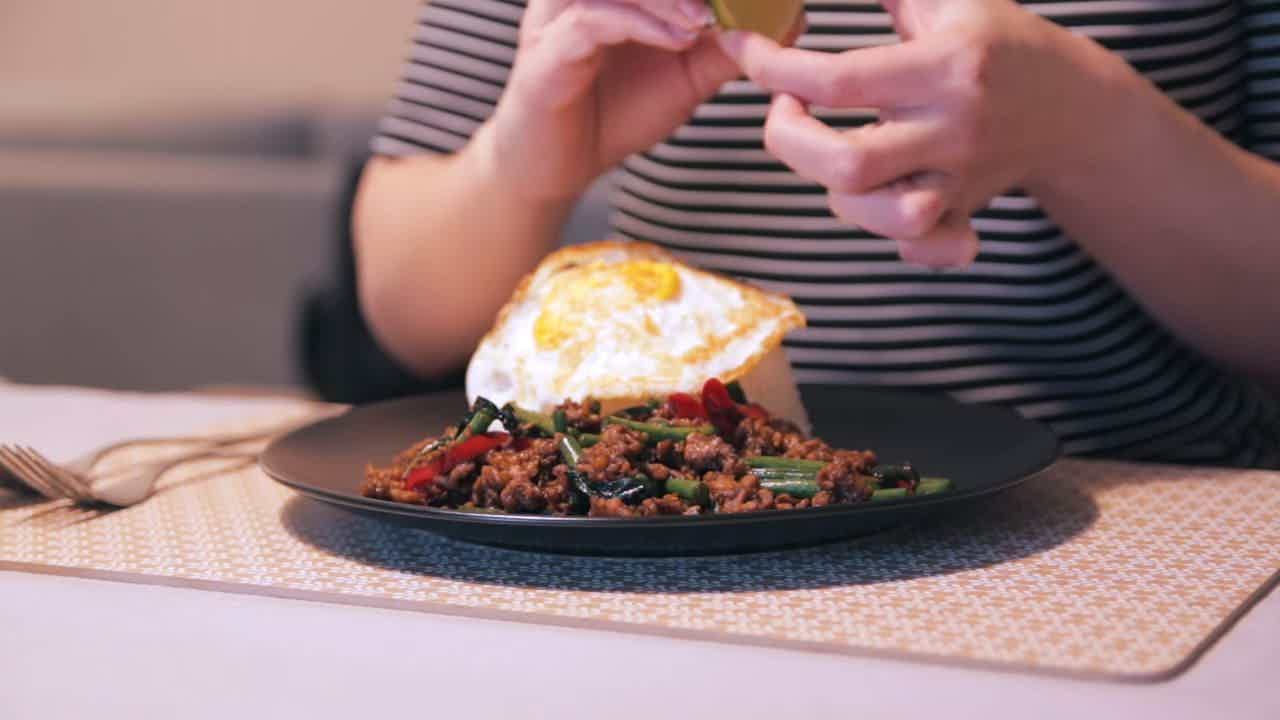 Step 4 of 4
Top it off with egg and lime
Serve with hot rice topped with a fried egg. Optionally, garnish with a wedge of lime.
Published: April 28, 2016