Based on 427 ratings Watch Now
Ingredients
A
4

banana leaves
4

newspaper (ca. 17 by 11 inches)
4

nasi lemak
Background
This is actually the same 'nasi lemak' recipe which I had published some time back. The only difference is that it is now served wrapped attractively instead. This is sold economically at most of the Muslims and 'Mamak' restaurants without the frills, just the basic accompaniments like 'sambal', fried anchovies, cucumber, peanuts and a slice of hard-boiled/fried egg.
Now, you can have the thrill of learning how to prepare it and feel the satisfaction of having delicious home-cooked, beautifully wrapped 'nasi lemak' just like those sold in restaurants, in the comfort of your own home. The banana leaf enhances the fragrance of the 'nasi lemak'. Of course, there is no stopping you from putting more accompaniments into each pack. Enjoy together with a cup of 'teh tarik' or any favourite beverage of your choice! Hmmmm... simply blissful!
Nasi Lemak in Banana Leaf is also known as:
Steps
Step 1/4
Prepare 'Nasi Lemak', 'Sambal', hard-boiled or fried eggs, fried anchovies, slices of cucumber and roasted peanuts.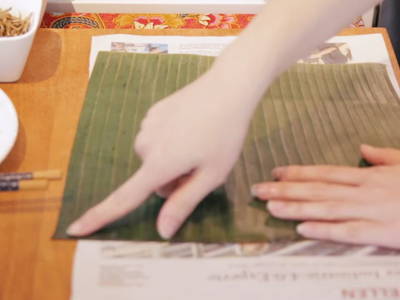 Step 2/4
Cut banana leaves into sizes of ca. 13 inches each. Clean banana leaves with a damp paper towel. Place a piece of banana leaf (with the smoother side facing upwards) on a piece of newspaper. Ensure that the sides of the banana leaf are sticking out.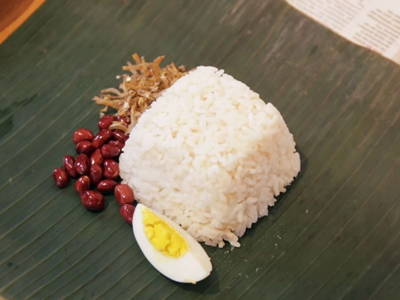 Step 3/4
Scoop rice into a bowl and compact it lightly. Overturn the bowl onto the middle of the banana leaf. Add a spoonful of peanuts, some fried anchovies, slices of cucumber, a slice of egg and of course, the 'Sambal'.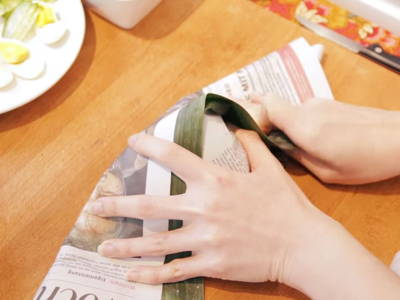 Step 4/4
Fold both sides of the newspaper towards the center. Fold in the ends creating a pointed edge in the middle.