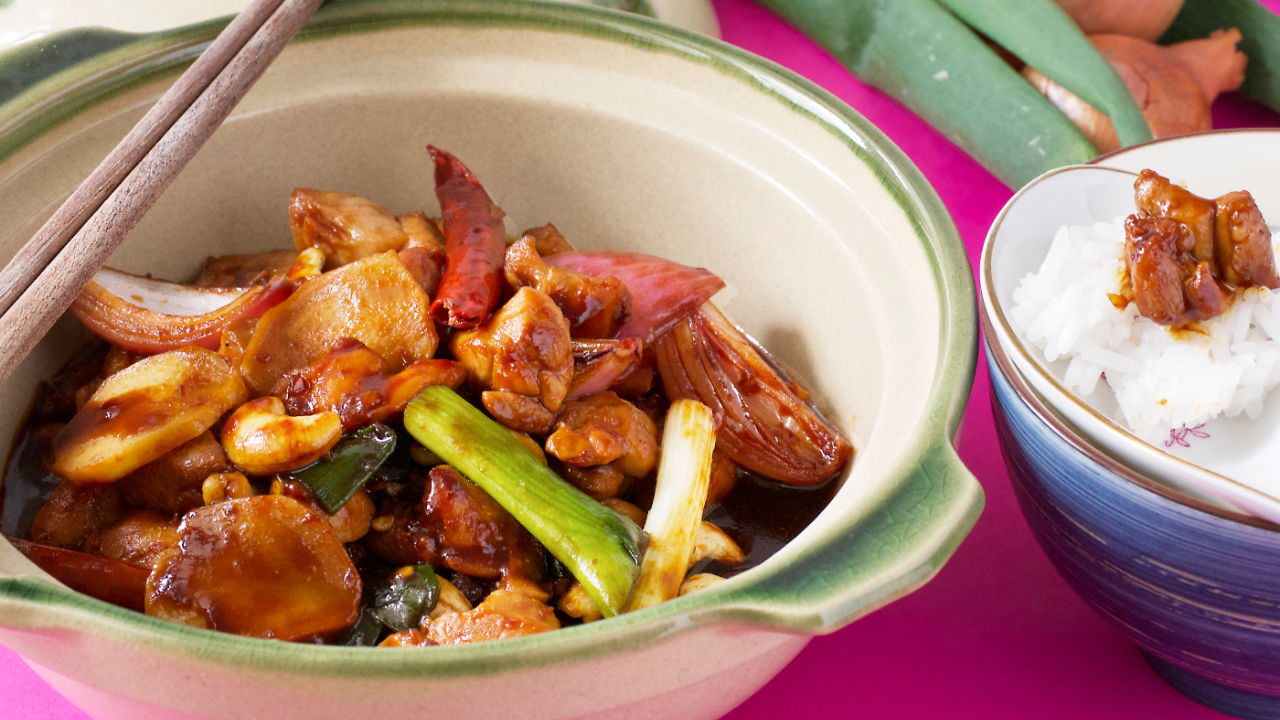 Kung Pao Chicken
The ultimate Kung Pao chicken guide! This is an easy one-pan dish with a combination of flavours all deliciously infused together in the sauce. Along with some fresh scallions and shallots, this highly appetizing chicken dish is so easy to prepare.
Preparation 5 mins
Cooking 10 mins
宫保鸡丁, Stir fried chicken with soy sauce
Chinese, Malaysian, Singaporean
---
Ingredients
300

g

chicken meat

1⁄2

tbsp

corn flour

1

tbsp

shaoxing wine

2 1⁄2

tbsp

soy sauce

1

shallot(s)

1

scallions

1

garlic clove(s)

1⁄2

cm

ginger

5

chilli peppers (dried)

1⁄2

tbsp

sesame oil

2

tbsp

vinegar

1⁄2

tbsp

dark soy sauce

5

tbsp

water

1

tbsp

sugar

2

tbsp

cashew nuts
---
Community Food Snaps
Be the first to take a snap!
Log in
and click the in the top bar.
---
Background
Authentic flavours of 'kung pao' chicken have a good balance of salt, chili, vinegar and sugar to produce the delicious gravy for which this dish is famous for and loved by many around the world. The base of the gravy uses soy sauce which also gives colour to the dish. Kung pao chicken is originally a Sichuan dish. Thus, it is no surprise that chilies and Sichuan peppers both play important roles in the dish as Sichuan food is all about spiciness.
The different versions of kung pao chicken
Due to its popularity, kung pao chicken is now available in various parts of the world but the original recipe has been adapted to suit the taste of the locals. However, the core idea to balance the saltiness, sourness, sweetness and spiciness is retained. For example, kung pao chicken in America may use 'hoi sin' sauce or even honey in the dish. In Malaysia and Singapore, it is prepared similarly to the original recipe but does not use Sichuan pepper. The appearance is also slightly darker as caramel dark soy sauce is used.
Dark soy sauce in kung pao chicken
Dark soy sauce in Malaysia and Singapore commonly refers to caramel dark soy sauce. It is not the sweet soy sauce (kicap manis) from Indonesia. Despite being termed as 'caramel', it is neither sweet nor salty. It has the consistency of honey and is usually added for its colour. So far, I have not found caramel dark soy sauce out of Malaysia or Singapore. You may substitute it with the more fluid dark soy sauce which is more commonly found.
Which part of chicken to use?
The best part of the chicken when it comes to stir-fry dishes like this is the chicken thigh with bones and tendons removed. Chicken breasts may also be used but it overcooks easily, leaving the chicken pieces dry.
Substitute of Shaoxing wine
'Shaoxing' wine cannot be substituted in this dish. It is added for its sweetness and also to get rid of the poultry taste when marinating the chicken pieces. While most would advise some apple juice as substitute, I highly disagree. Apple juice will spoil the taste of the dish, making it slightly tart in taste. If you do not want to have alcohol in this recipe, simply omit it as the main flavour in the gravy comes from the soy sauce, vinegar and sugar. To get rid of the poultry taste when marinating chicken, use a teaspoon of ginger juice (from pounded ginger).
Vinegar in kung pao chicken
In this recipe, I used white vinegar which is available in almost all grocers. You may also use Chinese vinegar (Chinkiang). However, it is more intense in taste. If you do use, add only 1 teaspoon of it in this recipe in place of white vinegar.
Nuts in kung pao chicken
Nuts are always tossed in for the extra crunch when cooking this dish. Peanuts are usually added. When using raw peanuts, do add them at the beginning to saute them along with the aromatics. As I have done in this recipe, you may substitute peanuts with cashew nuts which are also commonly used.
---
Steps to Prepare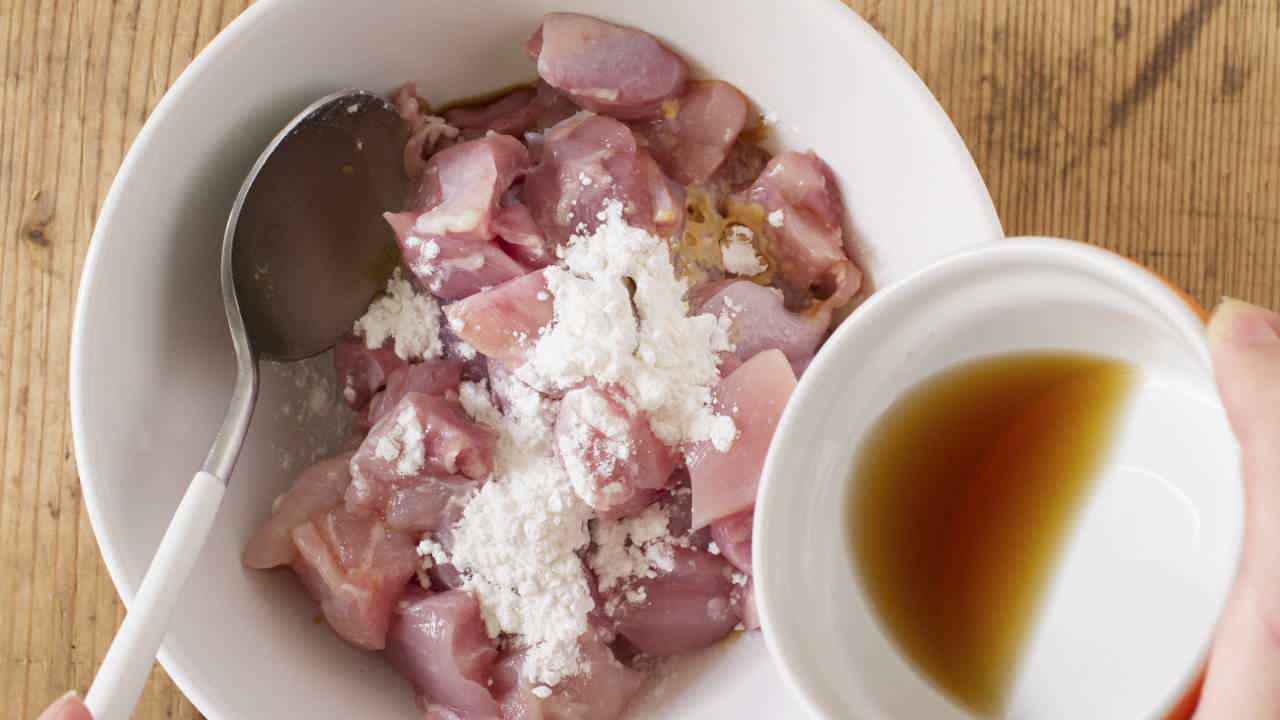 Step 1 of 5
300

g

chicken meat

1⁄2

tbsp

corn flour

1

tbsp

shaoxing wine

1⁄2

tbsp

soy sauce
Remove chicken skin and chop meat into bite-sized pieces. Marinade with soy sauce, Shaoxing wine and corn flour for 30 minutes.
Step 2 of 5
1

shallot(s)

1

scallions

1

garlic clove(s)

1⁄2

cm

ginger
Chop shallots and scallions into big chunks. Slice ginger and mince garlic clove finely. As for dried chillies, remove stems and soak in hot water for 15 minutes.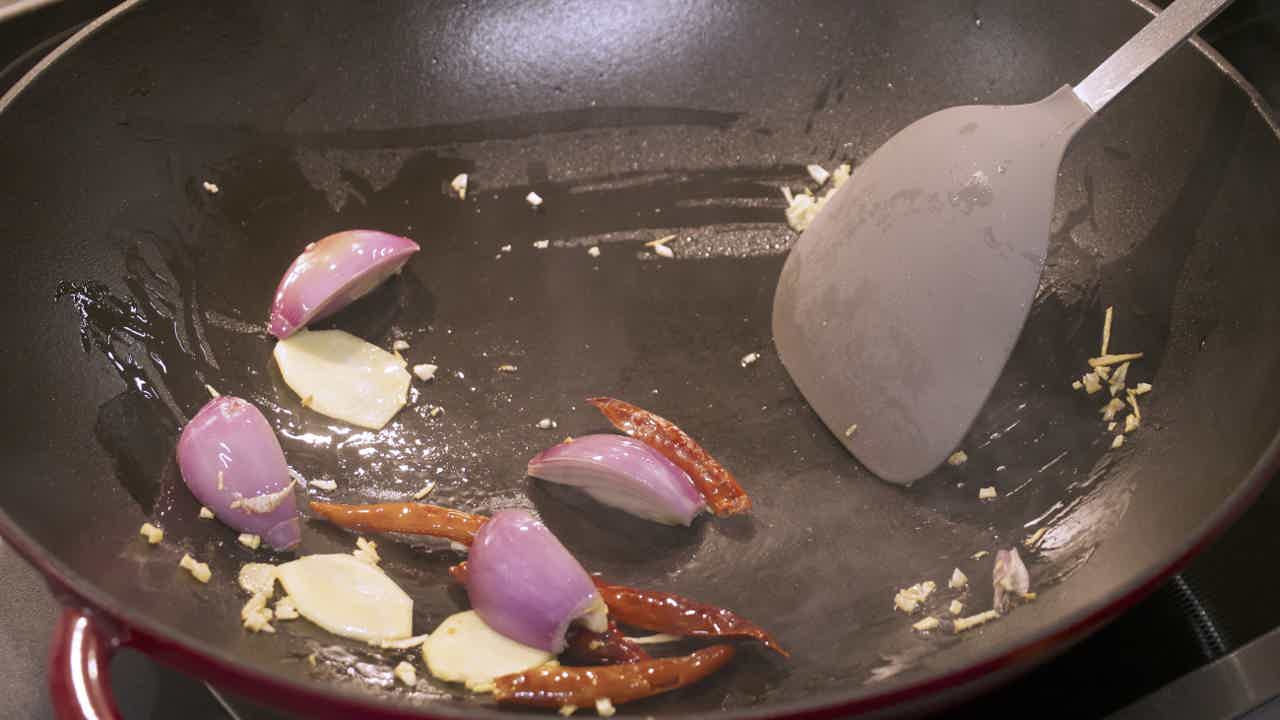 Step 3 of 5
Heat wok over high heat. Then, pour sesame oil in a wok to immediately sauté garlic, ginger, dried chillies and shallots until fragrant. Sauté quickly to avoid burning.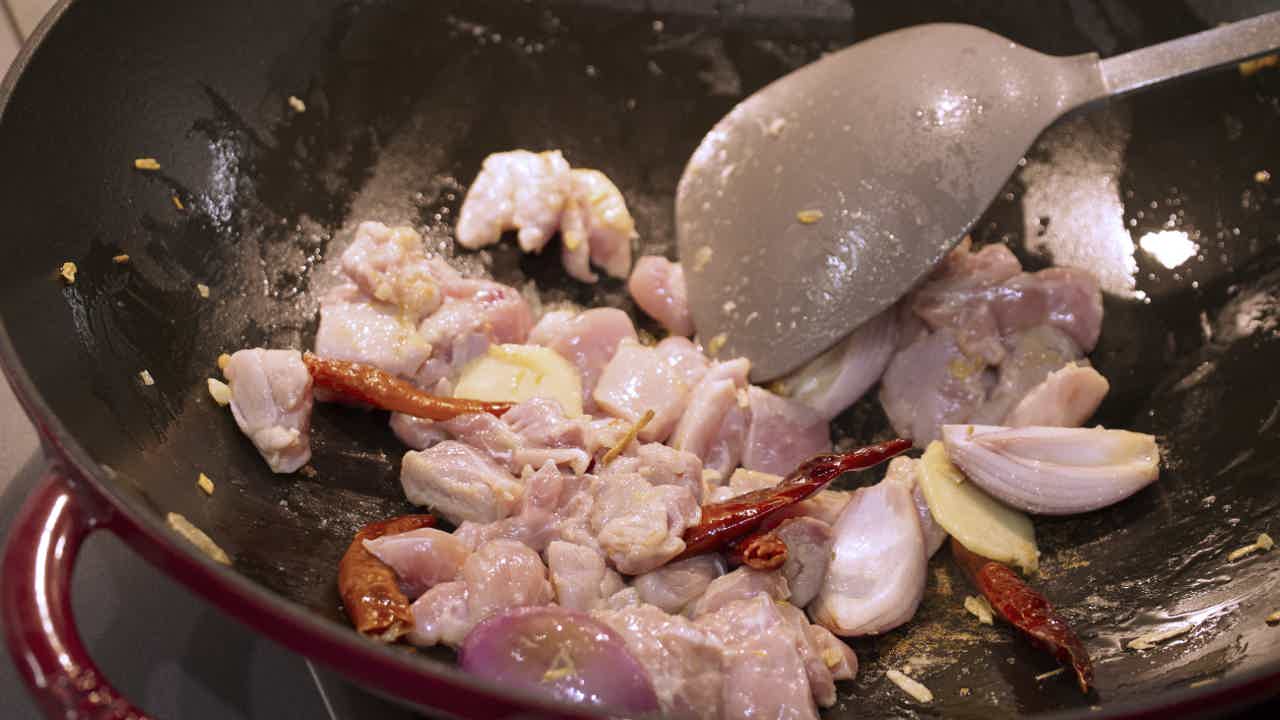 Step 4 of 5
2

tbsp

soy sauce

2

tbsp

vinegar

1⁄2

tbsp

dark soy sauce

5

tbsp

water

1

tbsp

sugar
Once aromatics are fragrant, sauté the marinated chicken in the wok for 2-3 minutes. Then, mix soy sauce, vinegar, dark soy sauce, water and sugar to wok. Continue sautéing until sauce thickens.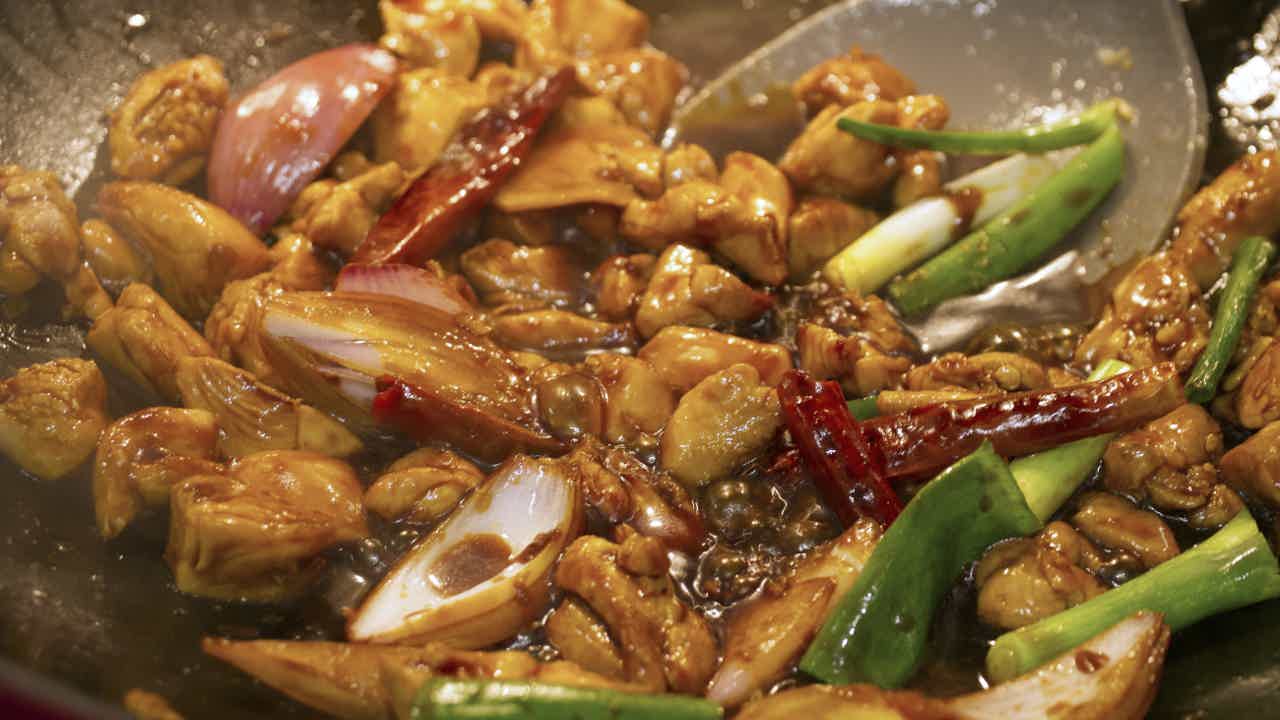 Step 5 of 5
Turn off the stove to stir in roasted cashew nuts and scallions. Serve with warm white rice.
Published: January 16, 2019
---
0 Discussions
Give us your opinion!
Log in
and start posting.