Japanese Curry Rice
The Japanese curry recipe is a favourite by mothers in Japan. The best Japanese curry uses fresh apples and other secret ingredients. Using the store-bought roux, you can create the best tasting Japanese curry rice.
Total Time
Preparation 15 mins
Cooking 35 mins
Alternate Names
Kare Raisu, カレーライス
---
Ingredients
1

yellow onion(s)

1

tsp

oil

250

g

chicken meat

200

ml

red wine

200

ml

water

5

g

ginger

1

potatoes

1

carrot(s)

1

apple(s)

2

curry roux

1⁄2

tbsp

paprika powder

1⁄2

chilli powder

1

tsp

ketchup

1

tsp

maple syrup

1

egg(s)
---
Nutrition per Serving
Calories
473 kcal
Carbs
48 g
Fat
9 g
Protein
33 g
---
Background
The best Japanese curry recipes contains a few secrets. I've gathered a few tips and using the store bought roux such as Golden Curry or Vermont curry, this Japanese curry dish can be made without much effort. Here is a recipe with many tips to make one of the most delicious Japanese dishes.
What is Japanese curry made of?
Japanese curry is made out of a special roux which comprises of curry powder, flour, oil and other aromatics. It is then served with either udon (Japanese wheat noodles) or rice and also a selection of meat which may be braised or fried in breadcrumbs (katsu). When fried is breadcrumbs, the choice of pork and chicken is more popular compared to beef. Otherwise, all three types of meat can be used in Japanaese curry. In some restaurants, Japanese curry uses minced chicken or pork meat.
Is Japanese curry Indian?
Japanese curry is Indian influenced. This is because curry was introduced to Japan by the British, exactly during the time when India was under the colonial rule of the British Crown.
What vegetables are added to Japanese curry?
Onion, carrots and potatoes. These are the common vegetables used in a Japanese curry. Potatoes and carrots should be cooked until fork tender.
Japanese families' secret curry recipes
In a Japanese documentary, I once watched how a mother was preparing this chicken curry dish. When she used wine in the dish, I was intrigued! Further research showed that every family have their own secret recipes and ingredients to add to the basic curry roux. Among the ingredients I found were wine, maple syrup, apple, tomato sauce and Worcestershire sauce.
I tried experimenting by adding red wine, spices and caramelizing onions to prepare this dish. Lo and behold, it definitely made a whole world of difference! Above all, adding grated apple sweetened the dish naturally. It also helps to thicken the curry while adding some texture to the gravy.
I especially love the gravy from deglazing the pot with some red wine. It makes the dish tastes so much better. However, if you prefer, substitute it with chicken stock or water instead.
Side dishes for Japanese curry rice
Of course, this dish has to be eaten together with 'Fukujinzuke' (pickled vegetables). It makes the dish even more amazing and exciting due to its crunchiness. If you love the dish the way I do, top it up with a hard boiled egg.
---
Food Snaps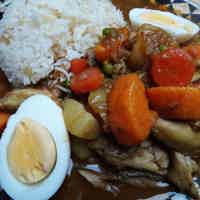 ---
How to Prepare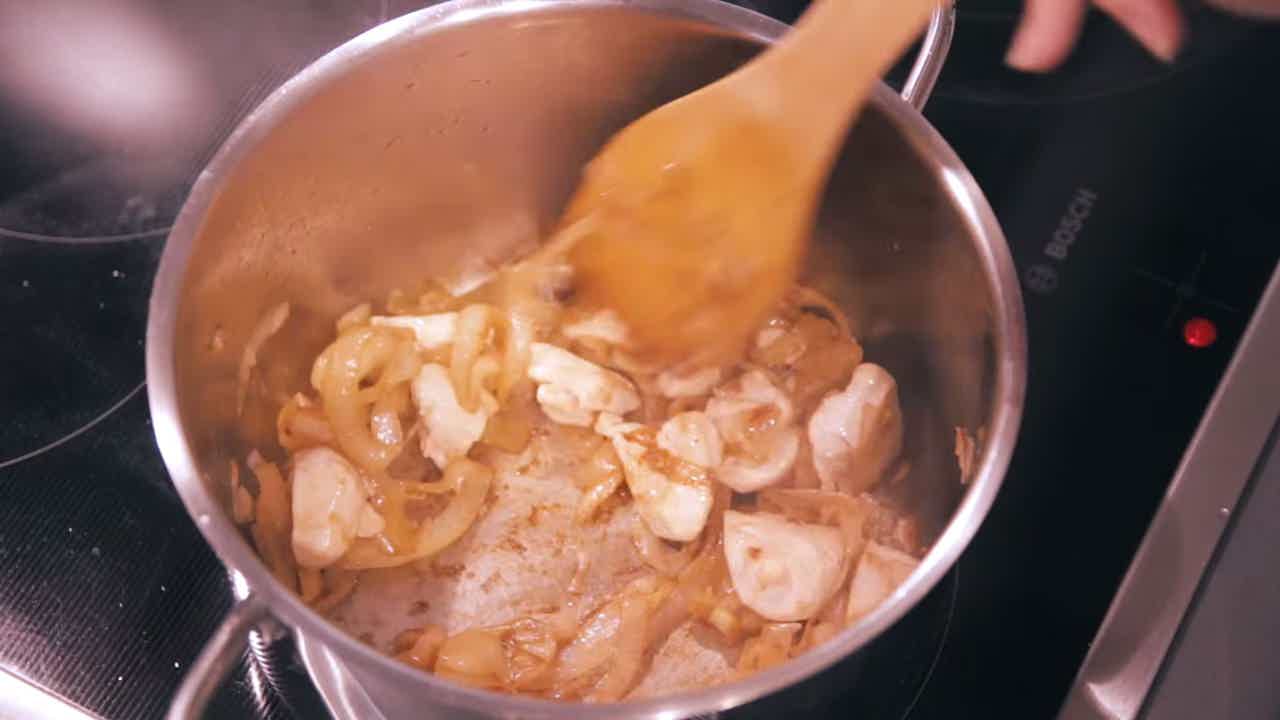 Step 1 of 4
1

yellow onion(s)

1

tsp

oil

250

g

chicken meat

200

ml

red wine
Cook rice with water (ratio 1:2) in a rice cooker. In another pot, slice onions and sauté in oil which is heated over medium heat. Once onions are caramelized, add chicken pieces and sauté until meat is lightly browned. Then, add some red wine and continue to sauté for another minute.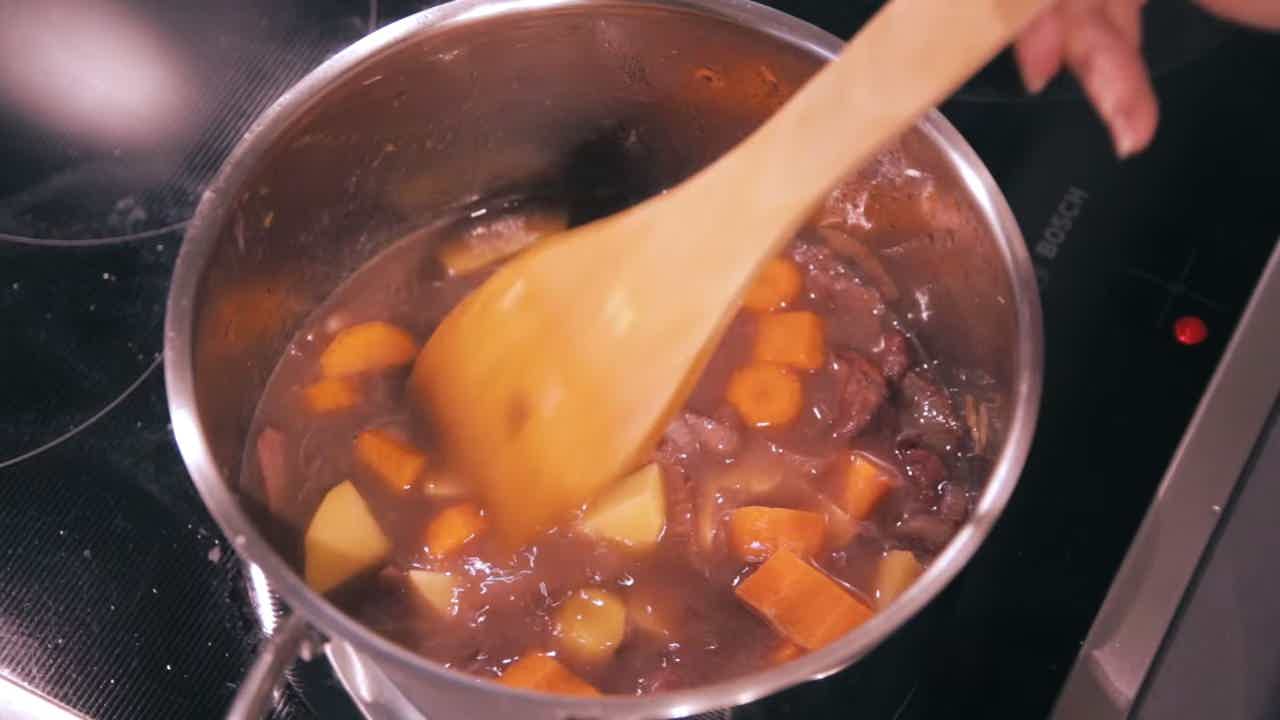 Step 2 of 4
200

ml

water

5

g

ginger

1

potatoes

1

carrot(s)

1

apple(s)
Add water, ginger, potatoes and carrots. Cook over medium heat. Once it boils, stir in grated apple (without skin).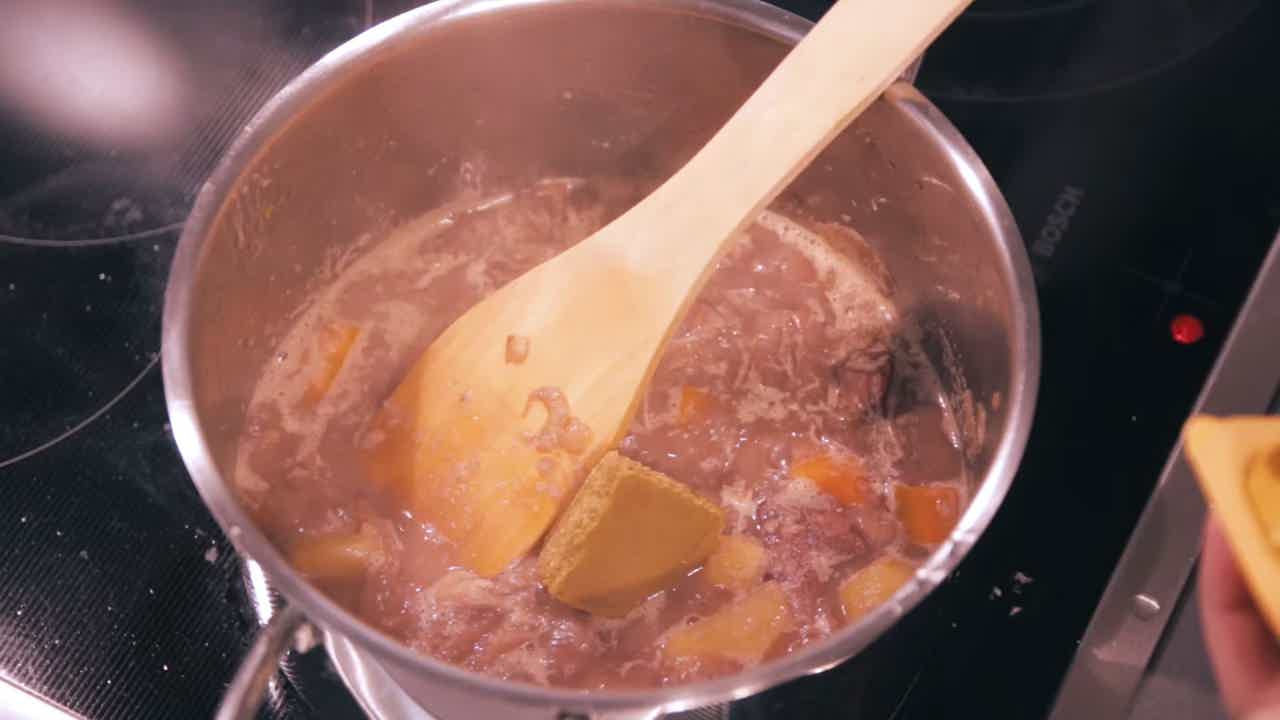 Step 3 of 4
2

curry roux

1⁄2

tbsp

paprika powder

1⁄2

chilli powder

1

tsp

ketchup

1

tsp

maple syrup
Dissolve curry roux and mix all ingredients thoroughly. Add paprika powder and chili powder to spice up the dish. Sweeten curry by adding tomato sauce and maple syrup.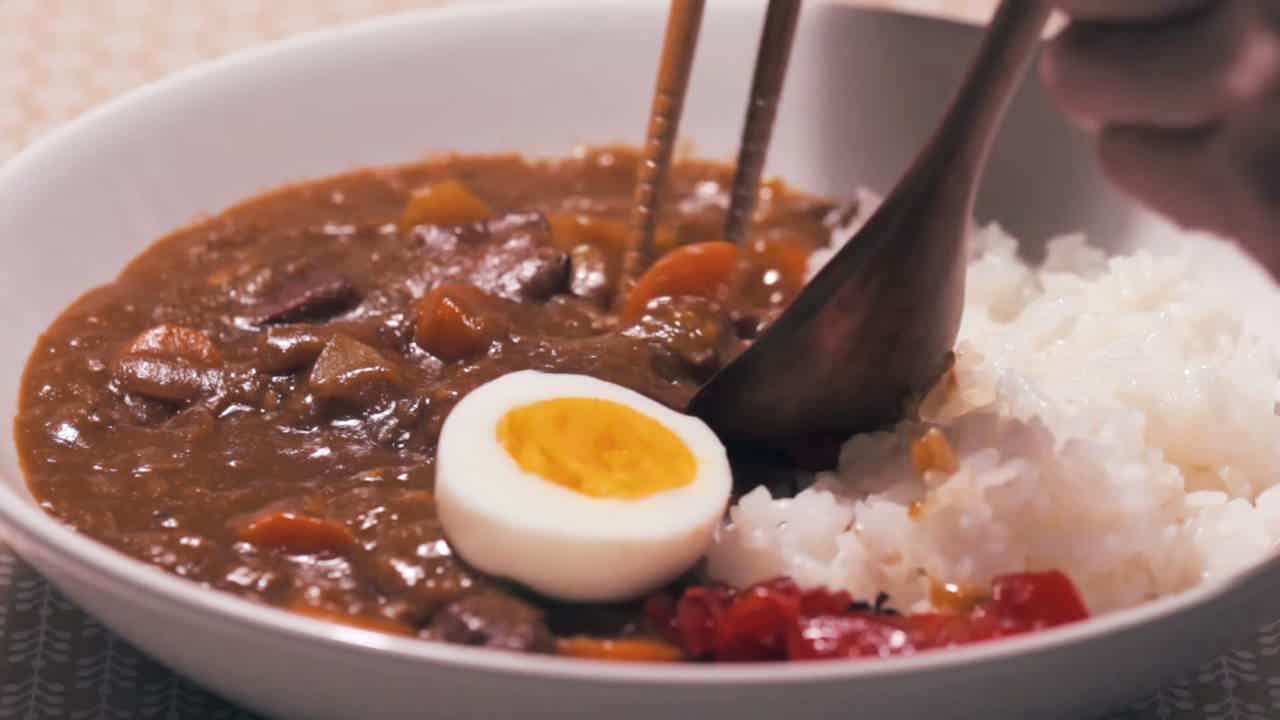 Step 4 of 4
Let curry simmer at low heat until it thickens. Serve with fukujinzuke (pickled vegetables) and hard-boiled egg.