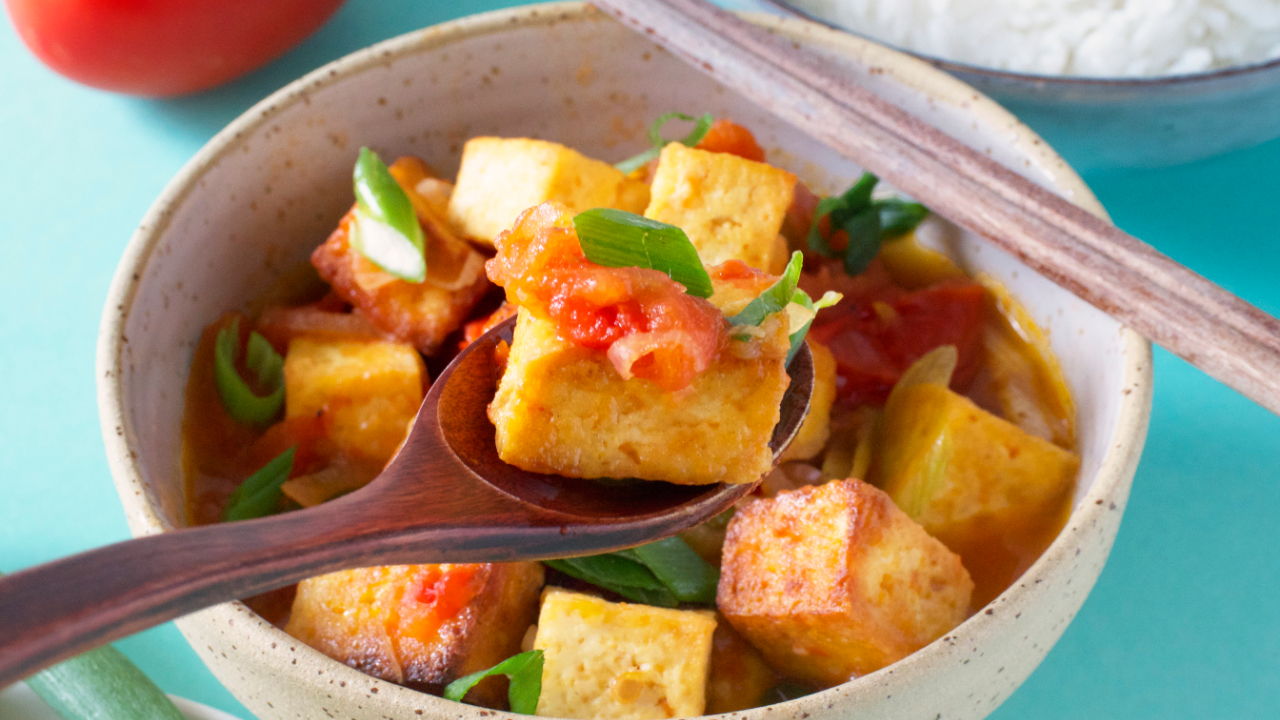 Fried Tofu with Tomatoes
Vietnamese tofu is extremely easy to prepare. The blend of tomatoes and fish sauce makes seriously delicious gravy which is used to stir-fry and soften fried tofu pieces. These juicy tofu pieces with delectable gravy are a sure favourite.
Preparation 10 mins
Cooking 20 mins
---
Ingredients
1

garlic clove(s)

1

shallot(s)

3

scallions

2

tomato(es)

1

tofu (firm)

2

tbsp

oil

1

cup

water

4

tbsp

fish sauce

1⁄2

tbsp

sugar

1⁄4

tsp

salt

1⁄4

tsp

pepper
---
Community Food Snaps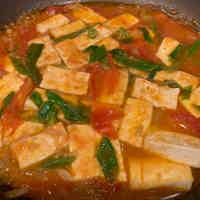 ---
Background
Simple tofu recipes are always fantastic. 'Dau sot ca chua' is the literal translation of tofu and tomatoes in Vietnamese. It is a one-pan dish which I love making when I need a quick meal. These tofu cubes are fried, giving it a nice shade of golden yellow. When braised in the gravy, these fried tofu cubes soften and soak up the wonderful flavours of the tomatoes which are enhanced with the mildly caramelized fish sauce. This is definitely a comfort dish loved by both adults and children.
Which type of tofu to use?
It is best to use firm tofu instead of silken tofu because the tofu pieces are cooked twice - fried and then stewed for a short while. Using pre-fried tofu ('tau kwa') is not recommended as the consistency is too dense and they still need to be fried again once cut into cubes. This causes inconsistency of colour and texture.
Reduce oil splattering
Oil splatters during frying due to the content of water in the tofu. Thus, it is always better to remove excess water from the tofu by placing a piece of kitchen paper on it with some weight for 5-10 minutes. That will force out excess water from the tofu. After cutting it into cubes, lightly pat them dry using kitchen paper.
Vegan dau sot ca chua
Fish sauce plays an important role in this dish. However, this recipe can be easily made vegan to fit your diet. Simply substitute it with light soy sauce of your choice. However, that may change the colour of the dish, making it darker. Improve the colour and intensify the colours of tomatoes by adding half a tablespoon of tomato paste to the dish.
---
Steps to Prepare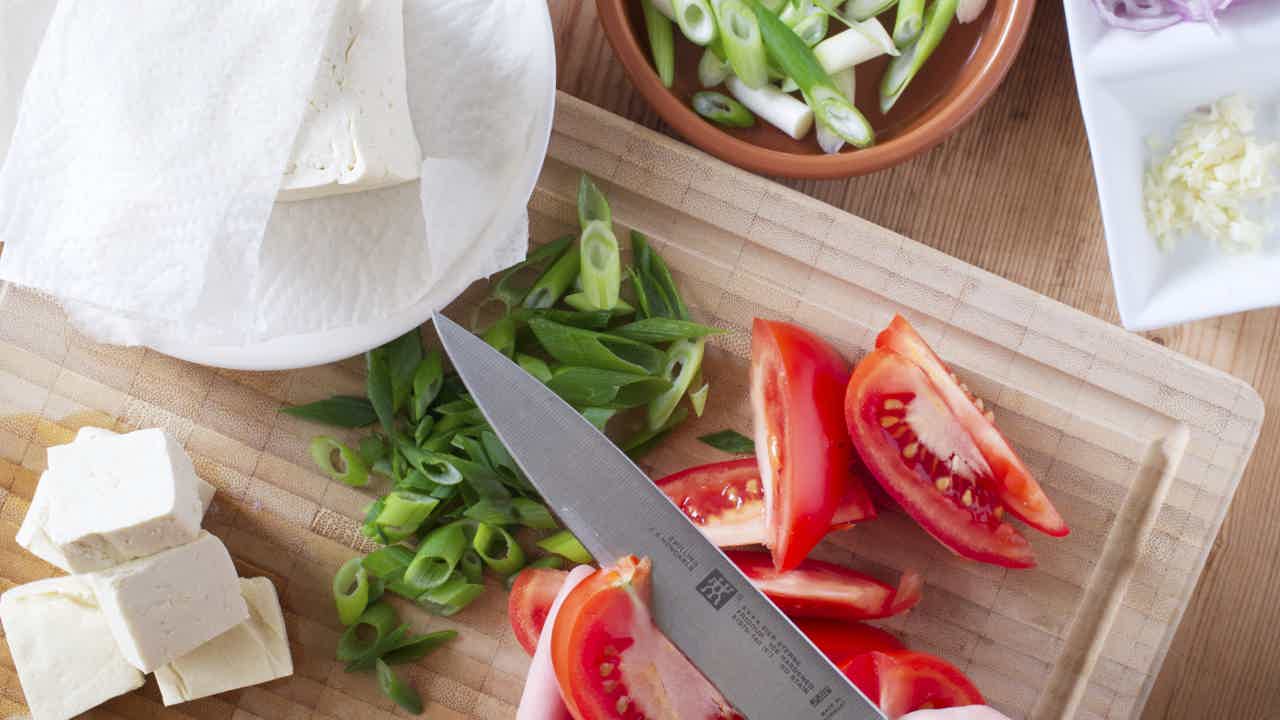 Step 1 of 5
1

garlic clove(s)

1

shallot(s)

3

scallions

2

tomato(es)

1

tofu (firm)
Cut tofu into cubes. Mince garlic, slice shallots and scallions, separating the greens from the whites. Rinse tomatoes and remove stems, any bruises or blemishes. Cut tomatoes into wedges.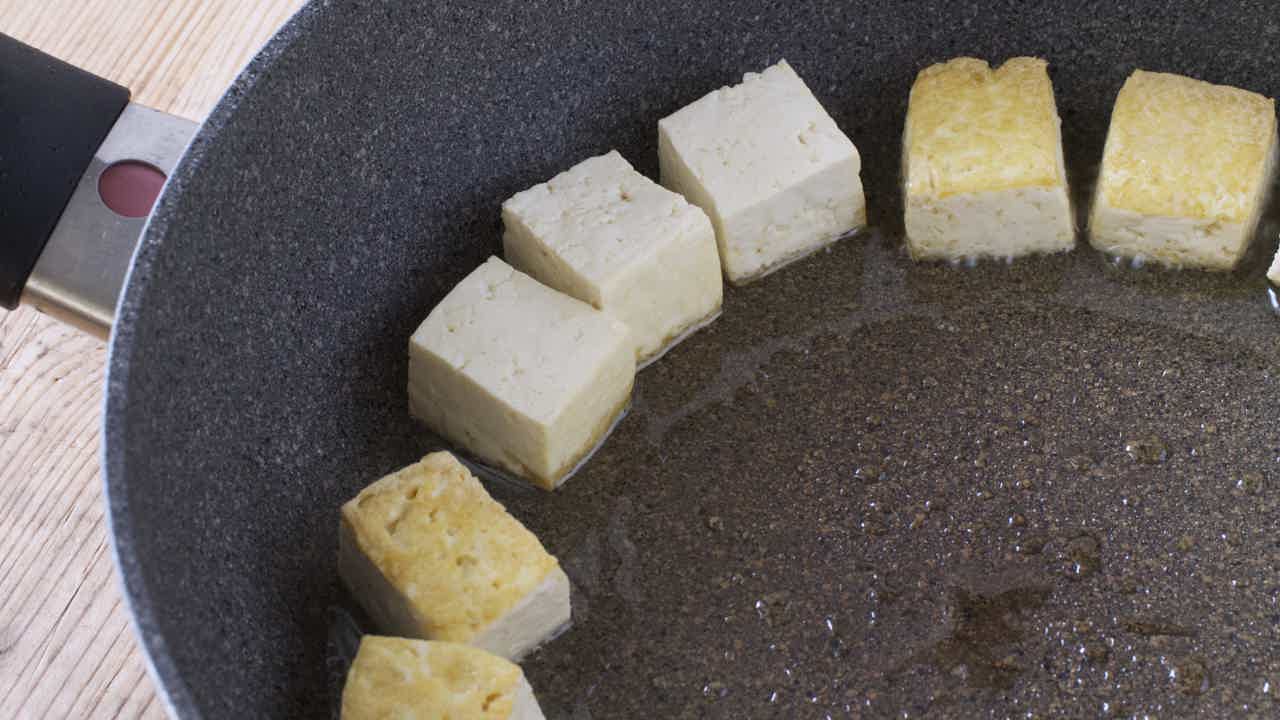 Step 2 of 5
In a pan, heat oil over medium heat. Add tofu and fry each side of tofu cubes until golden brown.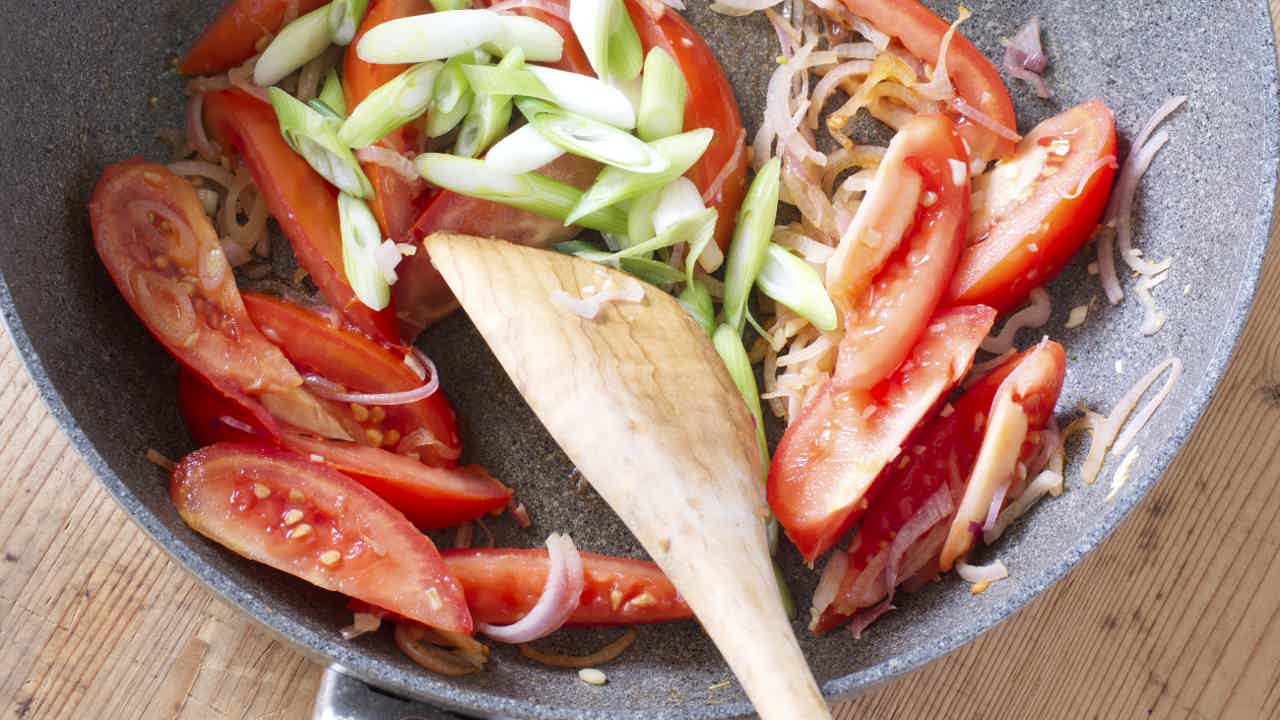 Step 3 of 5
Remove oil from pan leaving behind 1 teaspoon of oil. Sauté shallots and garlic until fragrant. Then, add the white parts of the scallions and tomato wedges. Continue sautéing until tomatoes begin to soften.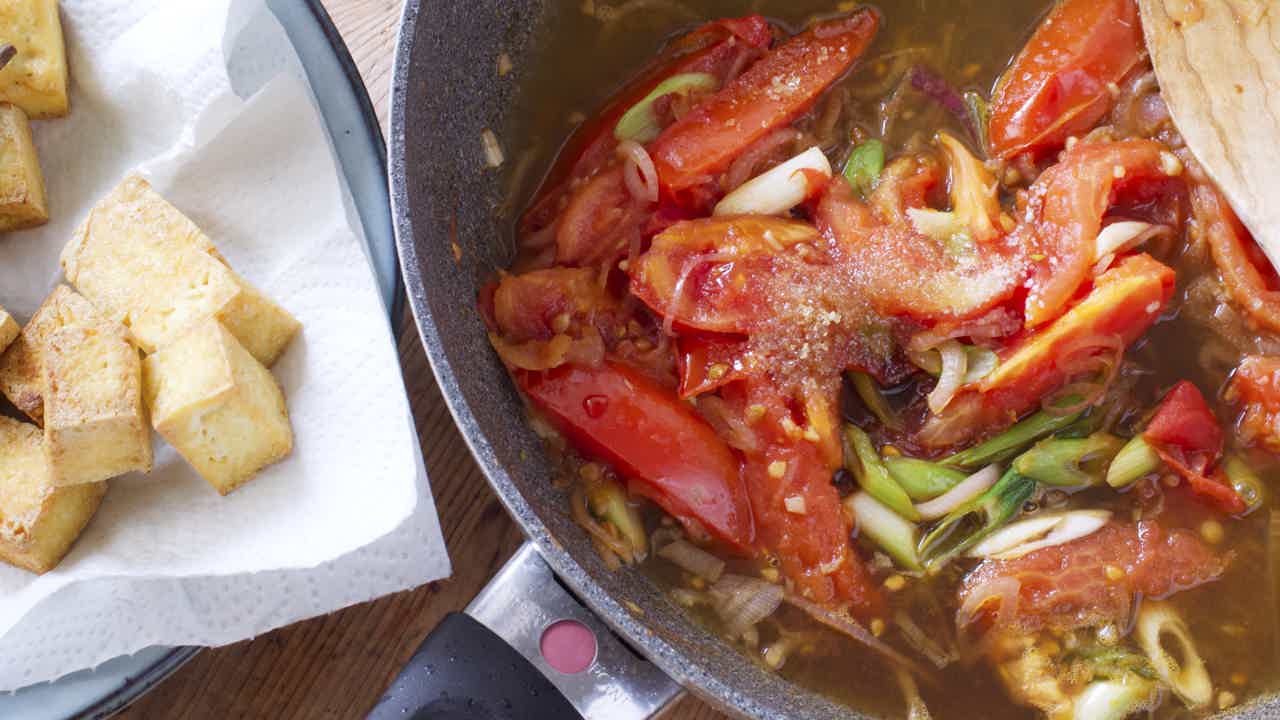 Step 4 of 5
1

cup

water

4

tbsp

fish sauce

1⁄2

tbsp

sugar

1⁄4

tsp

salt

1⁄4

tsp

pepper
Add water, fish sauce and sugar to the pan. Increase heat to the maximum. Once gravy begins boiling, reduce heat to the lowest. Add tofu. Then, simmer with the lid on until gravy reduces and tofu softens.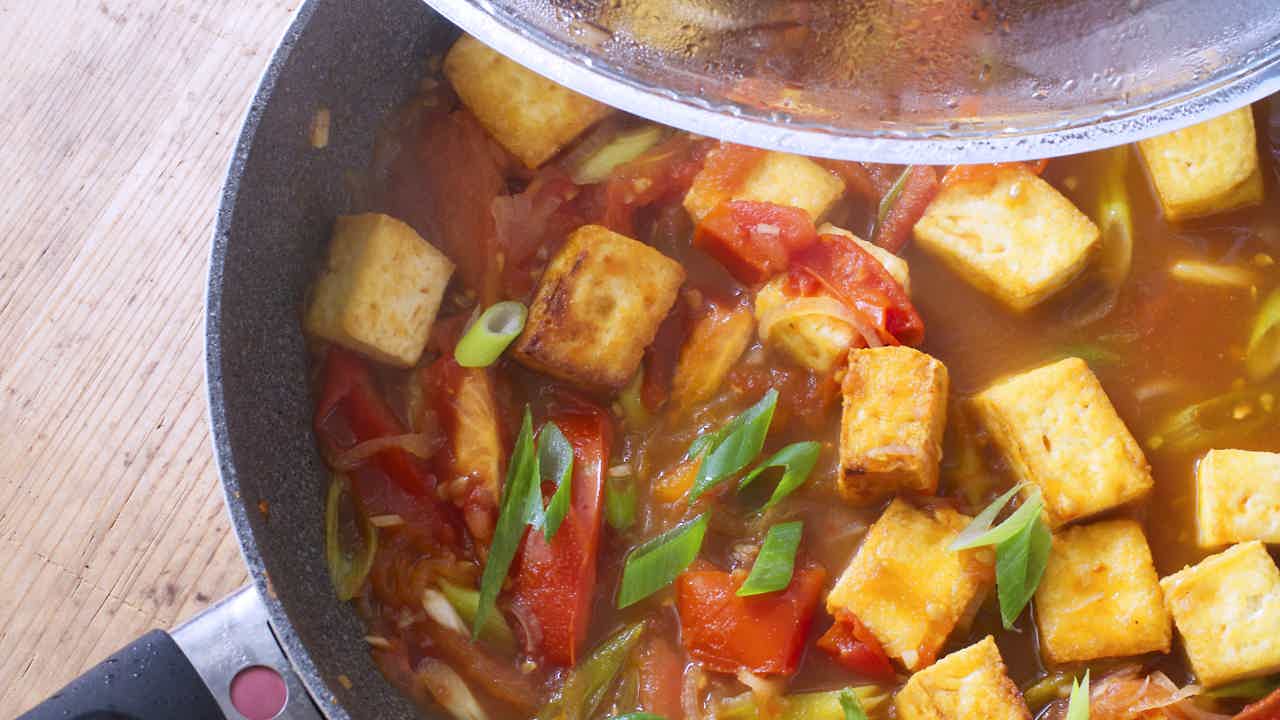 Step 5 of 5
Turn the stove off. Remove lid from pan and stir in the green part of the scallion, leaving some for garnishing. Enjoy the dish with steamed white rice.
Published: January 14, 2019
---
0 Discussions
Give us your opinion!
Log in
and start posting.