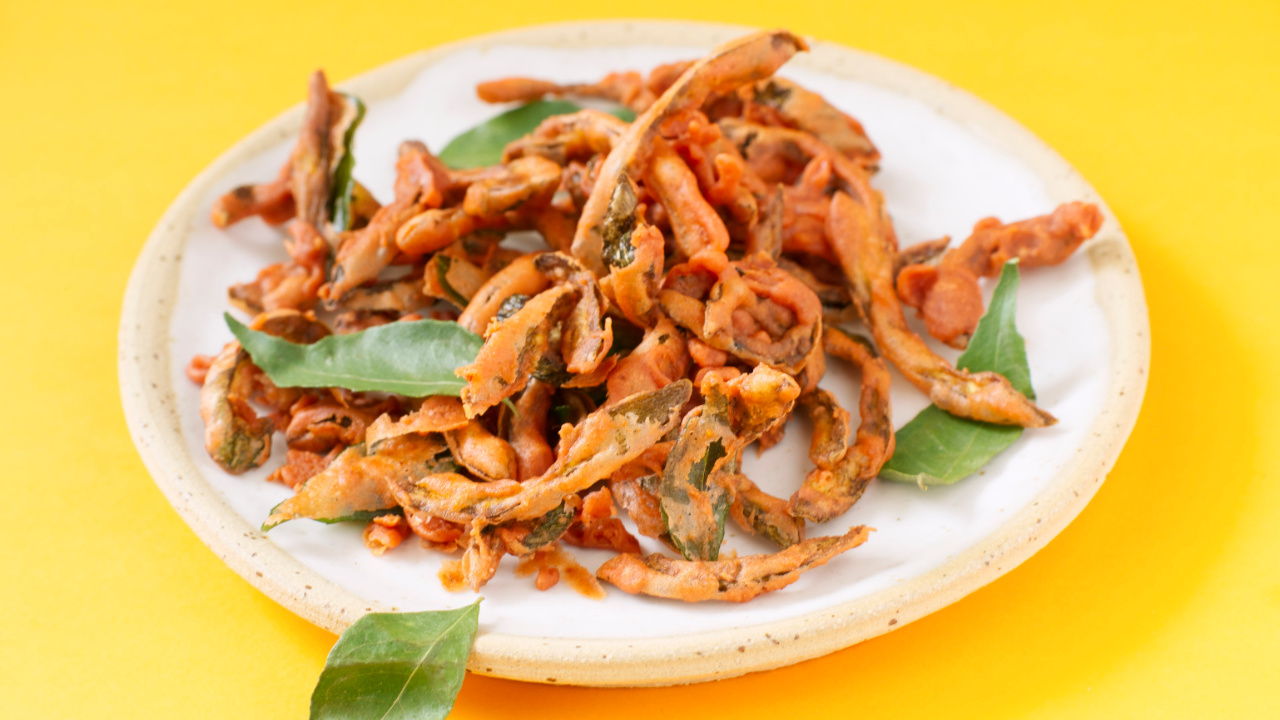 Fried Snake Gourd
Fried snake gourd is a favourite accompaniment with banana leaf rice. It is very easy to prepare. Although usually served with rice, you may enjoy them with a cold drink. These crispy spiced snake gourd fritters are also a great snack with beer.
Total Time
Preparation 5 mins
Cooking 15 mins
Alternate Names
Fried Snake Gourd, Pudalangai Chips, Labu Ular Goreng, Petola Ular Goreng
Cuisines
Malaysian, Singaporean, Indian
---
Ingredients
1

snake gourd

1

tbsp

corn flour

1

tbsp

gram flour

2

tbsp

rice flour

1⁄4

tsp

black pepper powder

1⁄2

tsp

chilli powder

1⁄4

tsp

food coloring

1 1⁄2

tbsp

water

1⁄4

tsp

salt

1

curry leaves stalk(s)
---
Nutrition per Serving
Calories
74 kcal
Carbs
15 g
Fat
1 g
Protein
2 g
---
Community Food Snaps
Be the first to take a snap! Log in and click the in the top bar.
---
Background
Banana Leaf Rice is a complete meal filled with several dishes that mainly comprises of vegetables. The base of this dish is plain rice. While it may sound dull as it is, the accompanying dishes make it exciting and tempting.
One of them is the fried snake gourd. The crispiness of the fried snake gourd makes the experience of having Banana Leaf Rice so much more fun. I personally think that these fritters taste much better than potato chips. It is the mild heat which is used to fry them together with the wonderful flavours of the batter that makes the taste extremely addictive.
Like many Indian dishes in Malaysia, the snake gourd is fried together with curry leaves for its special aroma.
Fresh snake gourds can be found easily in tropical countries. Otherwise, look them up at the Indian or Asian grocery stores.
Substituting Snake Gourd
If you are unable to find snake gourd, substitute it with bitter gourd or even okra instead. Luffa which is also known as Chinese okra or cucumber may not be that suitable as it has a higher content of water and a bigger surface. Using the right vegetables and techniques, these fritters will turn out crispy. Here are a few tips to achieving the best results.
Even Thin Slices
Slicing the snake gourd at a thickness of about 4 mm will ensure that each slice will be fried evenly. Thick slices may result in sogginess.
Temperature Matters
When it comes to frying, the temperature of the oil is important. If the oil is not hot enough, the slices of snake gourd and its batter may be soaking up the oil instead of turning crispy. To ensure the correct temperature, heat the oil at medium heat. Then, using a good old pair of wooden chopsticks, dip them into the oil. Bubbles will appear at the sides of the wooden chopsticks. This indicates that the oil is hot enough.
Patience, More Patience
Allow the slices of snake gourd to slowly fry in the oil. Do not over crowd the pan and or increase the heat thinking that a higher heat would cook the slices of snake gourd quicker. This will result in the batter being browned while the inside is still uncooked.
Fried snake gourd fritters can be prepared in advanced. It is best to store them in an air tight container and consume them within 1 week for the best flavours and freshness.
---
Steps to Prepare
Step 1 of 3
Prepare snake gourd
Cut snake gourd in half and remove the seeds. Then, slice the snake gourd diagonally into a thickness of about 4 mm.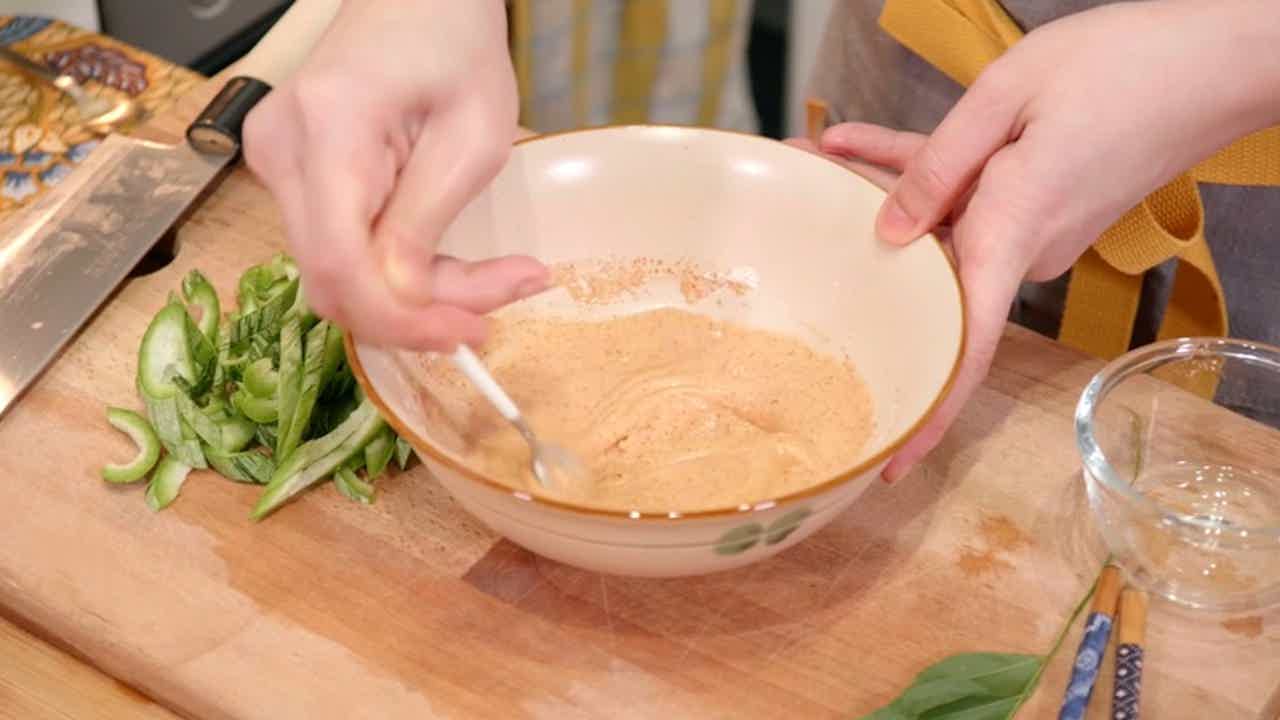 Step 2 of 3
Make the batter for frying
1

tbsp

corn flour

1

tbsp

gram flour

2

tbsp

rice flour

1⁄4

tsp

black pepper powder

1⁄2

tsp

chilli powder

1⁄4

tsp

food coloring

1 1⁄2

tbsp

water

1⁄4

tsp

salt
Except for the snake gourd and curry leaves, evenly mix all the dry ingredients in a bowl before adding water. Optionally, add 2 drops of red food colouring into the batter. The consistency of the batter should neither be too thick or thin to enable it to coat the snake gourd slices.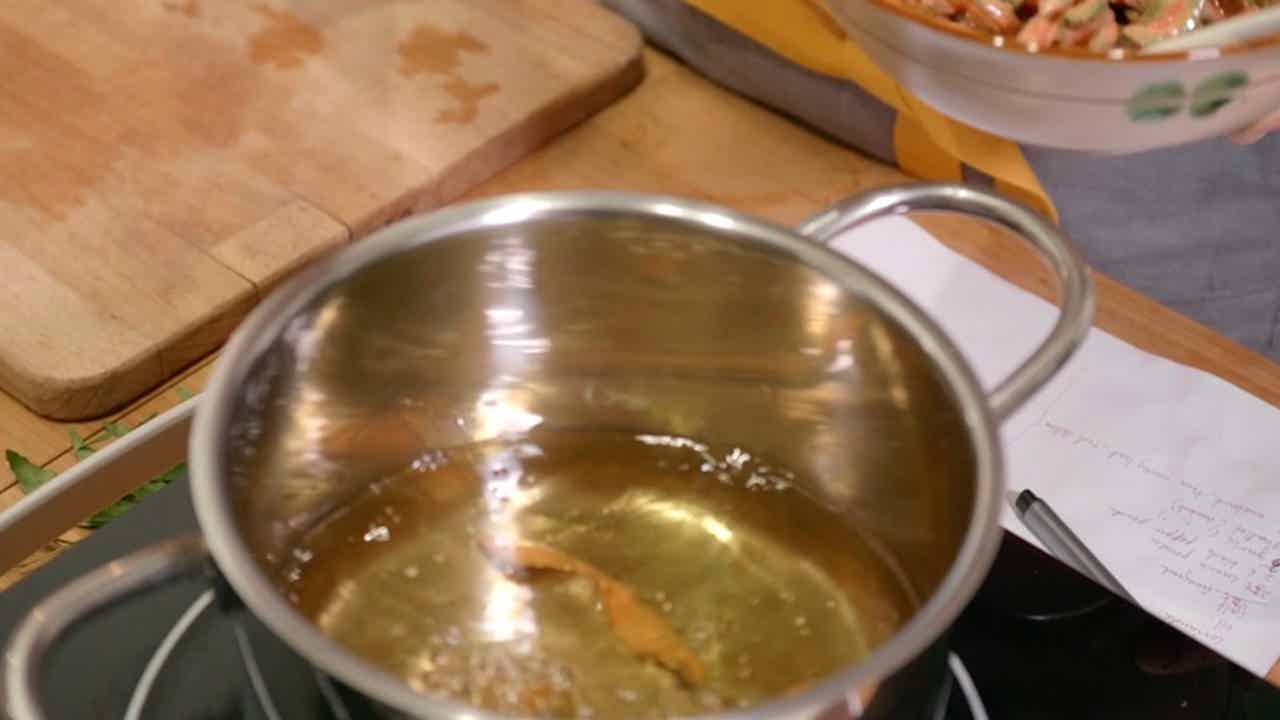 Step 3 of 3
Frying the snake gourd
Mix the slices of snake gourd and curry leaves into the batter. In a pan of preheated oil at medium heat, carefully fry the snake gourd and curry leaves until they turn golden brown. Once the slices of snake gourd are fully fried, there are no more bubbles around them.
Published: April 30, 2018
---
0 Discussions
Give us your opinion! Log in and start posting.