The best tasting butter cake must be moist and soft with every bite filled with buttery goodness. This foolproof recipe delivers it all, definitely better than your favourite box mix. It does not involve the creaming method as creamed butter and sugar may curdle after eggs are added. Using the high ratio method, it yields a cake which is more moist like the classic English pound cake.
In Southeast Asian countries such as Singapore or Malaysia, the cakes are not too sweet as many opt for healthy sweet treats instead. My parents love this cake. Not only it is quick to prepare, the texture is guaranteed fluffy even without the addition of cream. Since this homemade buttery treat is so easy to prepare using simple ingredients, it brings out the joy of baking. Make this for your next birthday celebration or just simply so because you will be asking for more!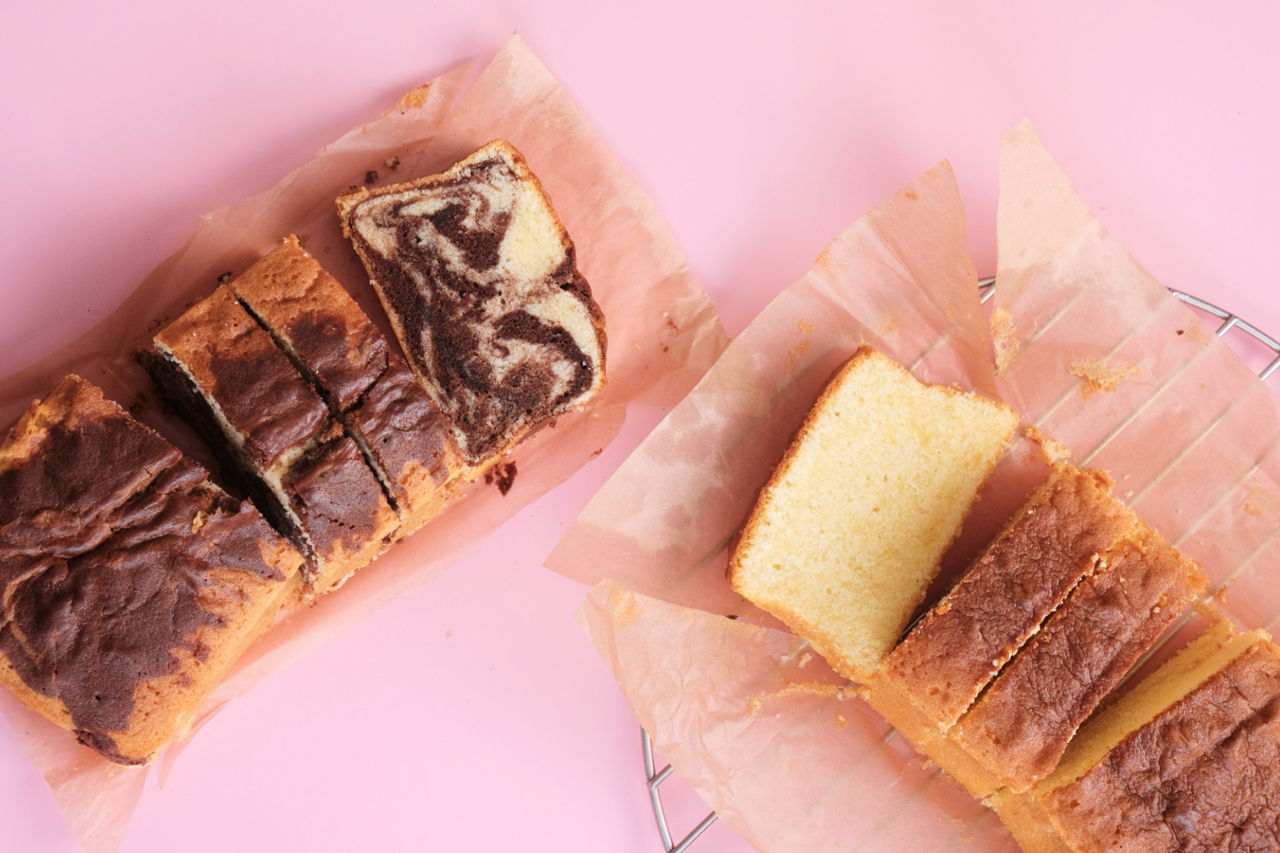 Tools and equipment
This cake can be made using a hand mixer or whisk.
Using all purpose flour
Cake flour is low in protein making it suitable to make cakes whereas high protein flour is meant for making bread. This means flour with less gluten is ideal for making fluffy and soft cakes.
Turn all purpose flour into cake flour by combining 85g of all purpose flour and 15g of corn starch. Corn starch can be substituted with any gluten-free flour of your choice. This will help to lower the protein content of the all purpose flour.
Which butter is best?
For starters, I prefer using unsalted butter as I am able to adjust the amount of salt in the cake. I like to use pure butter, nothing less. High quality butter will consist of 80% of minimum fat at minimum. Take a look at the list of ingredients to ensure that it does not contain other ingredients such as hydrogenated oils. However, there are some who swear by using butter blend for the best flavours.
What is the purpose of milk powder in butter cake?
Butter is made by churning milk or cream. Therefore, adding milk powder enhances the buttery flavour of the cake. In this recipe, we used water. You can substitute it with milk for a more fragrant butter cake. However, do not add more than the recommended amount of liquid as this will drastically change the texture of the cake.
You can also opt to omit milk powder in this recipe.
Why is the butter cake hard and not fluffy?
One of the reasons could be due to over mixing. When mixing wheat flour and liquid, gluten develops. Mixing the batter for too long causes the gluten to strengthen. During baking, the cake will rise but sink once it is removed from the oven resulting in a dense cake. Therefore, once flour is added, just mix until the batter comes together.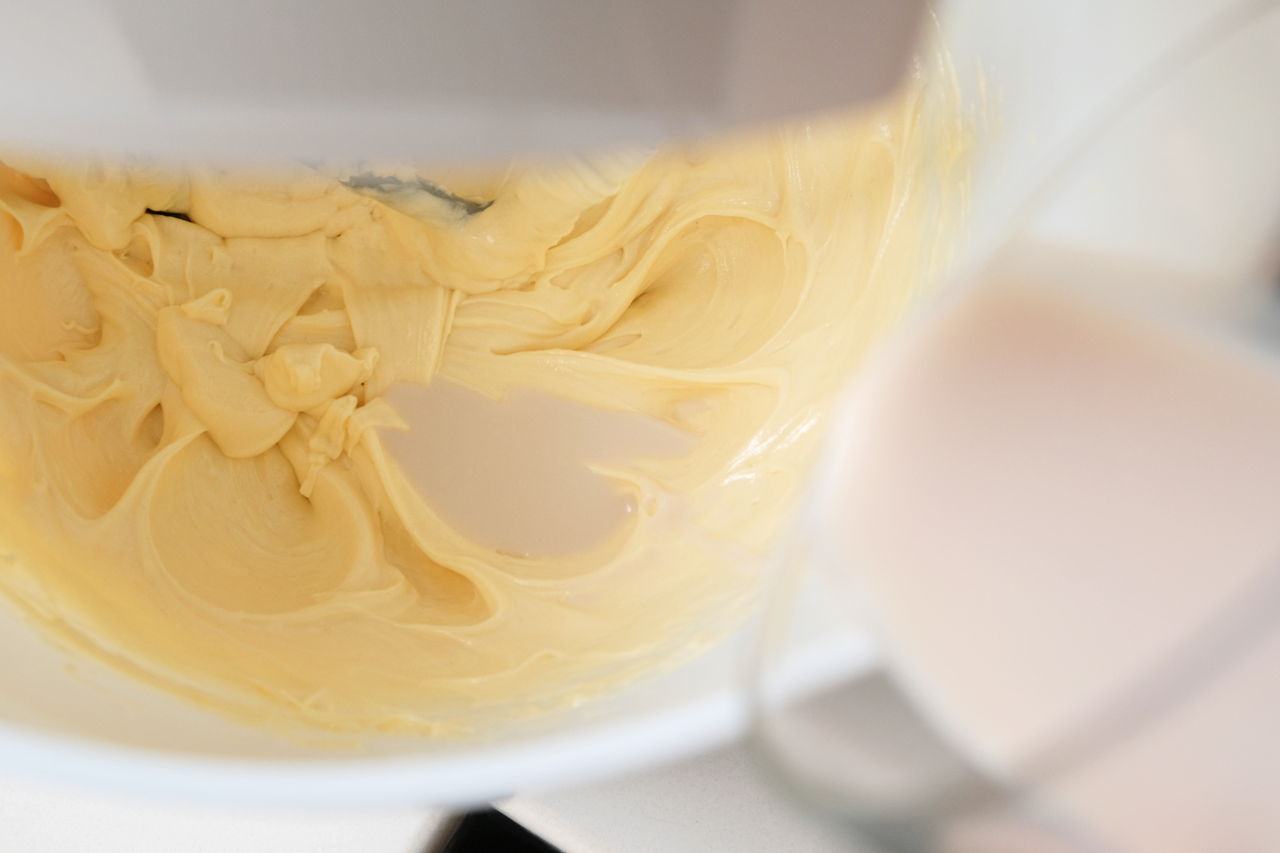 Brown dots on the surface of the cake
This happens if the sugar did not dissolve properly when it was mixed with butter. Hence, I recommend using castor (caster) sugar also known as baker's sugar or super fine sugar. It is finer than the common table sugar which is used in most kitchen. Do not confuse it with powdered sugar.
Check to see if cake is ready
To check if the cake is ready, stick a knife or a skewer into the thickest section of the cake while it is still in the oven. If it comes off clean, it is done. Sometimes, the cake may brown too soon. Simply place a layer of baking paper on top to prevent the cake's surface from burning.
Size of mould
I used a 7"x3.5"x3" baking pan. If a bigger mould is used, the batter will be distributed and become flatter. Baking time may need to be reduced then. In this case, check every 20 minutes.
Variations of butter cake
You can use any shape of mould to bake this cake and it can go with any frosting or glaze of your choice. You can even turn them into delicious cupcakes for a party.
Personally, I love adding some cocoa powder for a delicious marbled effect. To do so, simply scoop out 200g of cake batter and mix in 10g of cocoa powder evenly. For the marbled effect, pour a layer of plain cake batter into the cake mould followed by a layer of chocolate cake batter. Repeat with another layer of plain batter. Finally, drop spoonfuls of cocoa cake batter sporadically. Using a chopstick or a knife, carefully swirl the batter to create the pattern. Avoid swirling too much or you may end up with a cocoa butter cake instead.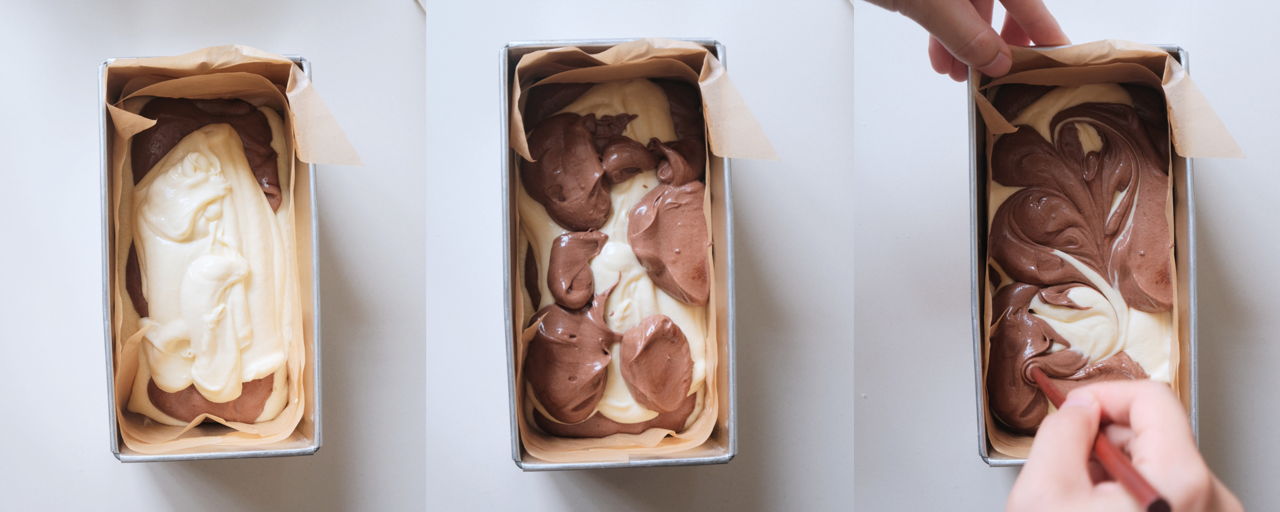 Other flavours you can experiment with are coffee, lemon or orange.
Storing butter cake
This cake freezes very well. Wrap it with aluminum foil before freezing. Before serving, defrost the cake on the kitchen top. Otherwise, this cake can last for up to 2 days at room temperature if kept in an air-tight container.