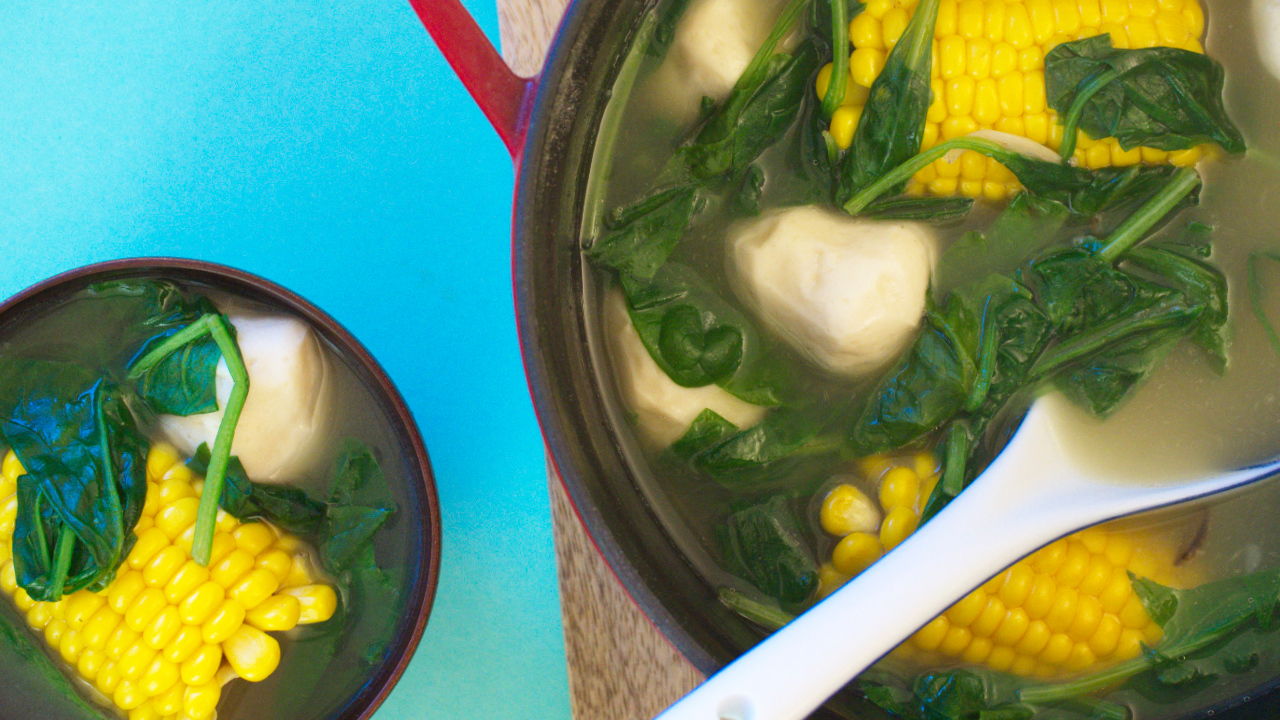 Spinach Soup with Fish Balls
Clear spinach soup is healthy and very refreshing when served with rice. Being low in calories, the soup is perfect if you are looking for a light and easy meal. The combination of a few simple ingredients makes it easy to prepare at any time of the week.
Preparation 5 mins
Cooking 45 mins
Malay, Malaysian, Chinese, Indonesian, Singaporean
---
Ingredients
1

corn (maize)

1

shallot(s)

1

garlic clove(s)

1⁄2

tbsp

oil

8

fish balls

1⁄2

tbsp
oyster sauce

1⁄4

tsp

salt

1

l

water

200

g

spinach
---
Community Food Snaps
Be the first to take a snap!
Log in
and click the in the top bar.
---
Background
Clear spinach soup is much loved in many Asian countries. Sometimes known as Chinese spinach soup, it is actually a dish well known in many Southeast Asian countries like Malaysia and Singapore. It is also available as a traditional Indonesian dish. I guessed this just proves how delicious the dish is. It is easy to prepare using only 5 ingredients. You may think that it's dull but let me assure you, it tastes great. If you want a light dish with or without rice, this is it.
Tastes better than you think
The soup's base is made out of dried anchovies. Don't worry about having a disturbing fishy taste to it as the the anchovies are lightly fried to remove the unpleasant flavour, if any. With added garlic and shallots, the anchovies become the source of umami.
The addition of corn makes the soup stand out as it contributes a mild sweetness. Boiling it together with anchovies is a great choice as there is a balance of sweetness and savouriness.
All about spinach
We all know the huge benefits of spinach as it's high in vitamins and low in calories. If you aren't a lover of vegetables, this soup might change your mind. Spinach is one of those vegetables that softens very quickly when heated. Therefore, for this pot of soup, you can add a big bunch of spinach.
That's the great thing, you get to eat lots of vegetables. Just a bowl of soup will be very filling. Don't forget, spinach contains only ca. 23 calories per 100g. So, add as much spinach as you like into the pot.
Add other ingredients
There is actually a variety of ingredients that can be added to the soup. Corn is only one of them.
If you want to experiment, try adding potatoes, tomatoes, mushrooms, tofu, carrots or a few slices of fresh chillies for some heat. You may even add a beaten egg into the boiling soup and whisking it with a chopstick. For more nutrients, add some goji berries or red dates. Have this bowl of soup with a variety of vegetables instead of rice if you are planning to lose some calories.
Oyster sauce for flavouring
Although oyster sauce is suggested in the recipe, it is actually optional. The condiment improves the flavour of the dish. However, adding a tiny bit more of salt can do the trick too.
---
Steps to Prepare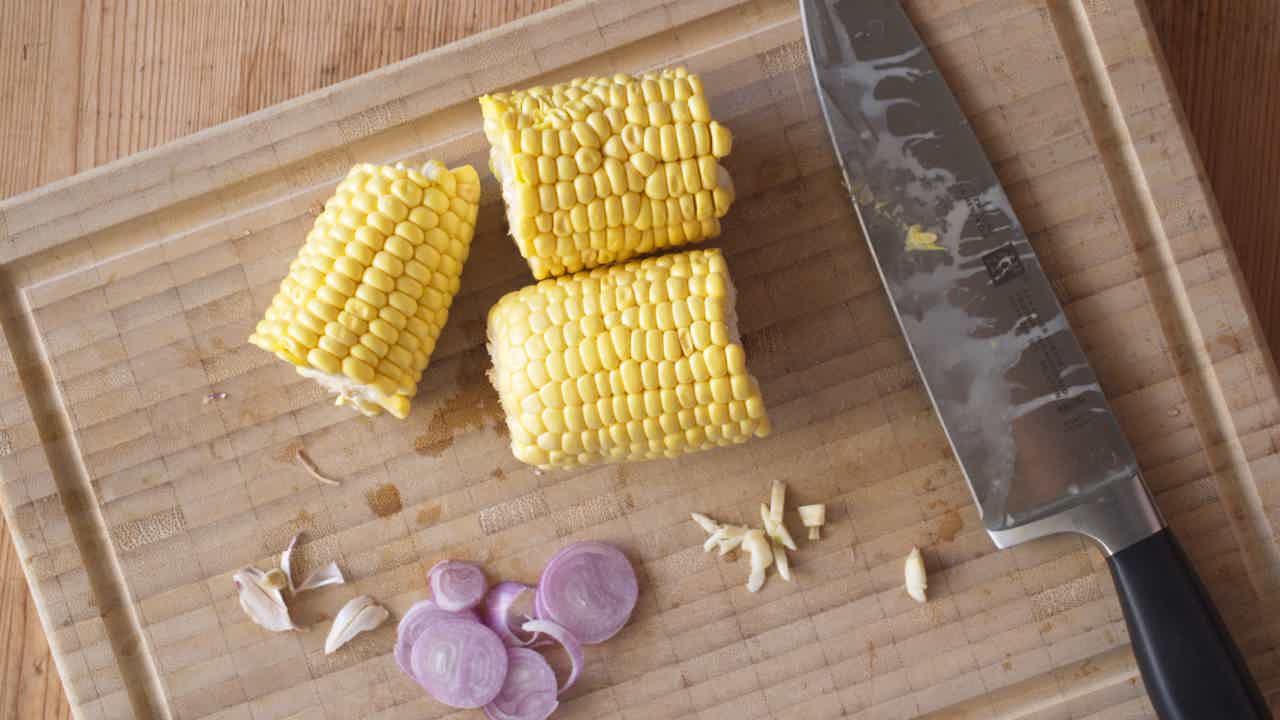 Step 1 of 2
1

corn (maize)

1

shallot(s)

1

garlic clove(s)
Chop corn into smaller chunks of 3 or 4. Then. cut shallots into thin slices and mince garlic.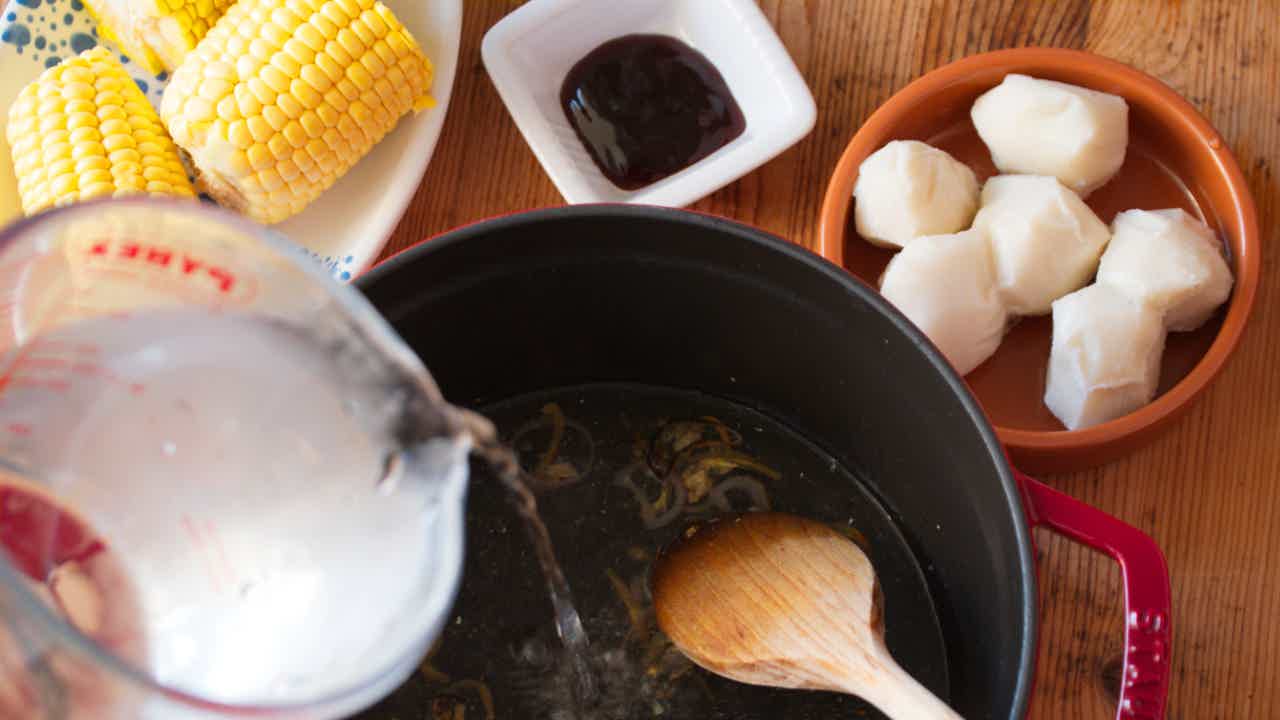 Step 2 of 2
1⁄2

tbsp

oil

8

fish balls

1⁄2

tbsp oyster sauce

1⁄4

tsp

salt

1

l

water

200

g

spinach
In a pot, heat oil at medium temperature to sauté anchovies, garlic and shallots until fragrant. Add water, oyster sauce, fish ball and corn. Once the soup begins boiling, cover the pot with the lid and reduce heat to the lowest. Let the soup simmer for at least 30 minutes or up to an hour. Before serving, add spinach to cook until soft. It will only take 2-3 minutes. Add salt to taste.
Published: October 3, 2019
---
0 Discussions
Give us your opinion!
Log in
and start posting.