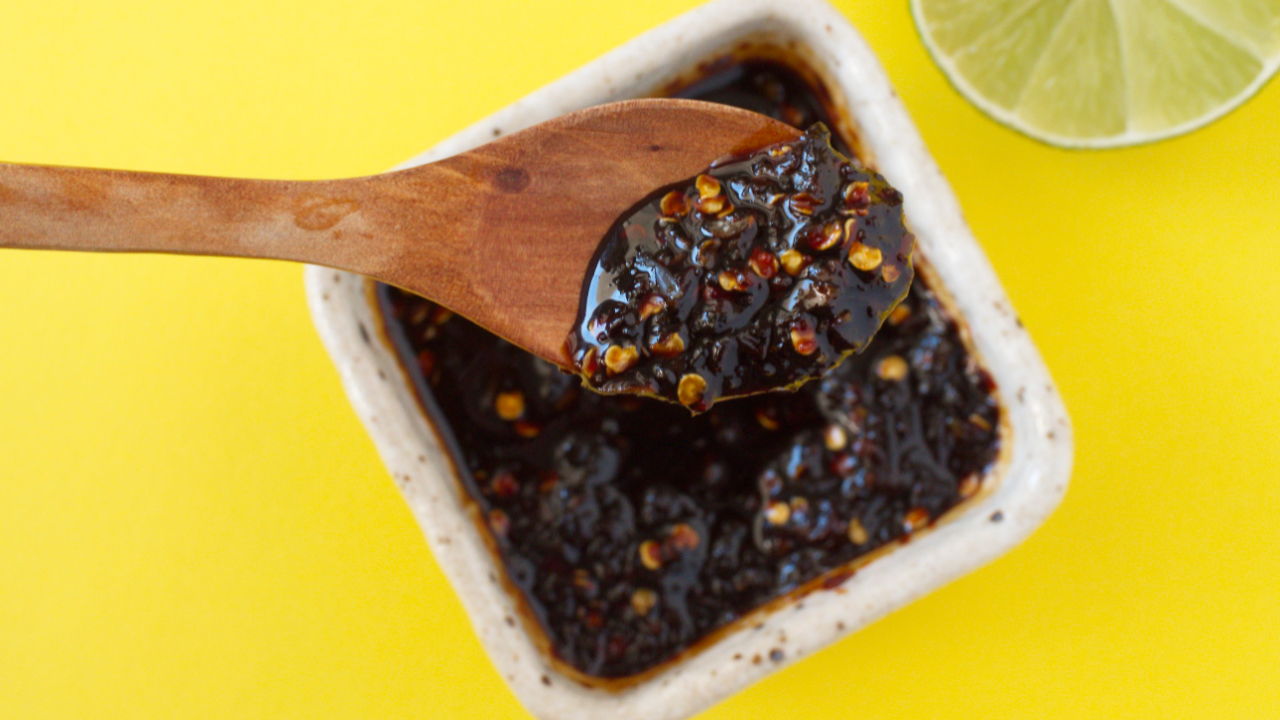 Sambal Kicap
'Sambal kicap' is a spicy sweet soy sauce dip that is a favourite condiment for dishes in Indonesia and Malaysia. Goes well with dishes like Ikan bakar (grilled fish), seafood and even bakso (soup noodles).
Total Time
Preparation 5 mins
Cooking 5 mins
Alternate Names
Spicy sweet soy sauce
Cuisines
Malay, Indonesian
---
Ingredients
1

cup

bird-eye chillies

1

shallot(s)

1

garlic clove(s)

1⁄2

cup

oil

3⁄4

cup

sweet soy sauce (kecap manis)

1⁄4

tsp

salt
---
Nutrition per Serving
Calories
117 kcal
Carbs
3 g
Fat
11 g
Protein
2 g
---
Community Food Snaps
Be the first to take a snap! Log in and click the in the top bar.
---
Background
Sambal kicap is one of the easiest sambal to prepare. The main ingredient consists of kicap manis, an Indonesian sweet soy sauce loved by many. Although there is a variety of sambal available, this is a definite winner for its uncomplicated preparation, long shelf life and amazing flavour. The taste is initially sweet followed by lingering spiciness. This condiment is nicknamed lava sauce due to its extreme spiciness and dark colour. The ingredients needed to prepare this spicy condiment are really easy to obtain as they are readily available in most supermarkets.
Type of chillies
Sambal kicap is made using 'cili padi' or bird-eye chillies which are known for their spiciness. Also known as Thai chillies, they come in either red or green. Green cili padi are young and turn red when they ripen. In Southeast Asia, they are widely sold in markets or supermarkets.
If you are unable to find them at the Asian grocers, you can find similar types in specialty stores such as the Mexican or Turkish grocery stores. Otherwise, simply substitute them with Cayenne peppers. Using capsicums, for example is not advisable as they have a higher content of water compared to other types of peppers.
Using chillies with lesser content of water guarantee a longer shelf life of the sambal.
Why use shallots instead of onions?
Shallots are particularly used because they are sweeter and have a milder flavor compared to onions. That is also the reason shallots are often selected in the making of chilli paste for curries. Shallots blend in easily with other ingredients without contributing a distinctive flavour.
Should onions be avoided then?
No. Of course, you may replace shallots with onions when making sambal kicap. Just opt for sweet onions (e.g. Vidalias) or regular yellow onions which are milder in flavour compared to the white or red onions.
What is kicap manis?
Kicap manis is a special sweet soy sauce hailing from Indonesia. It doesn't have the typical salty flavours of light soy sauces. The sauce is rather sweet instead. The texture is almost honey like because of the sugar content. If it is not available in your nearby Asian grocer or supermarket, look out for teriyaki sauce as a good substitute.
Keep sambal kicap for 3 months or longer
Homemade sauces are meant to be made in bulk. Therefore, it is important to ensure that they are able to keep well. The chillies, garlic cloves and shallots must first be fried to release the water content in them. In doing so, the amount of water content in the final product is reduced. This is the secret to making it keep longer.
Store it in a clean container or bottle. Always use a dry spoon to scoop the sauce to prevent contamination and growth of mold.
If you want to make it last even longer, just freeze the sauce.
Spoon them into an ice cube tray to create small cubes of sambal kicap for convenient usage. Thaw them before serving. It is as simple as that!
How to serve sambal kicap?
Sambal kicap goes really well with grilled dishes especially seafood. If you like a hint of sourness, add a squeeze of lime. In my opinion, it goes well with most dishes. Add it to fried rice, noodles like mee siam goreng and even have it together with steamed fish. The list goes on. Basically, it is the best hot sauce to have in your kitchen.
---
Steps to Prepare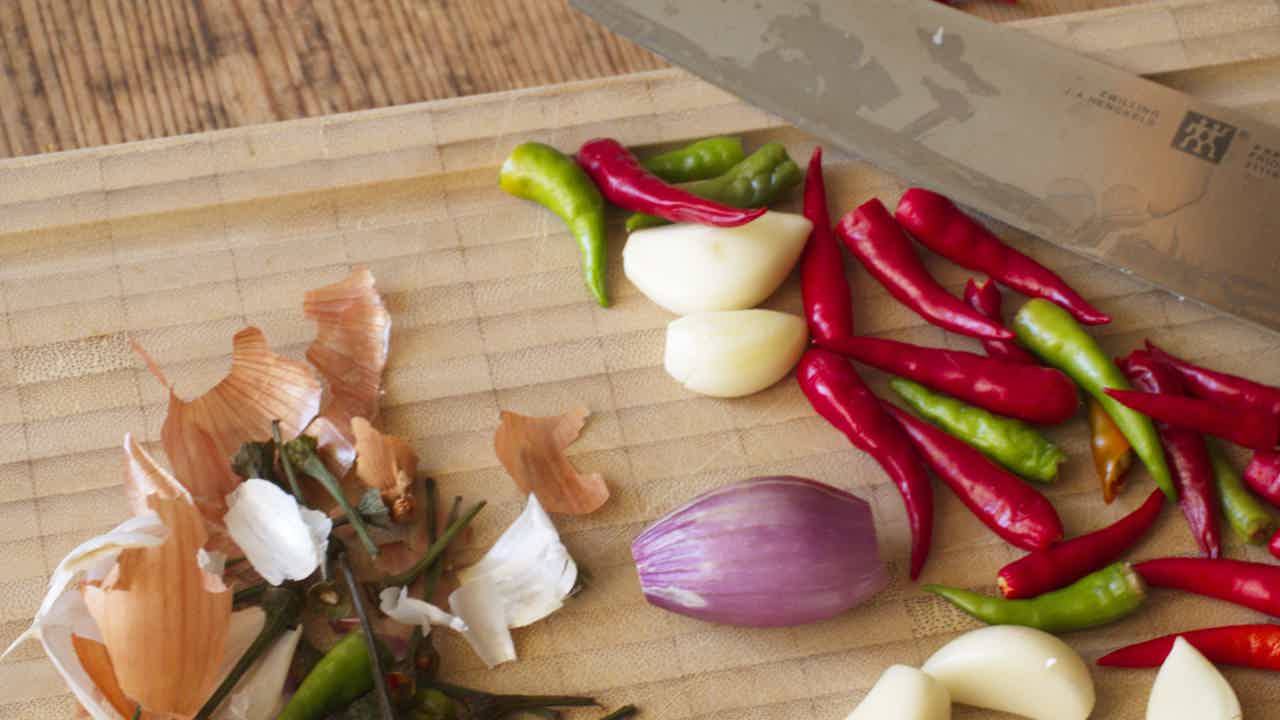 Step 1 of 3
Prepare ingredients
1

cup

bird-eye chillies

1

shallot(s)

1

garlic clove(s)
Remove the chilli stems. Remove skin from shallots and garlic. Rinse and pat dry with a kitchen towel.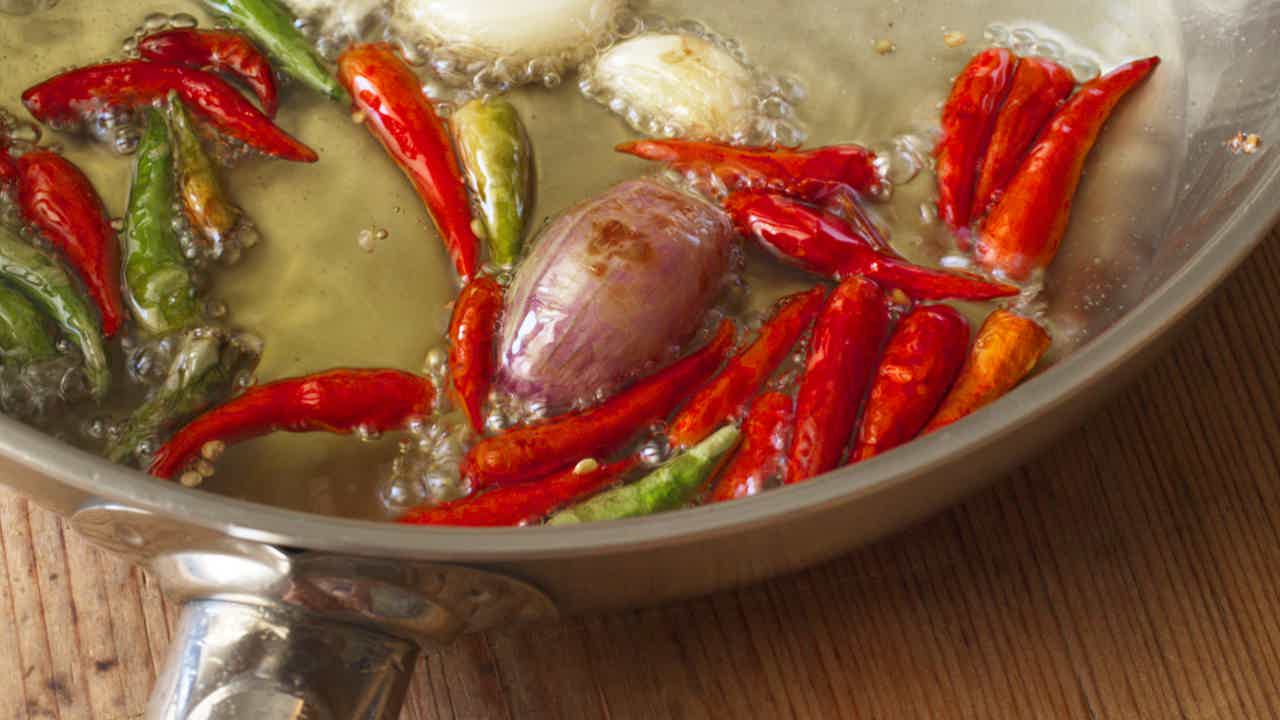 Step 2 of 3
Fry ingredients
In a pan with some oil heated over medium heat, add chillies, shallots and garlic. Sauté until fragrant.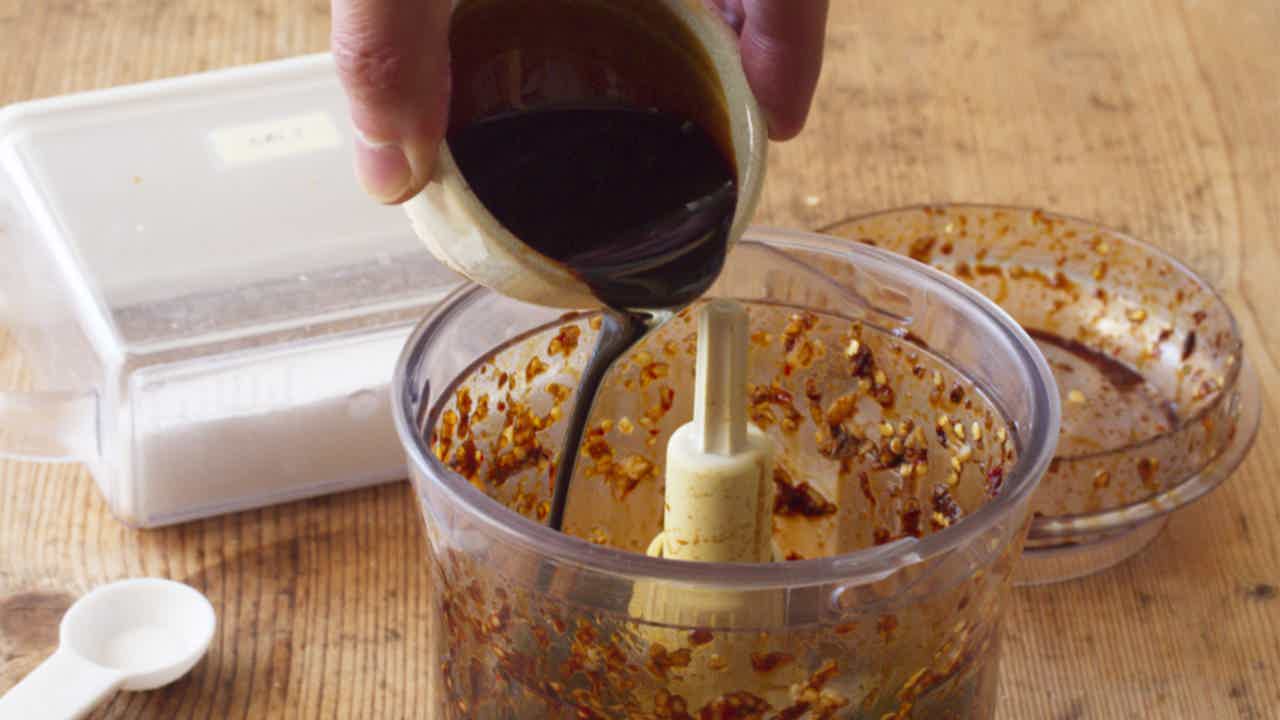 Step 3 of 3
Blend ingredients
3⁄4

cup

sweet soy sauce (kecap manis)

1⁄4

tsp

salt
Blend fried ingredients until smooth. You may also pound them instead using pestle and mortar. Once smooth, add sweet soy sauce and salt. Mix well.
Published: August 9, 2019
---
0 Discussions
Give us your opinion! Log in and start posting.