Salt and Pepper Cuttlefish
An easy gluten-free fried cuttlefish recipe that guarantees crispiness and tenderness. While the salt crystals and crushed peppers contribute to the main flavours, the natural taste of cuttlefish is just as delightful.
Preparation 5 mins
Cooking 20 mins
Chinese, Taiwanese, Vietnamese, Malaysian, Singaporean
---
Ingredients
1

garlic clove(s)

2

scallions

1

shallot(s)

1

bird-eye chillies

400

g

cuttlefish

500

ml

water

1

egg(s)

300

ml

oil

8

tbsp

corn flour

1

tbsp

oil

1

tsp

sesame oil

1⁄2

tsp

salt

1⁄2

tsp

black pepper
---
Community Food Snaps
Be the first to take a snap!
Log in
and click the in the top bar.
---
Background
Salt and pepper cuttlefish is a popular dish in many Chinese or Vietnamese restaurants. This is definitely one easy and appetizing recipe. The aim is not to overcook the cuttlefish, thus preventing them from becoming rubbery. Besides the crispy gluten-free batter, this dish is even more exciting because of the two main ingredients as its name suggests - salt and pepper. However, adding a little bit of Thai chillies gives an extra kick and colour to the dish. While this dish may be simple to prepare, you will need the following tips to achieve a plate of beautifully fried cuttlefish.
Cuttlefish, squid or calamari?
In this recipe, I used cuttlefish as it is the most flavourful among the three. However, you may always substitute it with calamari or squids. Between calamari and squids, the flesh of the calamari is more tender.
Frozen cuttlefish/squid/calamari
Frozen cuttlefish, squids and calamari are found in most supermarkets. In Asian grocers or seafood specialty stores, you will find cuttlefish which are readily scored and boiled. When using frozen cuttlefish, thaw first before proceeding to coat them with egg white and cornflour.
Type of salt and pepper
Please note that the taste of salt and pepper varies depending on the type used. I love using larger chunks of salt and black pepper as it does not seep into the batter immediately when in contact with heat. Most importantly, I used them for their flavours. Using crushed black pepper instead of fine white pepper gives the dish an unevenness of flavours. Such imperfection makes the dish perfect because very mouthful releases a hint of heat from the black peppers and the sprinkles of salt jolts the taste buds as you chew into the crispiness.
Of course, you may use table salt (the more common salt) and white pepper powder. Do note that table salt is much saltier compared to others.
Non-spicy version
Kids absolutely love fried squids but pepper and chillies may be too spicy for them to handle. Hence, skip the pepper and chillies if you are preparing a child-friendly dish.
Do not overcook squids
This is very important because the recipe requires that the cuttlefish be cooked twice. When blanching the cuttlefish pieces, ensure that the water is brought to a rolling boil before adding them. It should take only seconds for the cuttlefish pieces to curl. Immediately remove and place them into cold water to stop the cooking process.
Before frying, check that the oil is properly heated by using a wooden chopstick. If bubbles appear around the chopstick, it indicates that the oil is ready. It would take a longer time for the cuttlefish pieces to be fried if the oil is not properly heated, thus resulting in them being overcooked.
Secret to light and crispy cuttlefish
The combination of cornflour and egg white delivers a very light batter which is the key to maintaining crispiness. Before dipping the cuttlefish pieces into the egg white and cornflour, do use a kitchen paper to absorb access water from the surface of the cuttlefish. Any moisture will cause the oil to splatter and makes it difficult to achieve the crispiness.
---
Steps to Prepare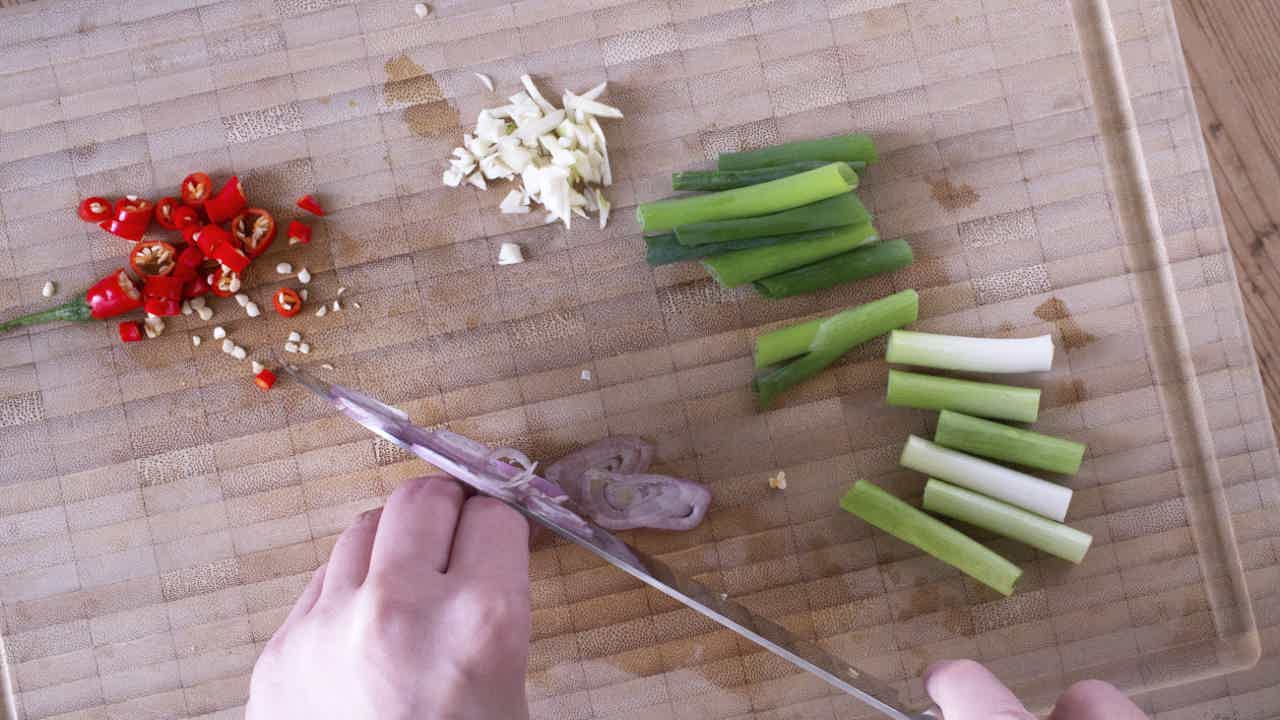 Step 1 of 5
1

garlic clove(s)

2

scallions

1

shallot(s)

1

bird-eye chillies
Mince garlic, slice shallots and Thai chillies and cut scallions lengthwise (ca. 4cm). Set aside.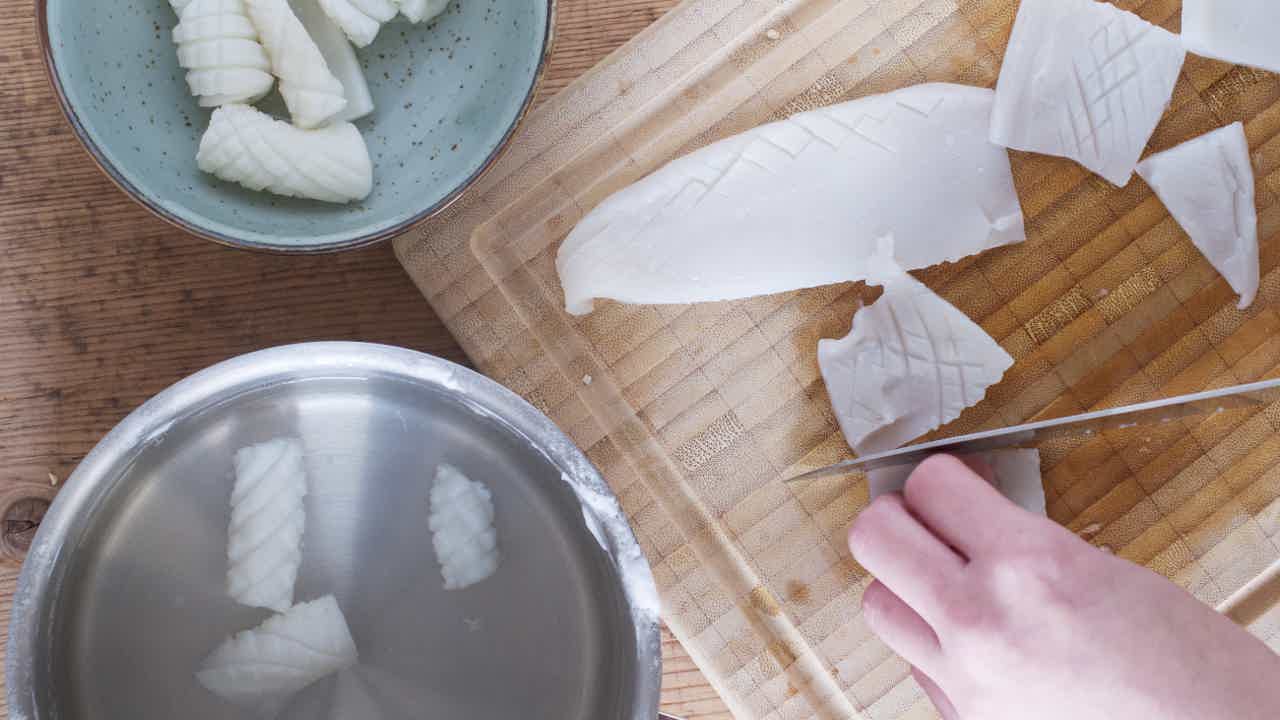 Step 2 of 5
400

g

cuttlefish

500

ml

water
Cut cuttlefish on one side to open it up. Lay it flat and use a knife to scrape any dirt. Lightly score the insides of the cuttlefish to create the crisscross pattern. Then, cut scored cuttlefish into smaller pieces (ca. 4cm x 3cm). In a pot of boiling water, place cuttlefish pieces for a few seconds for them to curl. Immediately remove from heat and place them in a bowl of cold water to stop the cooking process. Set aside.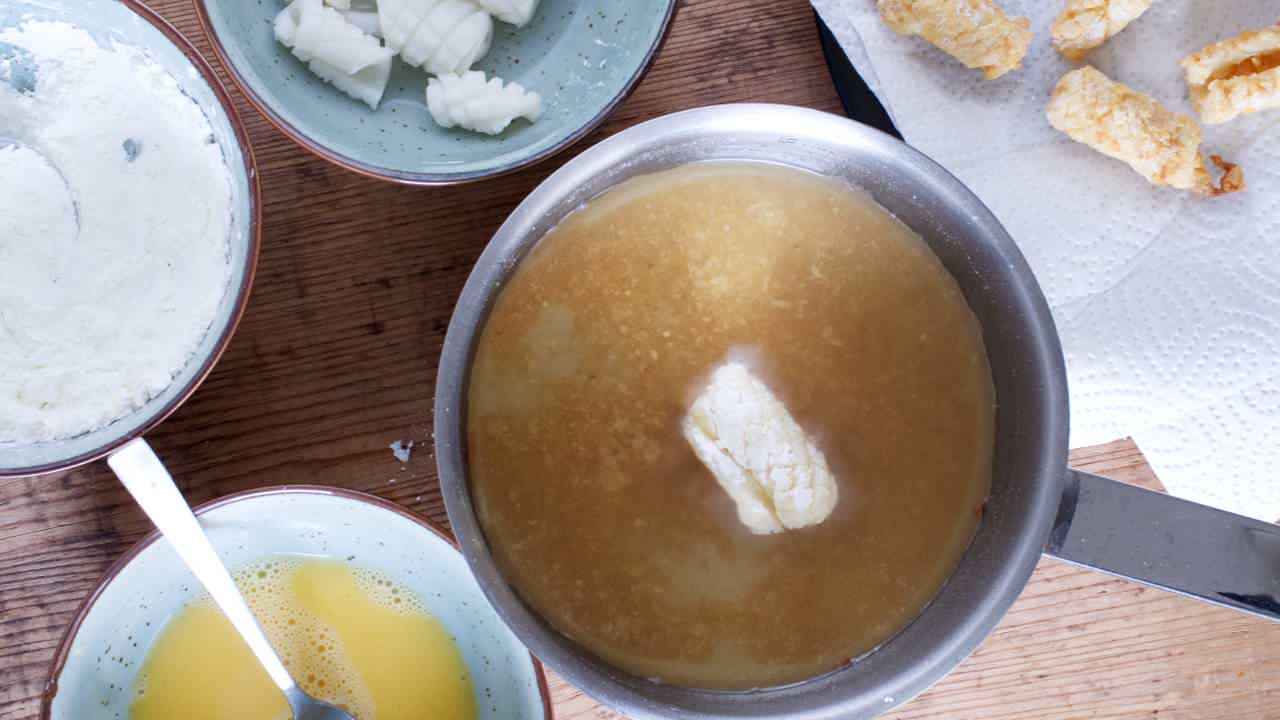 Step 3 of 5
1

egg(s)

300

ml

oil

8

tbsp

corn flour
Heat oil in a pot over medium heat. Use a kitchen paper to remove excess water from squid. Beat an egg to dip cuttlefish pieces before coating them with corn flour. Once the oil is heated up, fry cuttlefish pieces until golden brown.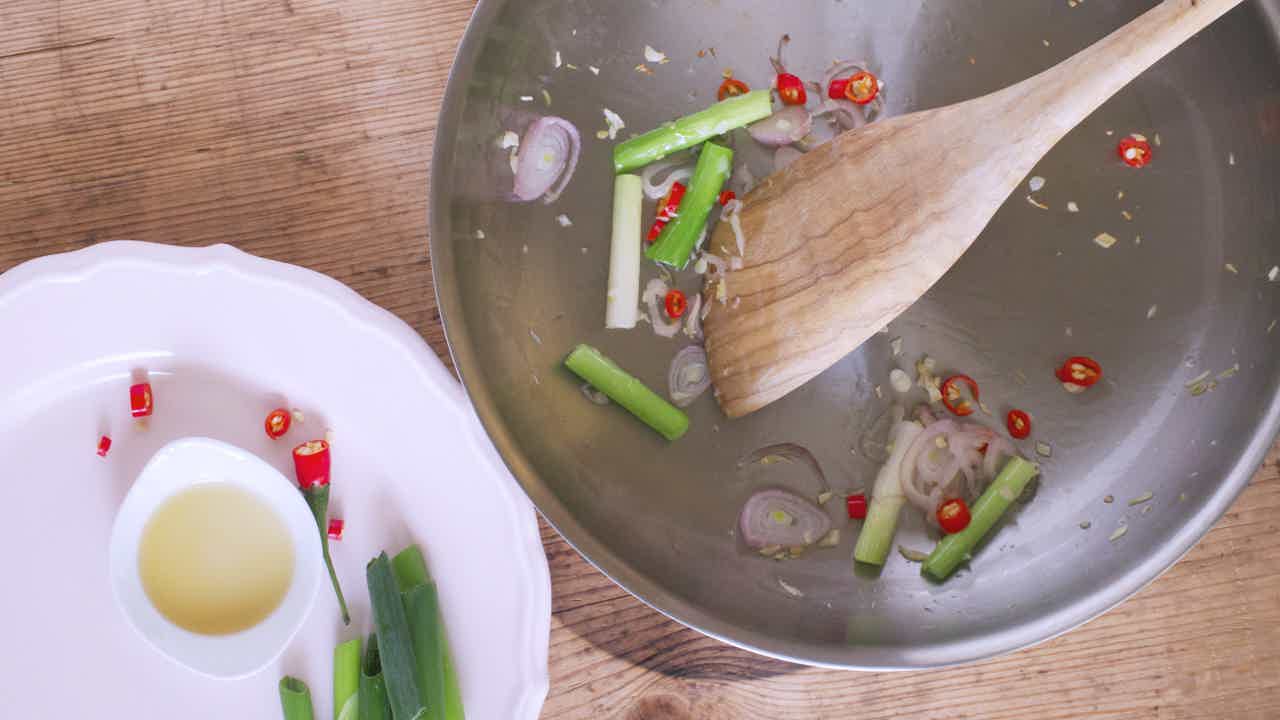 Step 4 of 5
1

tbsp

oil

1

tsp

sesame oil
In a pan, heat oil over medium heat. Sauté garlic and shallots until fragrant. Then, add chilli slices, scallions and sesame oil. Once scallions begin to wilt, remove the pan from the stove.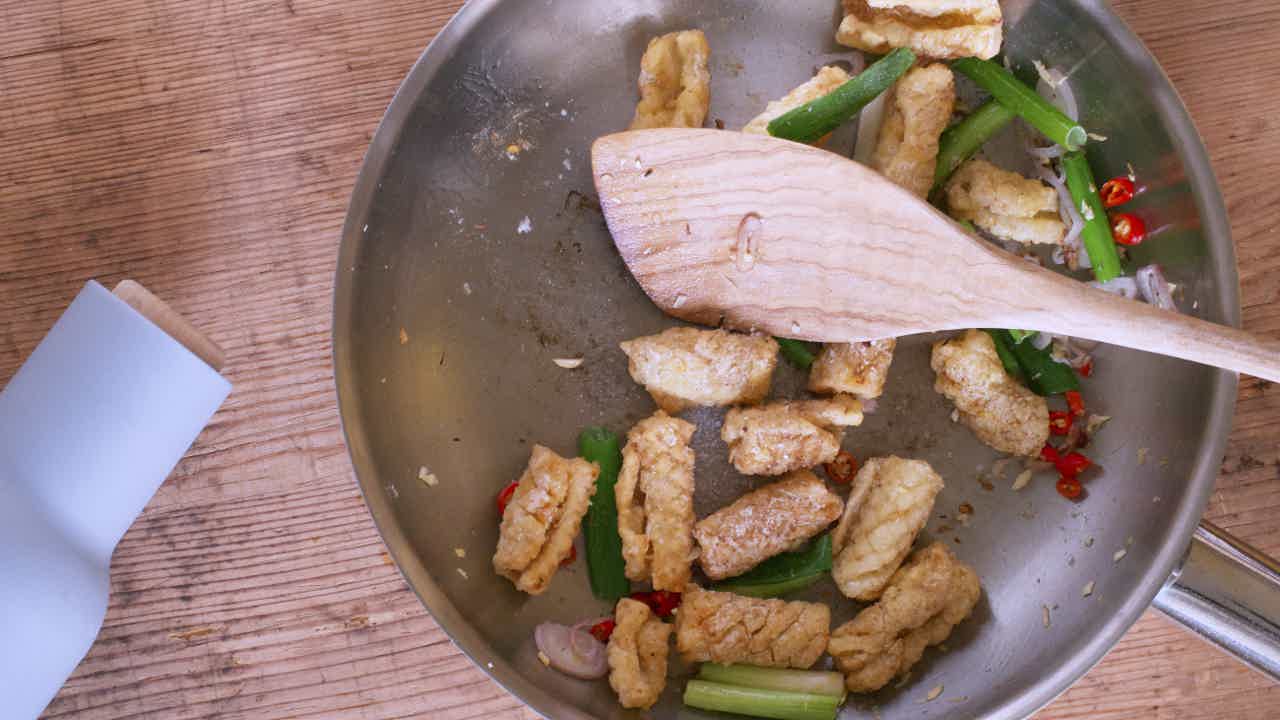 Step 5 of 5
1⁄2

tsp

salt

1⁄2

tsp

black pepper
Add fried cuttlefish pieces into the pan to mix with the sautéd ingredients. Toss salt and black pepper into the dish. Mix well before serving.
Published: February 4, 2019
---
0 Discussions
Give us your opinion!
Log in
and start posting.