Pork stir-fry recipes are a joy to cook because they are fast to prepare. In this recipe, turmeric is added for its flavour and the nutritional values. Turmeric is known to be high in antioxidants and anti-inflammatory properties. With the exceptional savoury turmeric and garlicky flavour, the dish goes really well with plain white rice. A meal is always made easy with this simple pork belly recipe. Great for those who need a tasty meal but have not much time to spare. All that needs to be done is just mix and cook. This is sometimes made as a confinement dish.
Why this recipe works?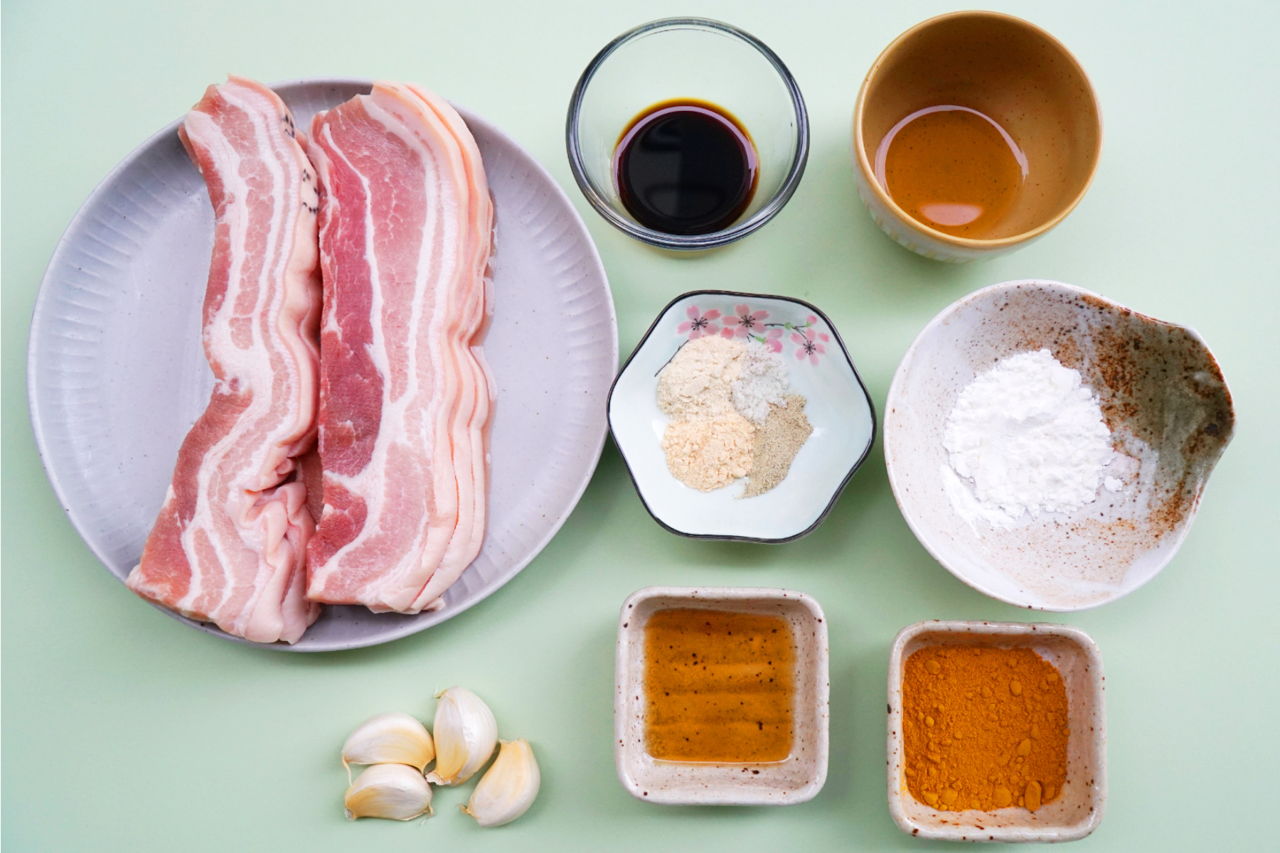 The best stir-fry pork belly has to be tasty yet without frills. This recipe has only 3 steps and requires simple ingredients. I made it numerous times to impress my family and guests. The secret here is the wet rub. Similar to a dry rub, the dry spices such as turmeric and garlic have intense flavours. However, adding soy sauce, sesame oil and Shaoxing wine to make a wet rub ensures that the spices coat the meat chunks better. Once cooked, the spices develop a beautiful textured exterior with a punch of flavours.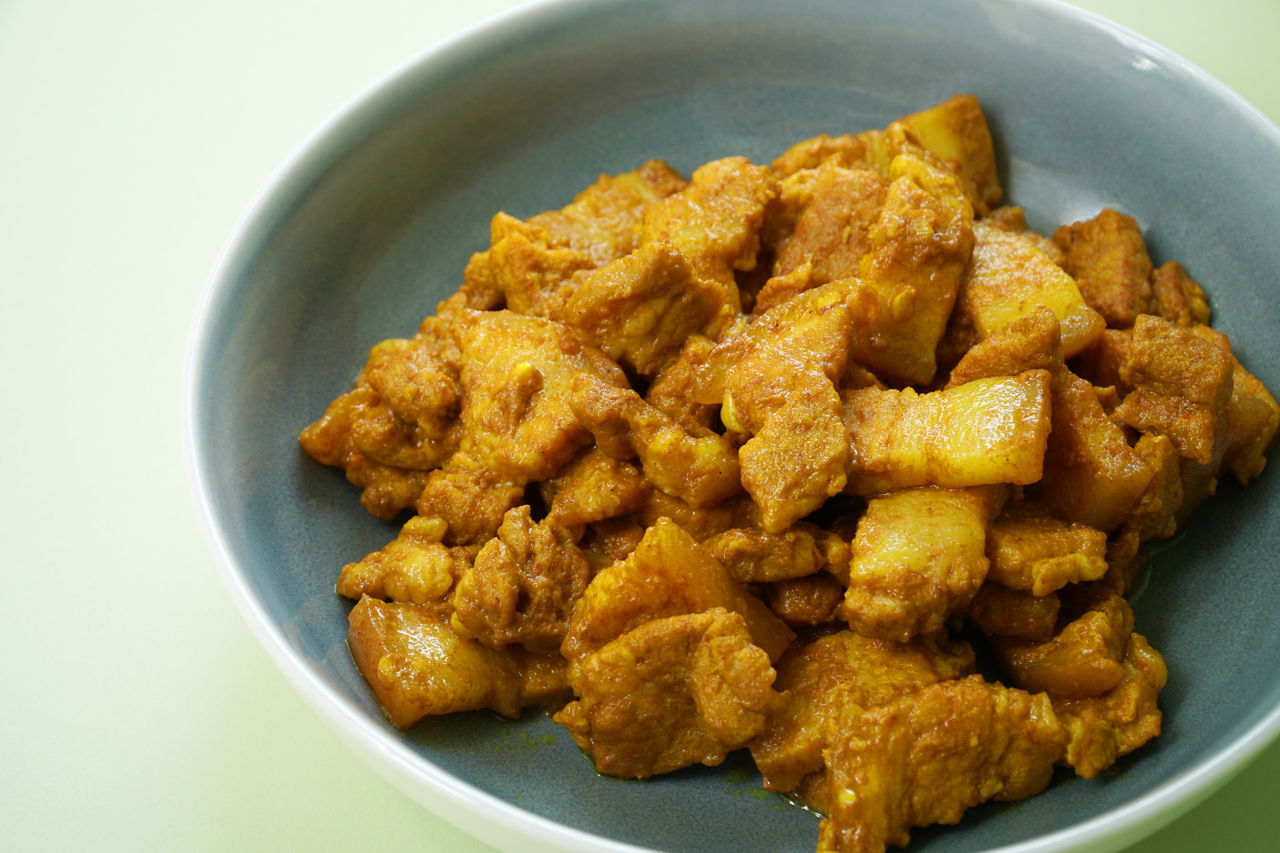 Do not substitute with fresh spices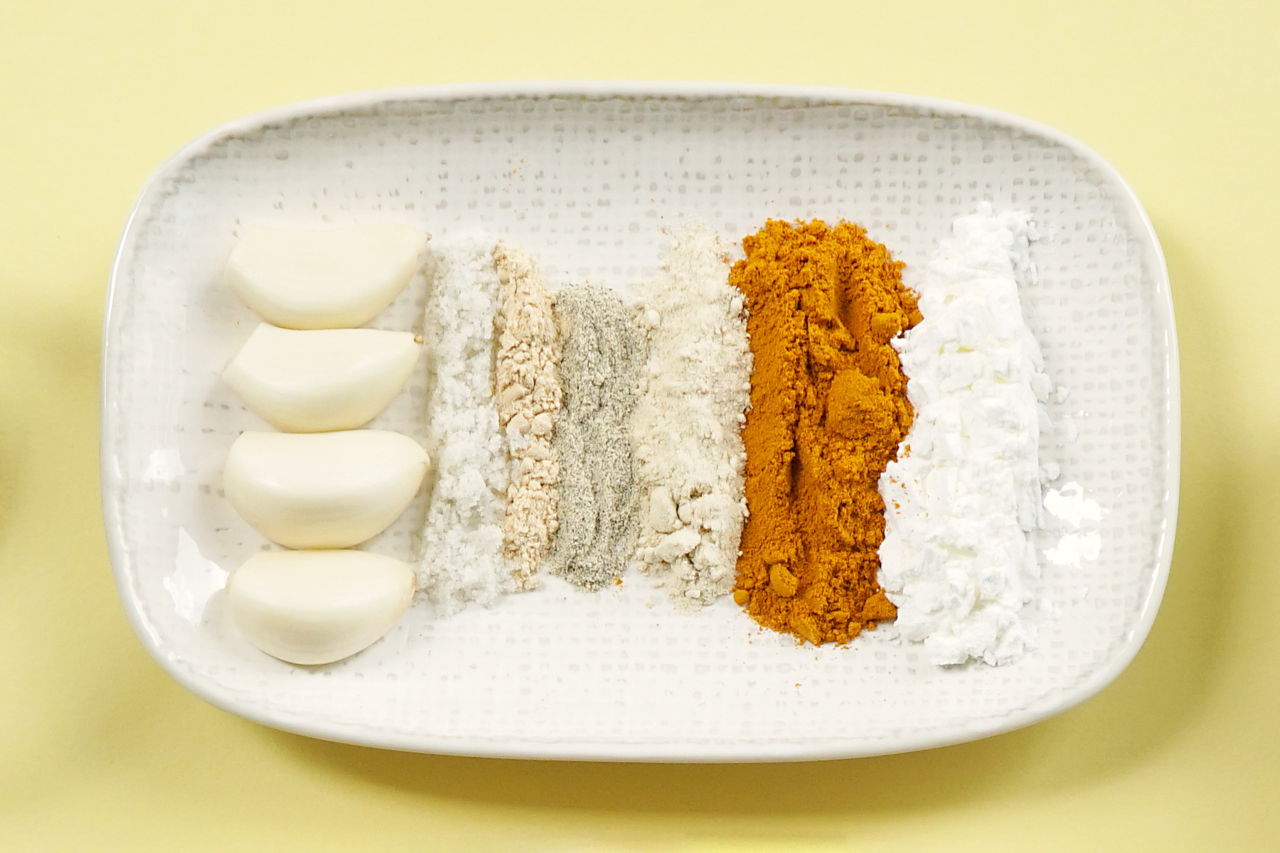 Except for garlic, I highly recommend using powdered spices as the aroma is stronger. Fresh turmeric root can be rather messy to handle as it soaks up oil like a sponge. If there is too little oil used, the fresh turmeric slices will become soggy. The intended taste and texture of the entire recipe will change.
Onion powder is added as it acts as a natural flavour enhancer (MSG). In addition to the fresh garlic, garlic powder makes the dish deliciously garlicky.
Avoid adding vegetables to the dish
Adding vegetables such as capsicum, spring onions or onions to the dish may be the simplest way to add more greens to your meal. This will however change the taste of the dish. Vegetables will release some water during the cooking process which will affect the seasoning which has already been perfected, thus, the ideal texture and taste will not be achieved.
3 tips to make it healthier
A simple stir-fry dish is always adaptable for your diet. If you are health conscious, do the following:
1. Lower sodium content: Instead of using soy sauce, replace with liquid amino on a ratio of 1:1 as it does not have added salt. Hence, it is not as salty but in fact, a little sweeter. Otherwise, simply skip the soy sauce.
2. Less fat: When opting for pork belly, there is no need to use much oil because the fats will melt during cooking. You can trim off some of the fats or use pork shoulder for a leaner cut. Chicken breast works really well for this recipe too.
Another tip is to use a non-stick pan as less oil is needed. Although a stainless steel pan browns the meat better, the difference in taste is minimal.
3. Add more spice: Chillies are known to be full of antioxidants. Feel free to sprinkle 1 teaspoon (or more) chilli flakes to the dish as a bit of heat does make it taste better.
Tricks to deal with turmeric stain
Turmeric stains can be stubborn and annoying. Always use a stainless steel bowl and spoon for mixing to prevent stains. If you are mixing with your hands, put on a pair of gloves. Avoid using white bowls and plastic utensils.
In the event of stained cutlery or crockery, remove it with a mixture of baking soda and water in equal parts. Turmeric stains will eventually fade after a few washes.
What to do with leftovers?
Stir-fry pork in turmeric freezes very well. Store in an air-tight container to prevent freezer burn and consume within 3 months.
Freezer meal prep
After coating the meat chunks with the spices and seasoning as explained in Step 2, place them in an air-tight container and freeze. Thaw the meat overnight in the refrigerator. However, this step is only recommended when using fresh meat, not frozen.