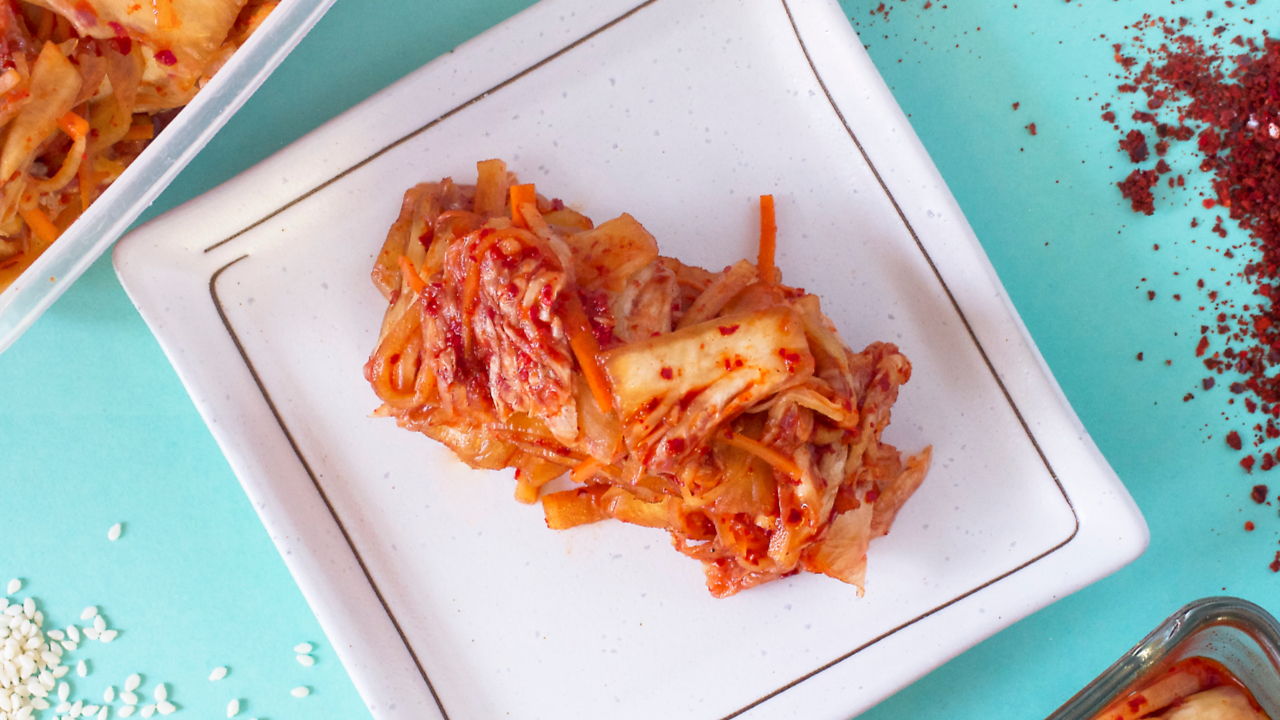 Kimchi
Traditional kimchi can be easily and quickly made at home. This Korean spicy slaw tastes amazing even when just served together with rice. Try this recipe and learn about the importance of fermentation as well as substituting ingredients to make kimchi anywhere you want.
quick kimchi, traditional kimchi
---
Ingredients
1

kg

Chinese cabbage

1

carrot(s)

1⁄2

radish

3

tbsp

salt

8

tbsp

chilli flakes

4

tbsp

garlic clove(s)

4

tbsp

concentrated plum extract

3

tbsp

sugar (brown)

8

tbsp

fish sauce

1

tbsp

sesame seeds

1

tsp

sesame oil
---
Community Food Snaps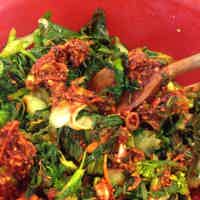 ---
Background
Traditional Korean kimchi can be made quickly and easily. My Korean neighbour shared her family recipe with me and I was immediately hooked. It was pleasantly spicy with a good amount of saltiness, sourness and a hint of sweetness.
With some Korean chili peppers, I was able to recreate the authentic flavours without much fuss as the procedure is simple and the ingredients were easily available.
Why should I make kimchi?
The benefits of kimchi are aplenty. Since it is a fermented dish, it contains probiotic lactic acid bacteria (LAB) which is a type of friendly bacteria that helps with anti aging, cholestrol reduction, brain health promotion and more. According to another clinical study, probiotic bacteria helps in skin restoration after UV exposure. With all the advantages in consuming kimchi and knowing that it is delicious, there is no reason to avoid it. Moreover, making kimchi at home is easy and you can always adjust the recipe to suit your palate.
Substitutes for kimchi ingredients
This kimchi recipe is made with ingredients which can be easily obtained in any supermarket. Living in Germany, chili flakes can be rather expensive when bought at the local grocers. The Turkish or Indian grocers offer chili flakes at a cheaper price which can be used in this recipe.
Please do not use chili sauce as it has added ingredients that will spoil the fermentation process. Subsequently, fish sauce can be substituted with soy sauce, although the change of ingredient will make the kimchi tastes different from the original.
Plum extract (maesil-cheung 매실청), a plum syrup made using Korean green plums is another ingredient used in this recipe. You may substitute it with other types of syrup made of apple, apricot or pear. As in many Korean recipes, corn syrup is also suggested as a sweetener.
Optional ingredients
Besides napa cabbage, radish and carrots, scallions and chives are also added in the making of kimchi. Sometimes, crunchy fruit slices are added for the sweetness and to give that extra crunch to the kimchi. Suitable fruits like apples, nashi pears or persimmons are julienned and then mixed into the kimchi for further fermentation.
How long does it take to ferment?
It highly depends on the temperature and the salt according to the science of fermentation. Salt is a core ingredient in the fermentation of kimchi. Fresh kimchi has a high amount of nitrate (NO3) and nitrite (NO2) which are harmful to the body. In a study published in the book 'Fermented Foods in Health and Disease Prevention', both content of nitrate and nitrite are reduced to very low levels "...after 5 weeks of fermentation at 5°C". This shows that the content of nitrate and nitrite decreased during the fermentation process. That is why it is important to allow kimchi to ferment and the process will take at least 2-4 weeks. Do note that if you live in a warmer area, kimchi will ferment faster. However, additional salt in kimchi slows down the fermentation process.
How long can kimchi be kept?
When stored in a clean and dry container, kimchi can be kept for up to 12 months or more. Do not take kimchi out of the container using wet or dirty/used utensils (no double-dipping) because that would add uninvited bacteria that might spoil the kimchi.
Dishes made with kimchi
Usually served together with warm rice, kimchi is offered during a meal as an appetizer or side dish. It is also used as an ingredient in stews, stir-fry dishes or soups. A popular korean dish enjoyed by many is kimchi fried rice, a quick and easy weekday dish.
---
Steps to Prepare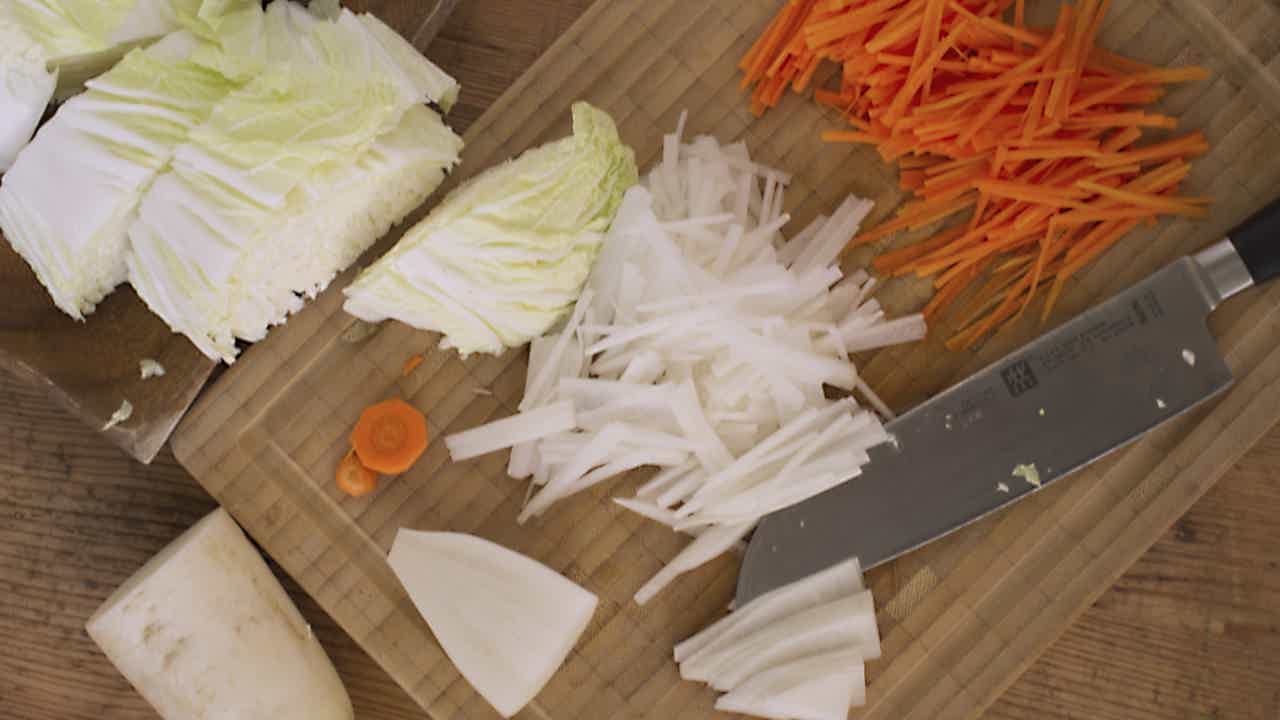 Step 1 of 4
1

kg

Chinese cabbage

1

carrot(s)

1⁄2

radish
Cut napa cabbage into big chunks and rinse under cold water to get rid of impurities. Remove the skin of carrot and radish. Julienne them.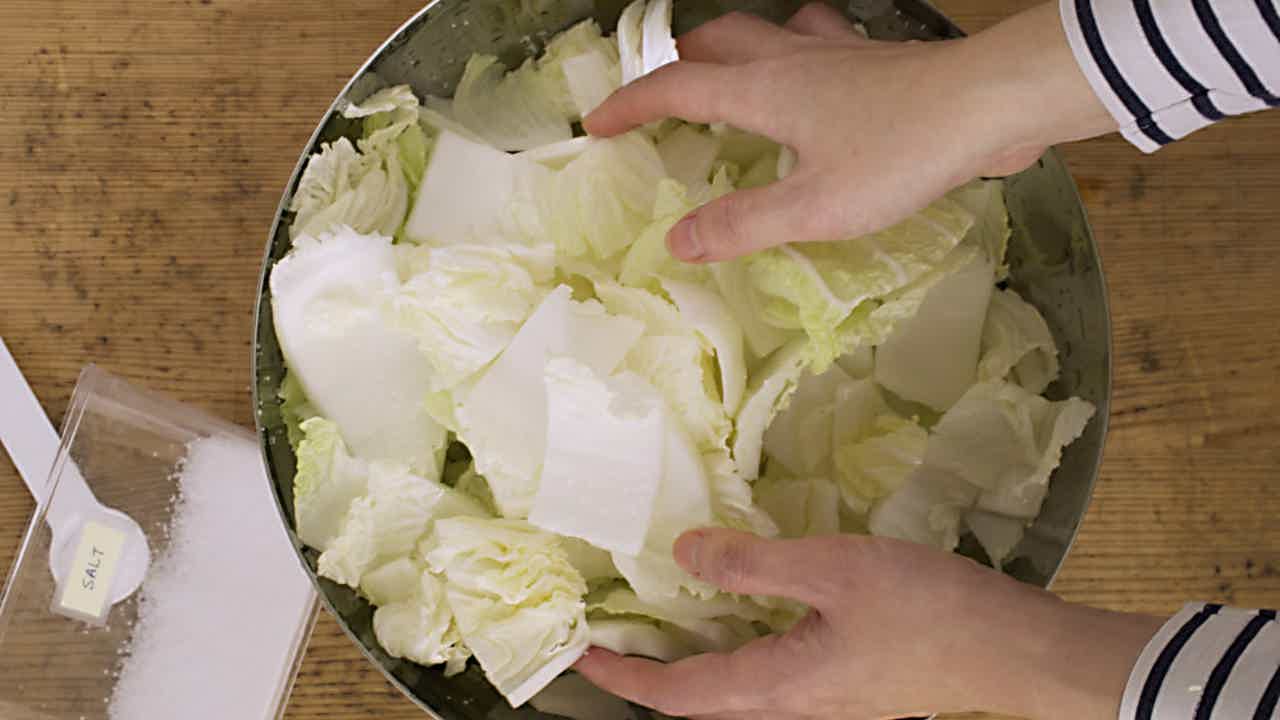 Step 2 of 4
Sprinkle salt onto napa cabbage and toss until salt is evenly spread. Allow cabbage to rest for 30 minutes. Then, rinse cabbage in cold water at least 3 times to remove all salt.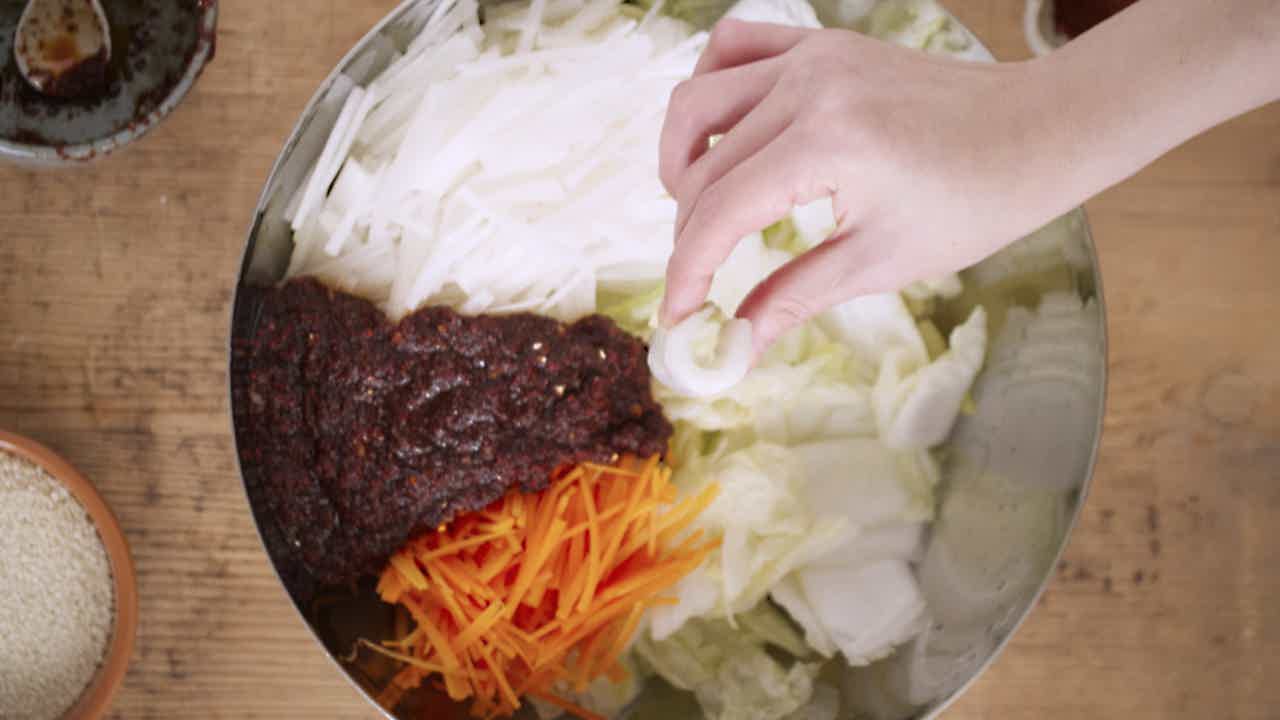 Step 3 of 4
8

tbsp

chilli flakes

4

tbsp

garlic clove(s)

4

tbsp

concentrated plum extract

3

tbsp

sugar (brown)

8

tbsp

fish sauce
When napa cabbage can easily bend without breaking, rinse them in cold water at least 3 times to remove all salt. Ensure all excess water is removed or you might end up with watery kimchi. Mix chili flakes, minced garlic, fish sauce, plum extract and sugar into a paste. Add paste to cabbage, radish and carrot.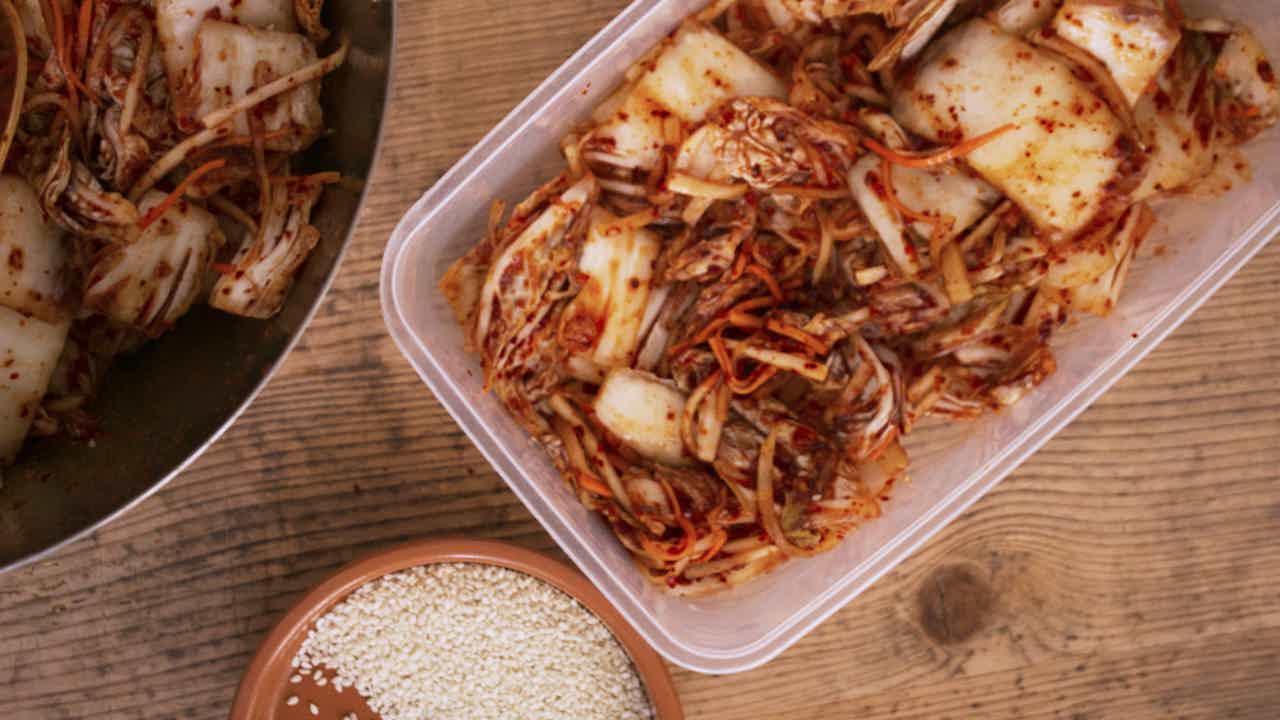 Step 4 of 4
1

tbsp

sesame seeds

1

tsp

sesame oil
Mix vegetables until chili paste is evenly distributed. Transfer vegetables to a clean container for fermentation. Fresh kimchi can be enjoyed immediately or left to ferment for at least 3 days. Add some sesame seeds and a few drops of sesame oil before serving.
Published: January 17, 2019
---
0 Discussions
Give us your opinion!
Log in
and start posting.