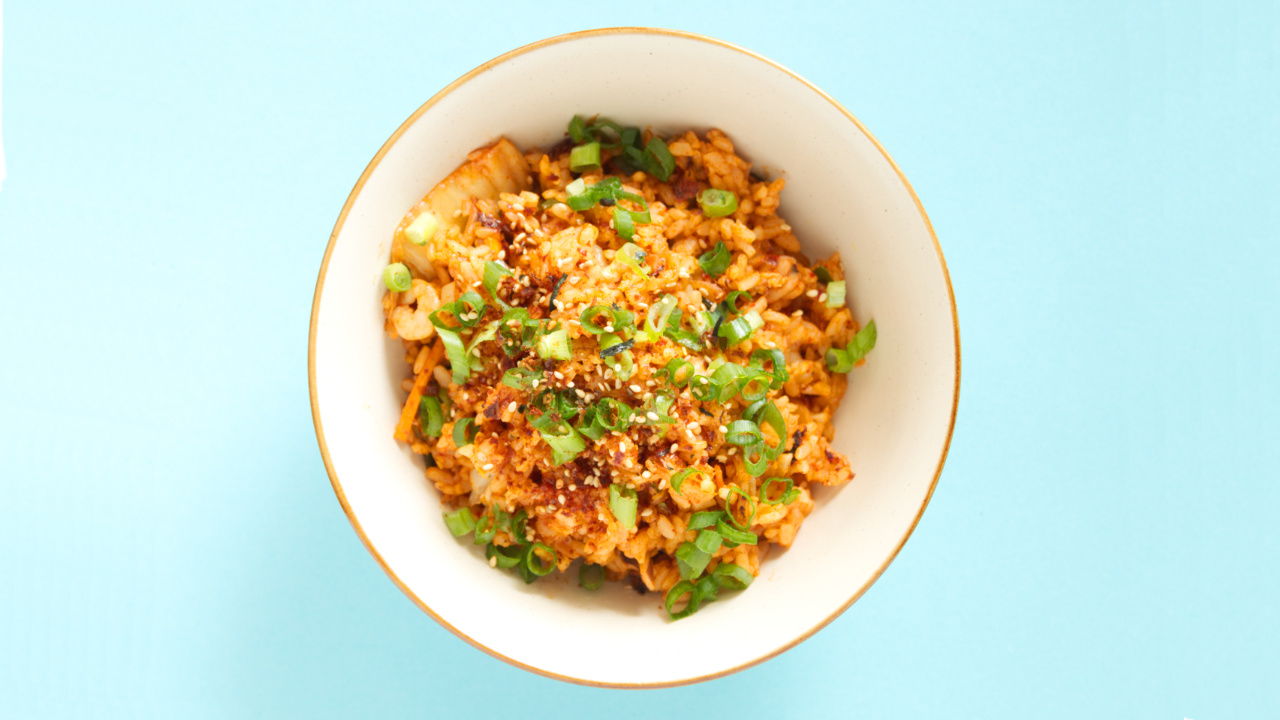 Kimchi Fried Rice
15 minutes easy Korean kimchi fried rice for a quick and delicious meal after a long day at work. Primarily made with kimchi and rice along with vegetables, chicken or other types of meat.
Total Time
Preparation 10 mins
Cooking 15 mins
Alternate Names
15 Minutes Korean Fried Rice
---
Ingredients
2

garlic clove(s)

1

tbsp

oil

6

tbsp

kimchi

1

tbsp

gochujang

4

tbsp

frozen seafood

1

tbsp

fish sauce

2

kimchi juice

500

g

rice (cooked)

2

egg(s)

—

scallions
---
Food Snaps
Be the first to take a snap! Log in and click the in the top bar.
---
Background
Kimchi fried rice recipe is one of the many easy dishes I love to prepare after a busy day. Made out of a variation of vegetables I am not sure about you but I do get very impatient when I am hungry and tired. Planning the menu, preparing the ingredients and cooking is just too much work then. I am sure many of you could relate to this. That is how this kimchi fried rice recipe came about.
Variation of meat and vegetables
Fried rice is generally the best recipe as it goes well with any vegetables or meat. I kept it simple and only added some frozen seafood, eggs and scallions. Other types of ingredients you may consider adding are bacon, sausage, shiitake mushroom and beans. These suggested ingredients should be stirred and cooked along with the rice. You have to try it. It is comfort food at its best.
Kimchi fried rice with cheese
Yes, cheese is often added to kimchi fried rice. In fact, cheese is often added to many korean meals to make the dish more fun! I personally love adding sliced cheddar cheese the moment the fried rice is plated. The heat from the fried rice will melt the cheese. It is always so fun to have thicks strings of cheese from scoops of rice. Besides cheddar cheese, mozzarella, American or swiss cheese can also be used. Do slice or grate them to ease the melting process.
Quick overnight rice or low moisture rice
Overnight rice is normally used as it is perfect for cooking fried rice. The moisture in overnight rice which has been refrigerated is rather low. In this awesome kimchi fried rice recipe, I boiled the rice 20 minutes before cooking. Right after that, the pot of rice was placed into the oven at 50 degrees Celcius with the cover removed. The aim was to remove as much moisture as possible from the rice. Fried rice always turns out perfect this way!
Adjust the spiciness of the kimchi fried rice by adding the amount of kimchi according to your preference. If you find the kimchi fried rice a little too bland, feel free to add some oyster sauce. Enjoy kimchi fried rice with some cold brewed roasted green tea or any beverage of your choice. I promise this will be a satisfying meal.
---
Steps to Prepare
Step 1 of 4
2

garlic clove(s)

1

tbsp

oil

6

tbsp

kimchi

1

tbsp

gochujang
Sauté minced garlic with some oil over medium heat. Add kimchi and gochujang once garlic is fragrant.
Step 2 of 4
4

tbsp

frozen seafood

1

tbsp

fish sauce

2

kimchi juice

500

g

rice (cooked)
Then, sauté frozen seafood for 30 seconds. Increase heat to the maximum. Add rice to pan, along with kimchi juice and fish sauce.
Step 3 of 4
Push rice to the side of the pan to fry an egg using a teaspoon of oil. When the egg is almost cooked, mix it together with the rice. Add a pinch of salt and pepper to taste.
Step 4 of 4
Garnish with some fresh scallions. Top it up with some furikake too, if you like.
---
0 Discussions
Give us your opinion! Log in and start posting.