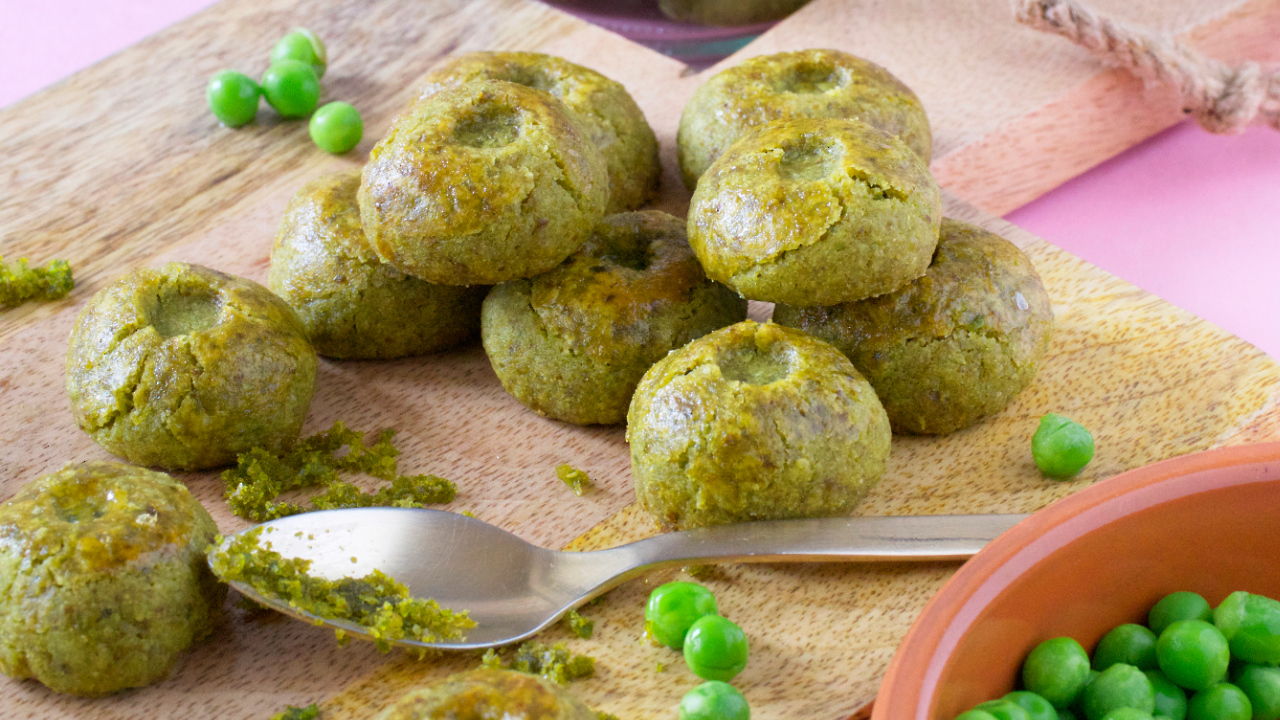 Green Pea Cookies
Easy green pea cookies recipe using homemade green pea flour. If you love the natural sweetness and crunchiness of green peas, this is a recipe not to be missed. These cookies are a favourite during Chinese New Year.
Preparation 50 mins
Cooking 15 mins
---
Ingredients
300

g

green peas (frozen)

6

tbsp

oil

100

g

flour

40

g

sugar (powdered)

60

g

oil

1

egg yolk(s)

1⁄2

tbsp

water
---
Community Food Snaps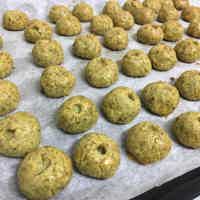 ---
Background
Green pea cookies are easy to prepare. It is also a fun way to sneak some healthy green peas into the cookies. Green peas are naturally sweet. Once roasted, they taste slightly smoky and are extremely fragrant. The green pigment in the peas gives a pure shade of green which makes the cookies really enticing. In Singapore or Malaysia, green pea powder and green pea flour can be easily found in baking stores. However, do continue reading and decide if you want to purchase or make your own green pea flour.
Store-bought vs homemade green pea flour
It is so much easier to use store-bought green pea flour as much time would be saved. On the other hand, you would lose out on the flavour and colouring as it has almost no green pea taste to it. The colour of the flour is also less intense compared to homemade green pea flour. No doubt, it does require more effort and time but rest assured, you will get the original taste of green peas and also benefit from its natural colour and flavour. Homemade green peas flour can be made in advanced and kept until it is ready to be used.
Fried vs roasted green peas
Whether you decide to fry or bake the green peas, the result is very similar. However, frying green peas would require more oil but lesser time compared to baking/roasting. Besides, it will result in the green peas being more fragrant. Fried green peas will produce oilier green pea flour hence, less oil is needed when making the cookies.
To roast green peas, coat them with 1 tablespoon of oil. Bake them in a preheated oven at 200 degrees Celsius for 40 minutes. Read more about roasting green peas in an oven here.
Powdered sugar vs granulated sugar
It is highly recommended to use powdered sugar in this recipe as granulated sugar does not melt during the baking process, thus resulting in uneven sweetness of the cookies.
How to store green pea cookies?
Green pea cookies can be made in advance and kept in an air tight container up to 4-8 weeks. Place the air tight container away from the sun, in a cool area (e.g. kitchen cabinet).
---
Steps to Prepare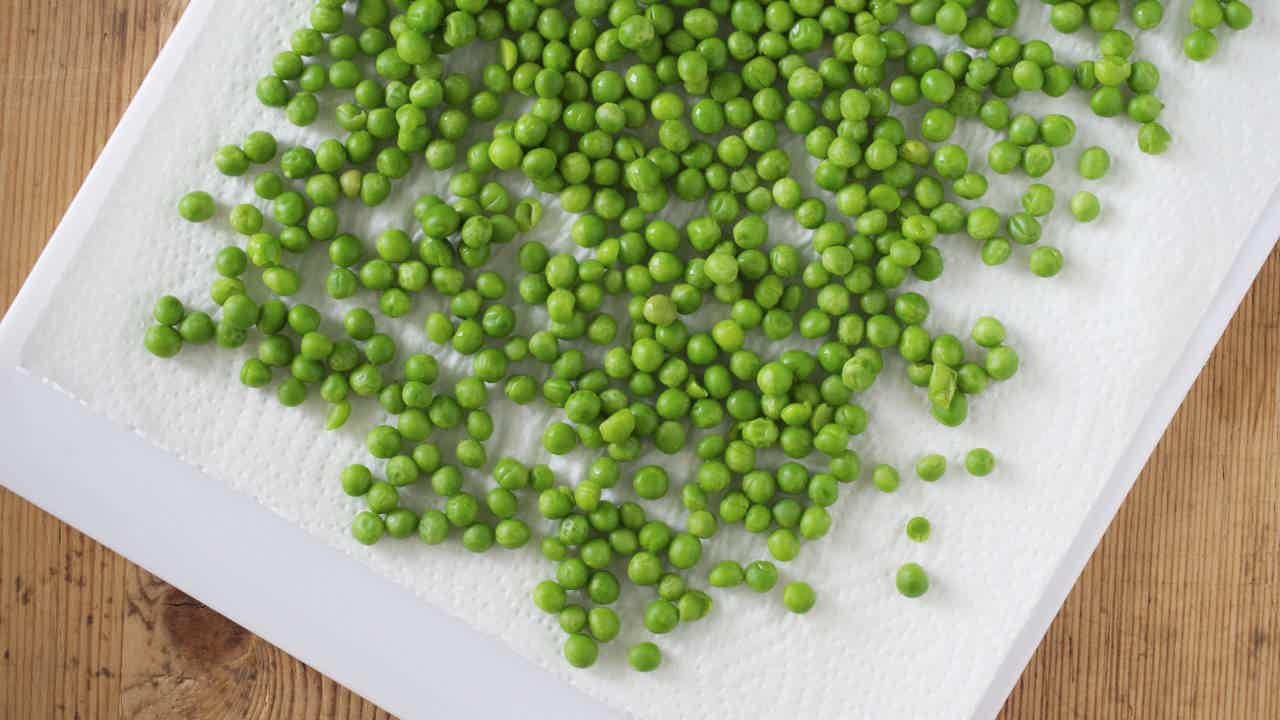 Step 1 of 5
300

g

green peas (frozen)
Rinse frozen green peas under running water. Lay them on a kitchen towel or a few layers of kitchen paper to soak up excess water until they are dry. You may opt to dry the green peas under the sun or in a preheated oven at 50 degrees Celsius for 30 minutes.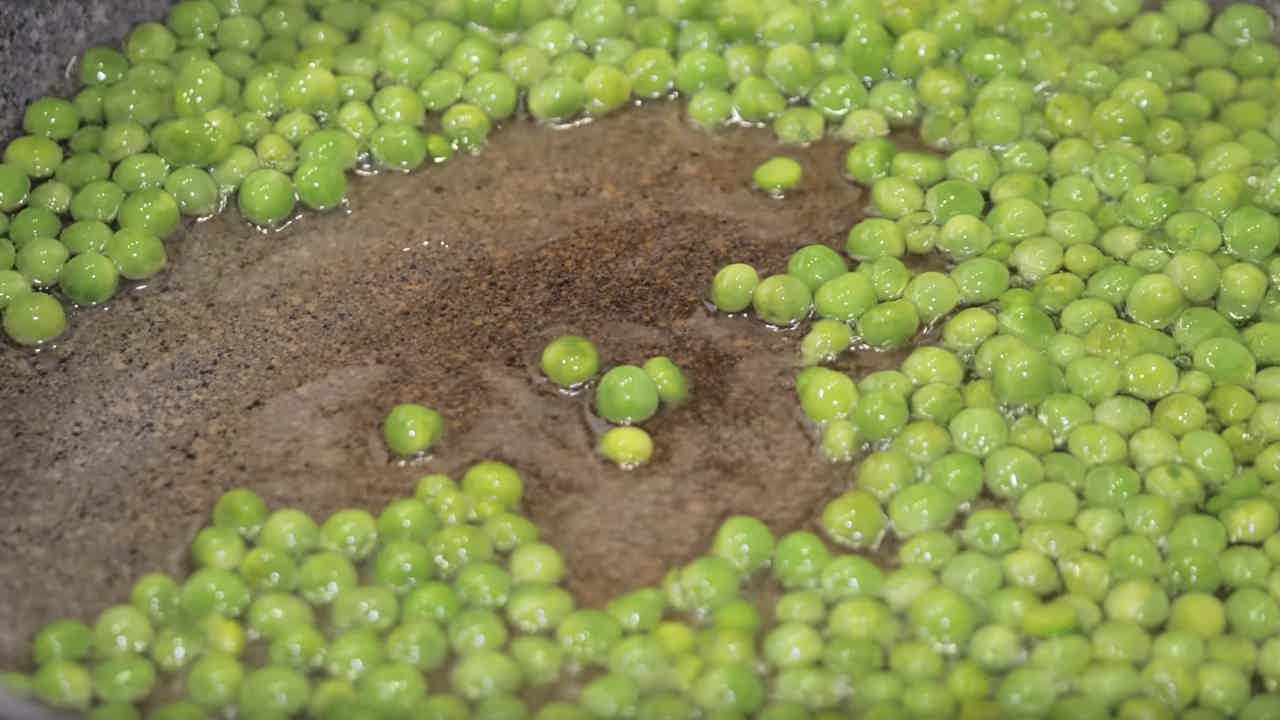 Step 2 of 5
Heat oil in pan over medium heat. Once it is heated, fry green peas until golden brown. Remove green peas and place them on kitchen paper to soak up excess oil. Set aside until they cool to room temperature.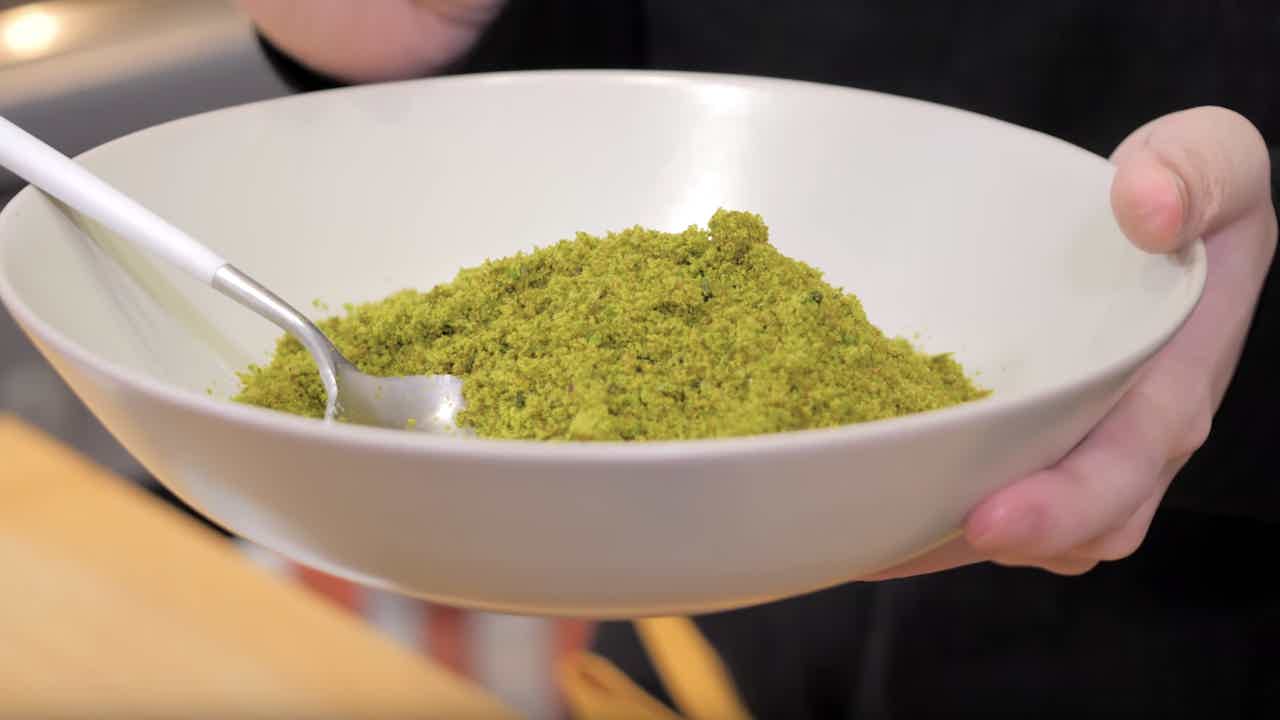 Step 3 of 5
Blend green peas until desired fineness. If you prefer to bite into little chunks of green peas, do not blend too finely.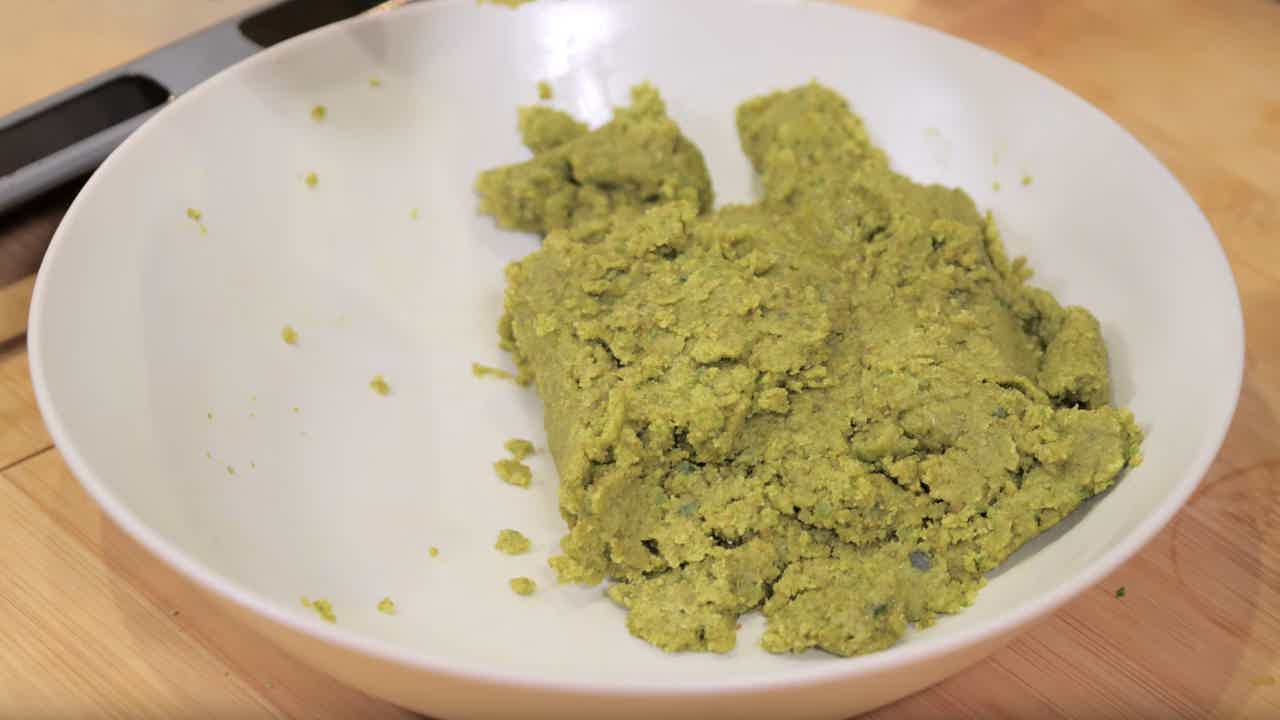 Step 4 of 5
100

g

flour

40

g

sugar (powdered)

60

g

oil
Add 80g of green pea flour to wheat flour, powdered sugar and oil. If using baked green pea flour, add another 10g-20g of oil. Mix well until it becomes a dough.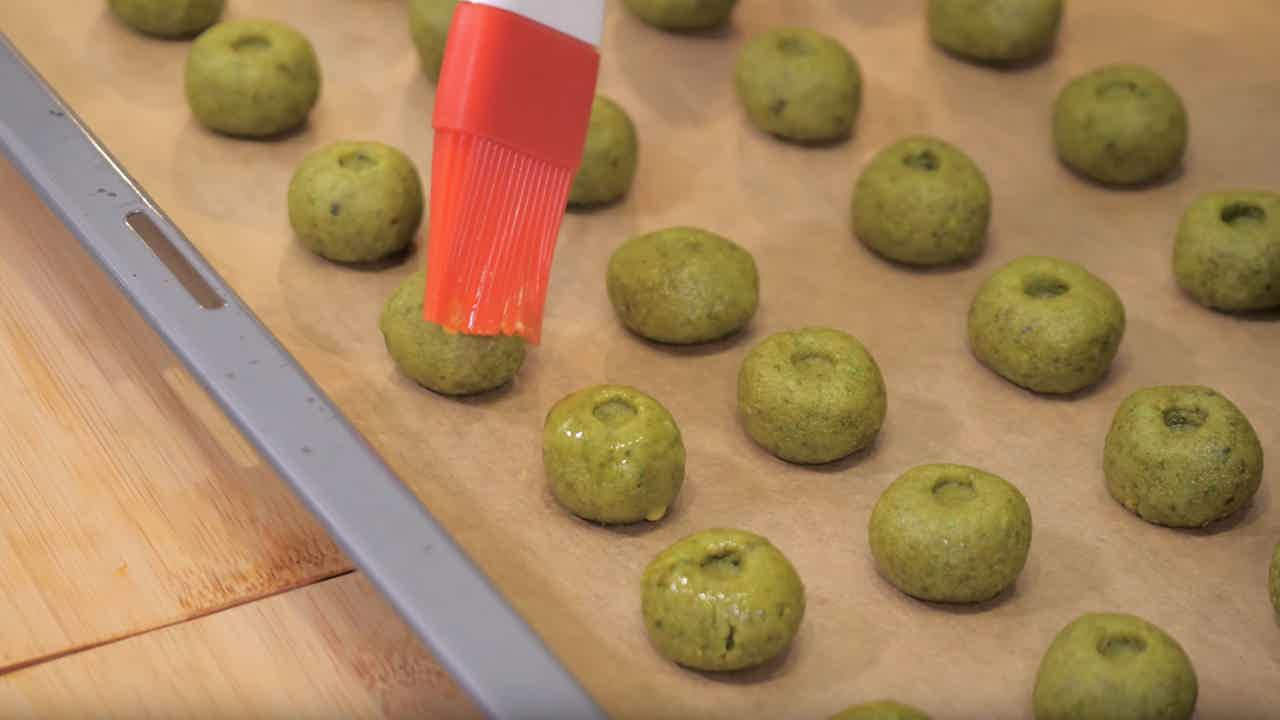 Step 5 of 5
1

egg yolk(s)

1⁄2

tbsp

water
Using ca. 10g of dough, roll it into a ball. Press the end of a chopstick onto the surface of the shaped cookie dough to create a pattern. Repeat until the green pea dough is finished. Then, mix egg yolk and water. Brush on the surface and sides of each cookie. Bake cookies at 175 degrees Celcius for 15-17 minutes or until the sides begin to brown.
Published: January 18, 2019
---
0 Discussions
Give us your opinion!
Log in
and start posting.