Bistek or the Filipino beef steak is quick to prepare and delicious. It is the type of dish you would want to make for a fulfilling meal. The marinade is made of simple ingredients you may already have in your kitchen. It is just soy sauce, calamansi juice, sugar and pepper. Yes, it's that simple.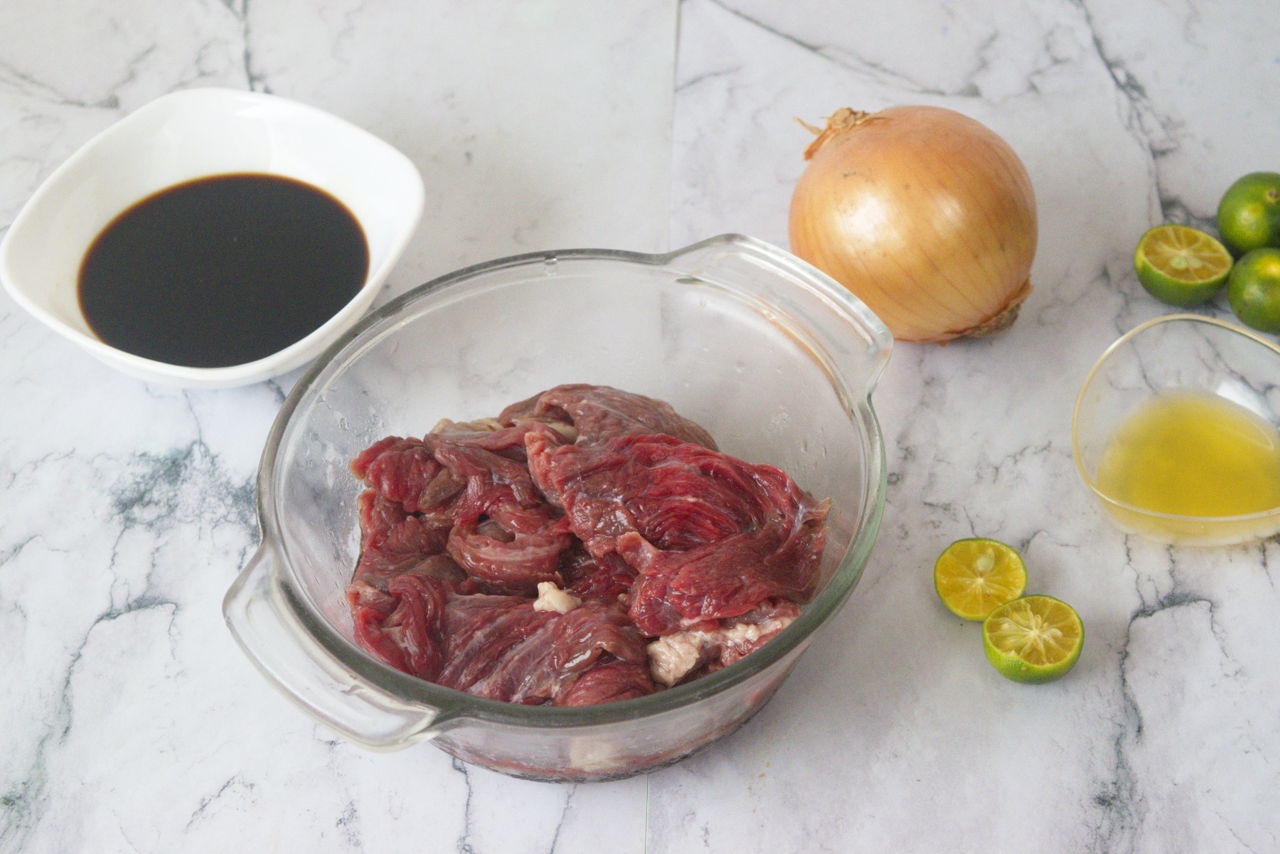 Why try this bistek recipe?
It is one of my favorite dishes which I cook often since it is easy and fast to prepare especially after a busy day. There are other variants where the onions are sautéed prior adding to the meat.
Allowing the raw onions to cook slowly with the meat makes the flavour of the onions seep into the meat. Besides that, cooking onions and the meat together will tenderize the meat. This is because onions contain enzymes such as honey which encourages meat to tenderize.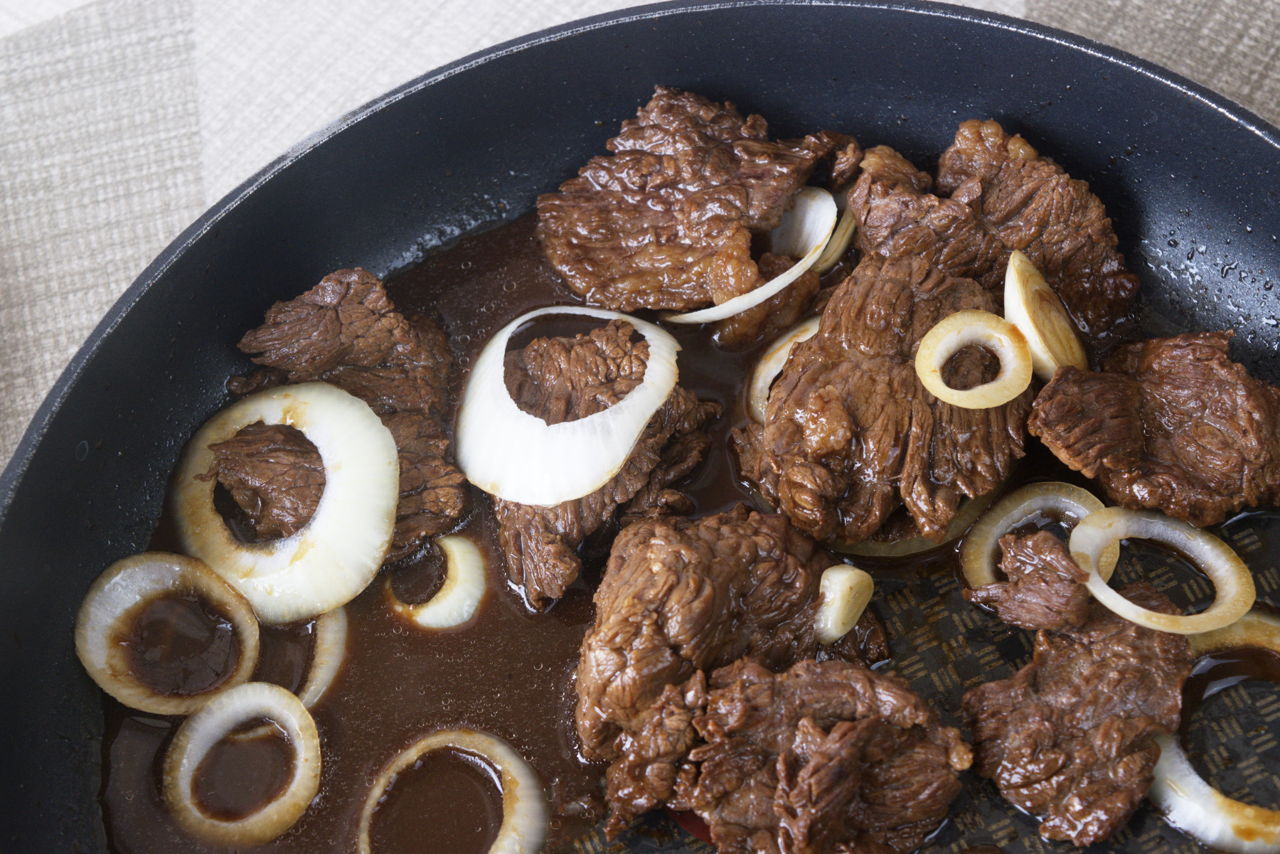 Above all, it shortens the cooking process. After cooking this dish so many times, below is a list of tips to coming up with the best tasting and most tender bistek.
Which type of meat can be used?
Besides beef, pork is another common choice of meat used for this dish. Therefore, it is called Pork Steak instead. Use thinly sliced pork or the Boston butt/pork blade cut. They taste the best with this recipe. If you prefer a fattier cut, use pork belly.
You may also substitute beef with chicken, with or without bones.
4 tips to guarantee tender beef
It begins with the thickness of the meat. Each slices has to be thin ca. 1/4 inch. If the beef is sliced a little too thick, pound it using a meat mallet or the back of the knife. When it comes to marinating, you can leave them overnight as the citrus helps to tenderize the meat.
Lastly, do not overcook the meat or the texture will be tough.
Best cut of meat for tender bistek
The best cut of meat for bistek has got to be sirloin as it is not only tender but also much more flavourful compared to tenderloin.
Substitute for calamansi
Simply replace calamansi with lemon juice at a ratio of 1:1. Otherwise, vinegar can be used as a substitute too. You may want to reduce the amount of vinegar as the sourness might be too much. Taste the marinade before adding the meat into it.
Do not skip the onions
Onions are important when cooking bistek. This recipe uses white onions which are milder and sweeter in taste. Red onions can be also used. However, they are a little more pungent.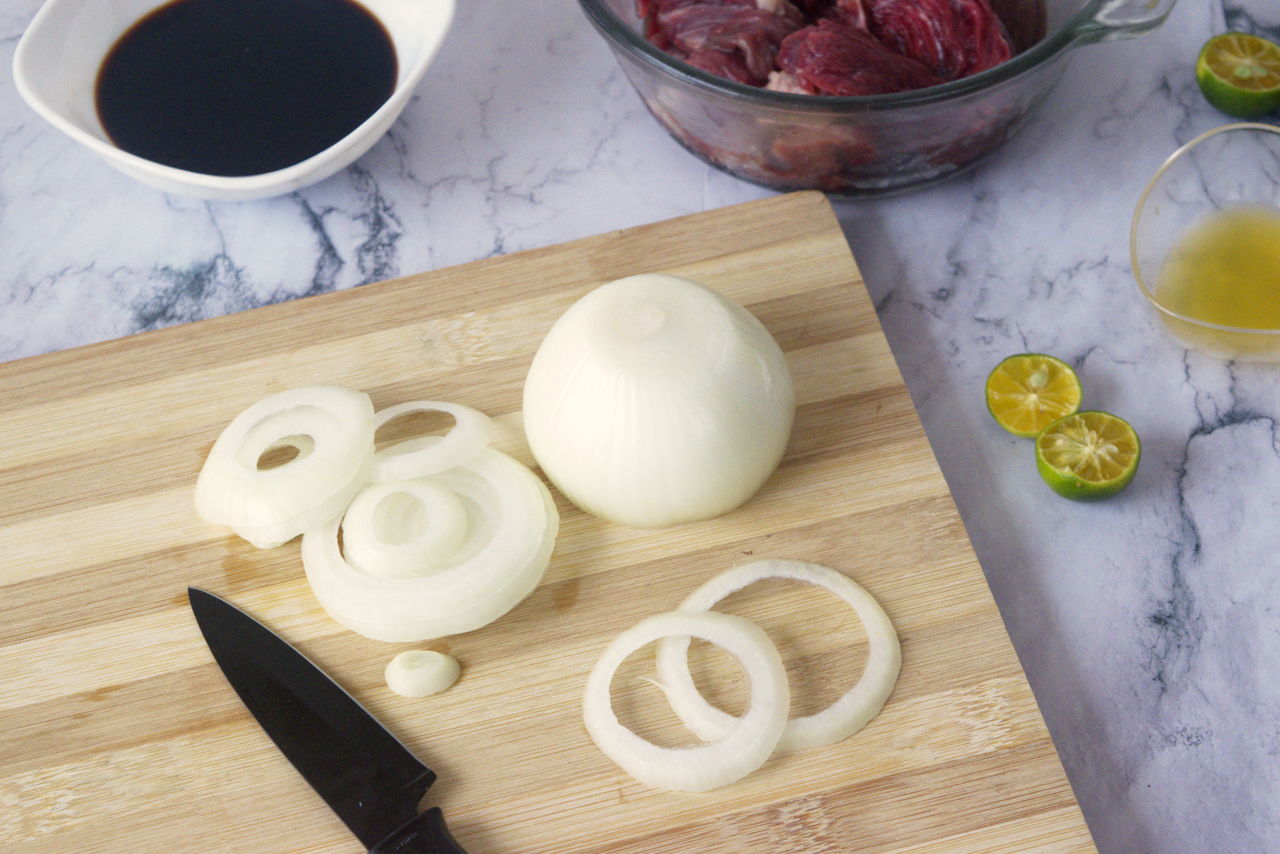 In step 3, it is recommended to add raw onion slices on top of the cooked Beef Steak. By letting them sit for 1 minute in the dish before serving gives added texture as the onions will remain crispy.
How to serve bistek?
Of course, with warm white rice! Prepare a simple vegetable stir-fry as an accompanying dish together with a fried egg, you have a delicious bistek bowl. Some do serve bistek with Sinangang (garlic fried rice) for a more flavourful and garlicky option.
Avoid storing bistek for too long
Bistek tastes the best right after cooking. For optimum flavours, it can be kept refrigerated for up to 3 days. The taste of the onions becomes stronger as the days go by making it unpleasant to consume.