Apple crumb cake is uber-delicious! It is not simply another apple cake. It is moist, buttery with delicious slices of Granny Smith apple in it. These green apples are known to be sour but when incorporated into a cake, the tartness is almost not noticeable as it balances out the sweetness of the cake. The chunks of crumbs with a mild cinnamon flavour adds a wonderful layer of texture making it a great combination.
Why is this the best apple cake?
The cake is light, smells really good and most importantly, it has crispy apple crumbs. The batter is not overly sweet or too oily which makes it a great selection with coffee. It is a big favourite in our home whenever fall is approaching.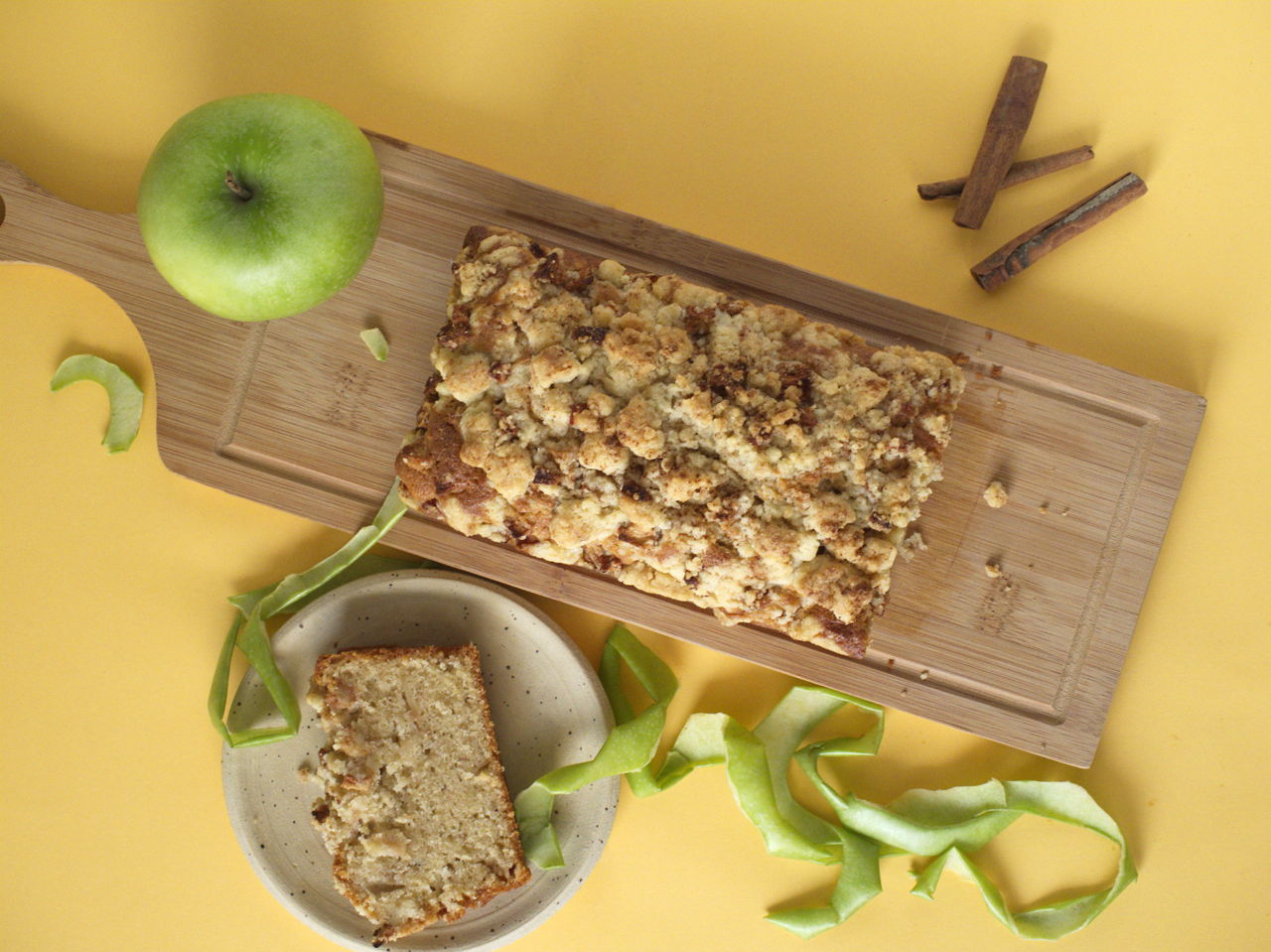 Secret to mega crunchy crumb topping
Crunchy crumb toppings on a cake are always fun to bite into. I love it for its chunkiness and its delicious cookie-like texture. The apple chunks coated with cinnamon powder make it really special. You get the best of both worlds - buttery crumbs with soft apple chunks. This recipe uses melted butter to create really crispy crumbs. Do take note of this or else the crumb topping will be slightly squashy. You can use cold butter but it will turn out softer.
The best variety of apple for baking
Did you know that there are 7500 variety of apples? It is crazy! While I have not tried baking with all of them, I have tried Fuji, Granny Smith, Jonagold and Braeburn. Granny Smith gives the best flavour. When added to the cake, it does not turn mushy. On its own, the fruit is rather sour. However, in this case, its tartness balances the sweetness of the cake. This combination is a winner.
The perfect cut of apples
The best tasting apple cakes are those where you can still bite into the soft pieces of apples. When making this cake, I have tried using shredded apple or cutting it into chunks and strips. It turns out that those with apple strips are tastier as the softened strips of apple is savoured with every bite.
However, some may enjoy huge chunks like those found in apple pies. You can cut the apples into bigger cubes instead. For this recipe, I used both apple chunks and strips. Apple chunks go really well with the crunchy crumbles while the strips are added into the batter.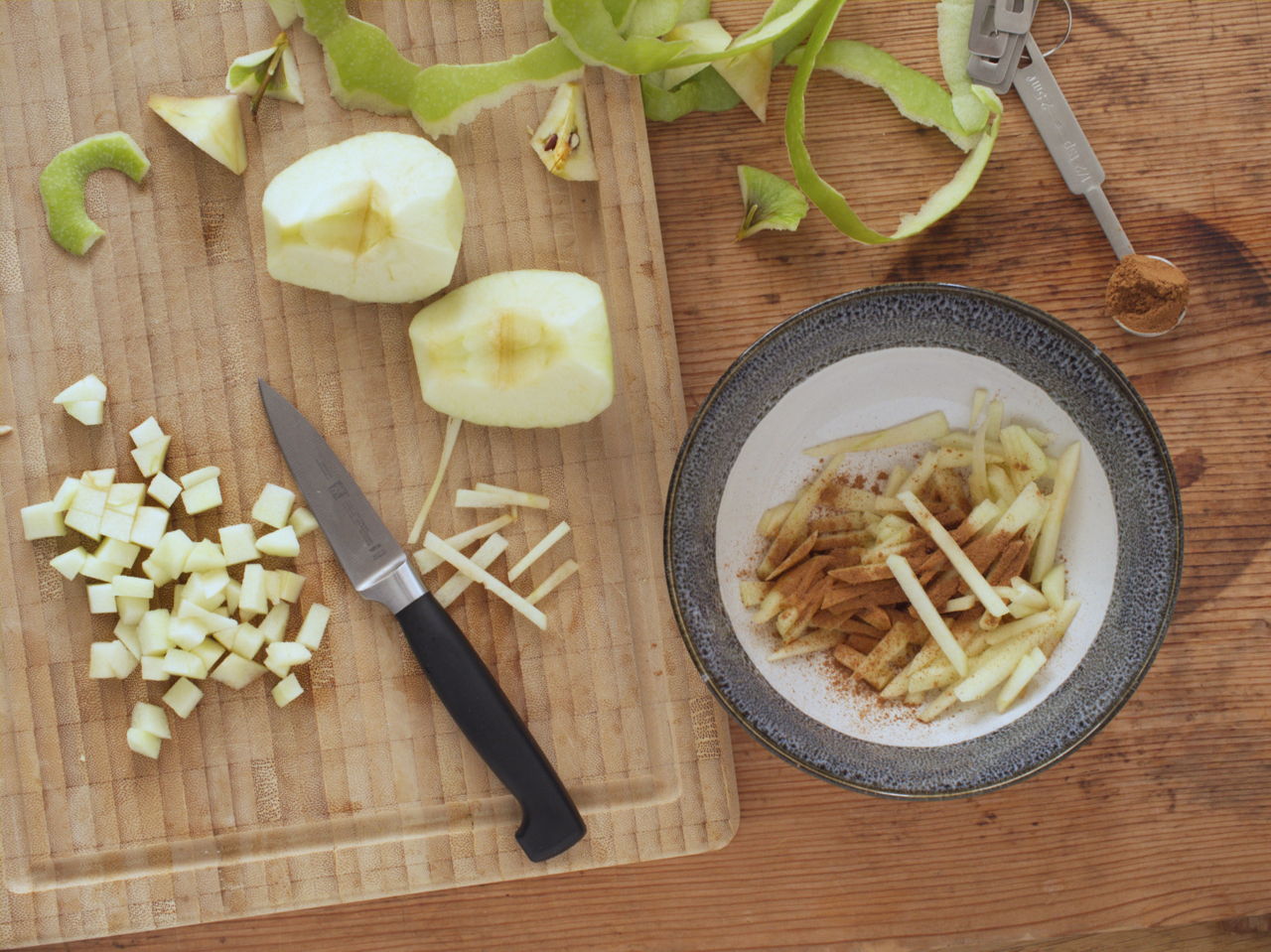 Shredded apple on the other hand is my least favourite as the shreds of apple are not noticeable after baking.
Tips to serve cake
Usually, I serve the cake with a dollop of whipping cream. The milkiness of the cold cream pairs really well with the fruity-sweet tartness of the cake. For a treat, simply add a scoop of vanilla ice cream. However, I can assure you that this cake tastes so good on its own.
Does apple crumb cake needs to be refrigerated?
It is best to keep the cake refrigerated in an air-tight container and it can last for up to 5 days. If left unrefrigerated, it may turn moldy especially if you are living in a tropical country. For longer shelf life, you may freeze the cake for up to 5 months. Before serving, thaw the cake at room temperature.