Wasabi prawns is a must-try if you're a prawn lover. The crunchy texture of the prawns is great as they are tossed in a creamy and tangy mayonnaise sauce mixed with a dollop of wasabi. Although mayonnaise is not a typical Southeast Asian ingredient, you would be surprised with its popularity in 'zi char' or local neighbourhood restaurants in Singapore. Unfortunately, the background of this dish is rather unknown but it could be found in Chinese, Japanese or Pan-Asian restaurants around the world.
Even though it is an easy recipe, the following tips will guide you to achieving the best flavours. Do try this recipe as it uses simple ingredients which you may already have at home.
Crunchy prawns
The texture of the prawns is absolutely important. The first thing to do is to select large prawns like tiger prawns which has firm flesh and a sweet sea flavour. Next, brine the prawns in an icy salt water solution. That's a tip I learned from a fisherman during my trip to Greece. It is a fantastic tip that is so easy to do at home to ensure crunchy prawns like those served at seafood restaurants. Soaking the prawns for about 20 minutes in an environment which replicates the seawater makes them plump.
Although baking soda is often recommended but if not rinsed properly or if too much is added, the prawns would end up leaving behind a bitter aftertaste.
Frozen prawns
Unless you're buying prawns directly from fishermen who just towed in with their catch of the day, you're buying thawed frozen prawns. Prawns spoil very easily and are not able to sustain a long trip from the sea to the fish mongers. So, in most cases, frozen prawns are a better choice. To thaw frozen prawns, leave them in cold water for about 3 minutes before rinsing them under running water. Then, brine the prawns in a salt solution as suggested above.
Cleaning prawns
Last but not least, do take some time to remove the skin of the prawns without peeling off the tails for a more attractive appearance. Remember to remove the sharp hard point located at the top of the two soft tail flaps with a pair of kitchen scissors to avoid causing injury when eating. Otherwise, just remove the tail, if that is your preference.
For this recipe, I would highly recommend that you butterfly the prawns so that a larger surface of the flesh would be coated with the delicious sauce. Deveining the prawns would be much easier too.
Flour for frying
Making the batter can be quite a test. Too much batter may cause the fried layer to be hard. Hence, coating the prawns in a corn flour and rice flour mixture results in the prawns having a light and crispy fried layer which allows the delicious sauce to cling onto them.
As a substitute, you may use tapioca flour instead of corn flour. However, using wheat flour or all purpose flour may result in the fried layer being hard.
Wasabi mayonnaise sauce
The important components of the wasabi mayonnaise sauce besides the two main ingredients are the sweet and sour flavours in the sauce. Therefore, honey and vinegar are must-haves. Without these two ingredients, the sauce will not be as zesty.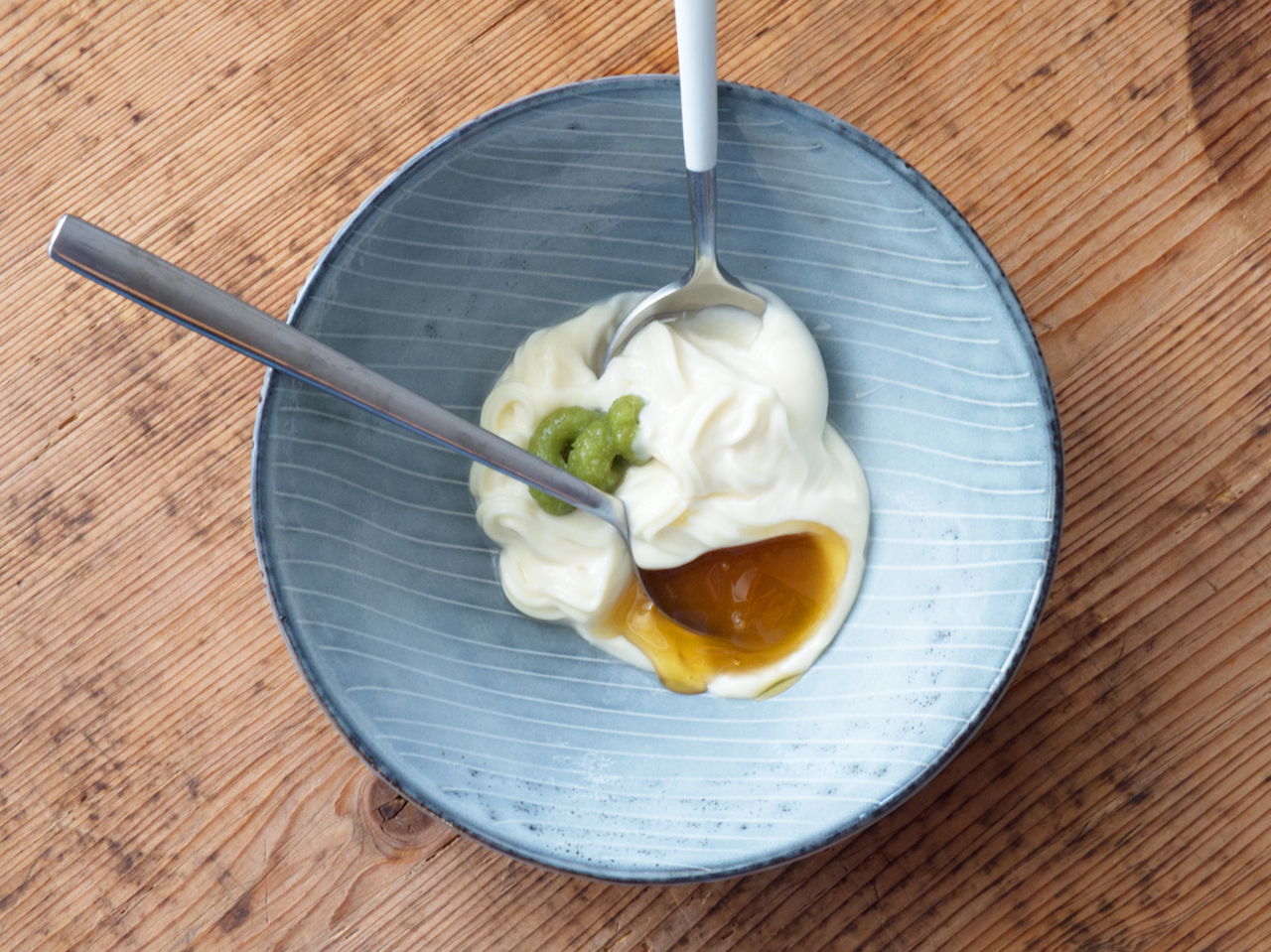 Preparing wasabi sauce in advanced
The wasabi mayonnaise sauce mixture can be prepared in advanced for up to 2 weeks. Store it in an air-tight container until it's time for use. You may use it to coat freshly fried prawns. The heat from the prawns will balance the temperature of the sauce.