Grilled Liempo or pork belly is the Filipino answer to a great BBQ! The meat is left to marinate in a sauce mixed with garlic, pepper, salt besides other flavour bursting sauces for at least 12 hours. This results in super delicious tasty meat that is smoky and simply finger licking good. It can be made using a grill, a pan, an oven or an air fryer.
This recipe shares the traditional way of making grilled Liempo. You cannot go wrong with this recipe because it is just so easy. I bet you have the ingredients in your kitchen or can easily get them at a shop near you. If not, I have some recommendations as substitutes.
We, the Filipinos, love packing some Liempo for outdoor activities like swimming. After a sunny swim day, nothing is more rewarding than savouring tasty pork belly slices that are prepared over charcoal grilled.
Liempo cut
Liempo is the same as pork belly, in English. Known to be the one of the tastiest cuts, this refers to the pork belly cut. It is often prized for the layers of meat and fats which are arranged alternately. When grilled, the fats will melt and coat the meat. This will yield an incredibly rich flavour that is loved by so many pork belly fans.
The marinade
Let's talk about the secret sauce, the marinade. Freshly crushed garlic and ginger adds fragrance to the marinade naturally. As the base, banana ketchup and soy sauce are used. Both sauces provide a deep savoury flavour that adds to the deliciousness of the meat.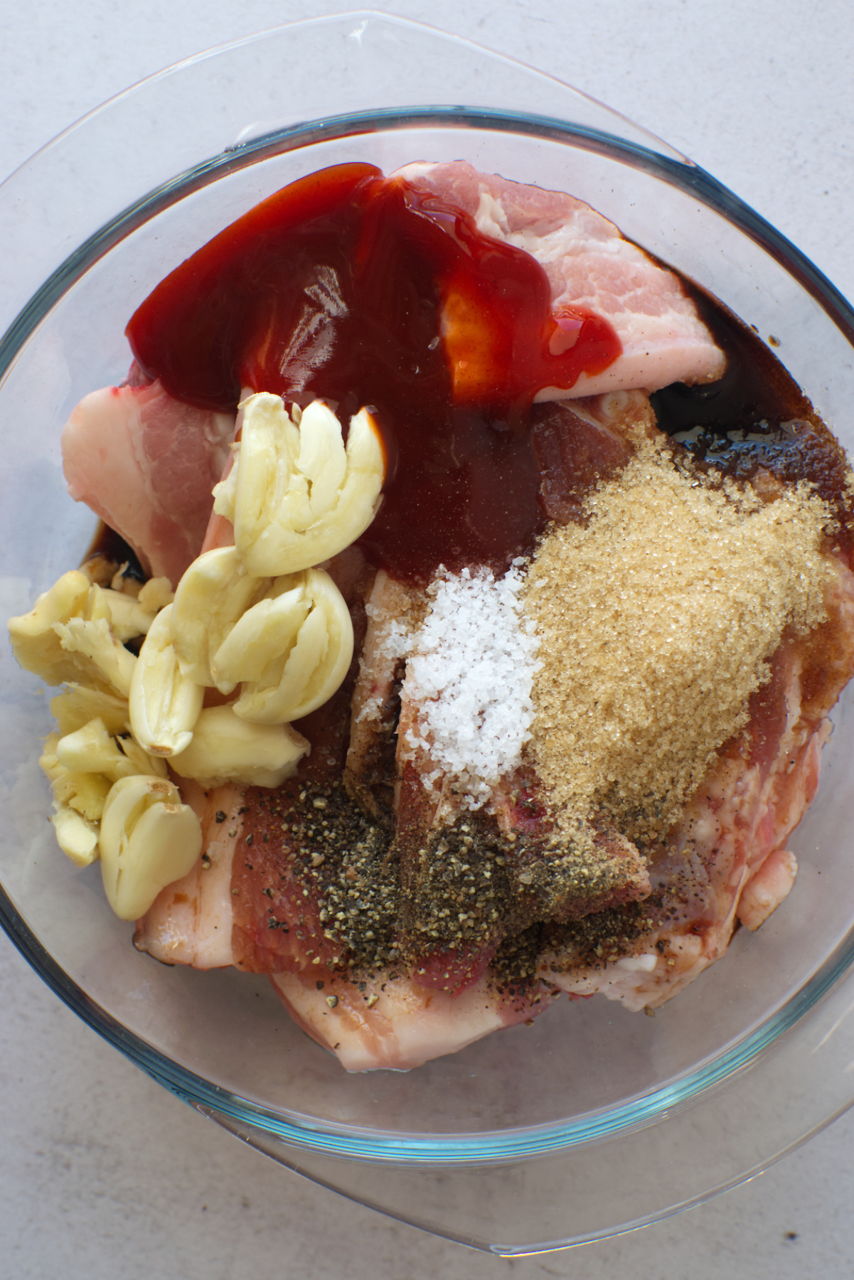 Can I marinate the meat for 30 minutes?
It is not going to taste as good. This may result in the meat being less flavourful as the sauces and spices are not absorbed well enough. If you only have 30 minutes to spare, lightly poke the pork belly with a fork before marinating. This could help in speeding up the process.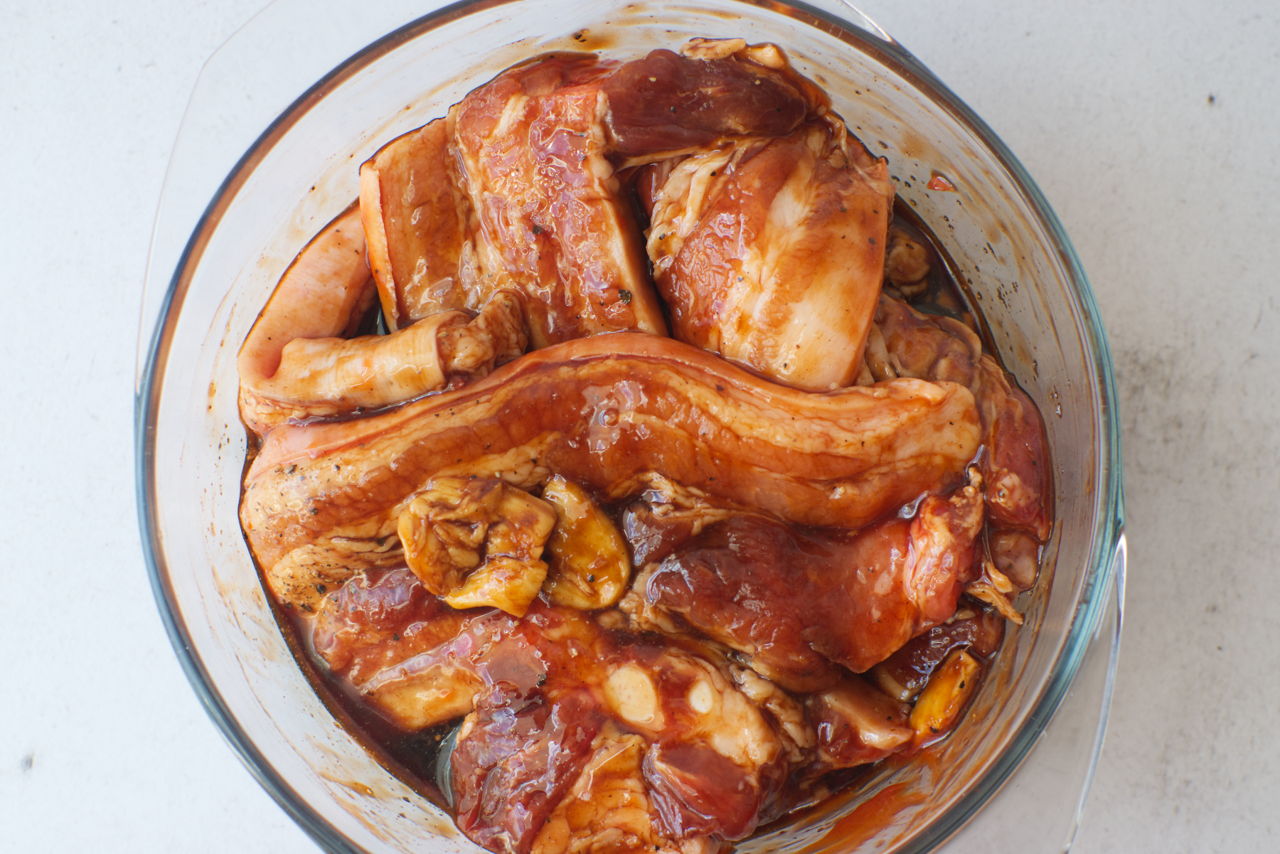 However, I highly recommend to marinate the meat for a minimum of 12 hours.
If you have time and leave the pork belly pieces in the marinade for 24 hours or up to 26 hours, you can be assured that the Liempo will be most flavourful. Just remember to keep it refrigerated in an airtight container.
What is banana ketchup? Any substitute?
Banana ketchup is a fruit ketchup, commonly found in a Filipino household. It was introduced during World War II due to the shortage of tomatoes. Just like tomato ketchup, it is used on omelettes, french fries and of course, grilled meats.
The closest substitute here will be tomato ketchup. Although a little tangier, it will do the trick. Just add 1 to 3 teaspoons of sugar to counter the tartness.
How is Filipino soy sauce different?
Filipino soy sauce is much darker than light soy sauce. The appearance is similar to the Chinese dark soy sauce. However, it is saltier. It is indeed special to the Filipino cuisine.
If you are looking for a substitute, the Chinese dark soy sauce or Caramel dark soy sauce which is commonly found in Malaysia is a good replacement. Since both sauces are not salty, you may need to season with salt or add light soy sauce for more flavour.
Tips to avoid dry Liempo
Use medium heat when grilling. Also, constantly baste the meat with the leftover marinade. Sear the meat but do not overcook it.
Using a grill pan
Preheat the pan at medium heat. This will allow even cooking without burning the surface. Continuously flip the meat and brush it with the marinade while cooking.
Cooking in an oven or air fryer
To grill Liempo in an oven, preheat it at 185 degrees Celsius (370 degrees Fahrenheit). Then, bake the marinated pork belly for 20 minutes before flipping it over. Bake for another 15 minutes. Baste meat with the marinade from time to time for the extra flavour.
Side dishes for grilled Liempo
Grilled Liempo goes well with pickled unripe papaya which is known as atchara. Other dishes like salted egg, tomatoes, grilled eggplant or Ensaladang Talong (eggplant salad) are great companions.
Sometimes, it is served with hot soups or broths. In our family, we pair it with macaroni soup, sotanghon (chicken noodle soup), instant crab and corn soup and even instant noodles.
Dips for grilled pork belly
The Filipino way is to eat it with toyomansi which is a combination of soy sauce and calamasi. Fresh chillies can be added for the extra kick. Otherwise, serve it with a soy sauce and vinegar mix.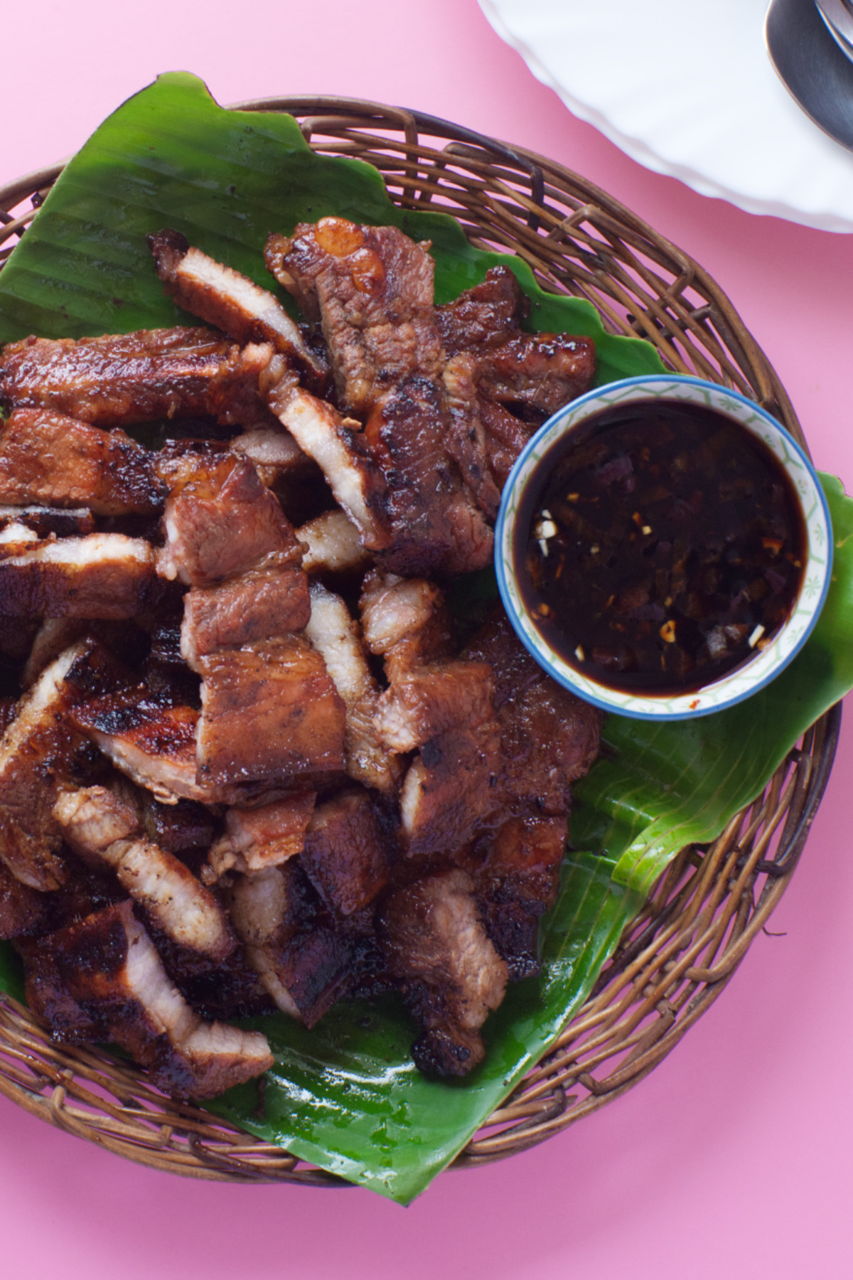 If you are feeling fancy, make a special dip comprising soy sauce, vinegar, black pepper, chopped onion, garlic, fresh chillies and chopped tomatoes. It reminds me of salsa but with more tartness and savouriness. Very appetizing indeed.
We enjoy this dish eating with our hands instead of using a fork and spoon. It is the best way to dig into the freshly grilled meat.