Pancit Bihon is a favourite dish in the Filipino cuisine. It is made of delicious rice vermicelli noodles with lots of meat and vegetables. Most importantly, the noodles should not be too soft or too firm. It should also absorb the subtle flavors of the accompanying ingredients. This dish is a favorite in the Filipino cuisine.
Also called Pancit Guisado, the noodles are a staple in birthday parties, fiesta and other happy occasions. It's easy to cook and filling too, making it a great dish for a huge crowd. Above all, it is gluten-free friendly.
Pancit bihon has Chinese roots
Pancit is derived from the Hokkien dialect 'Pian i sit' which means 'convenient food'. Meanwhile, Bihon (rice noodle) also known as Mi Fen, Mi Xian, Khanom Chin in a number of Asian Countries. Pancit Bihon is one of the dishes that was originally created by the Chinese settlers in the Philippines. Just like the Chinese belief, the Filipinos too see Pancit as a symbol of long life.
Variety of pancit bihon
There are so many versions of Pancit Bihon but the main difference is the choice of noodles that is used in the recipe. Pancit instant noodles are also available in the market but instead of eating unhealthy instant noodles, try this simple yet healthy home cooked Pancit Bihon today!
3 tips when cooking with vermicelli rice noodles
Rice noodles sold are usually dried. They may be labeled as Pancit Bihon, vermicelli noodles or simply rice noodles. Many complained about broken noodle strands during cooking as the noodles were too soft.
Submerging the noodles in water before cooking helps cut down the cooking time. However, this may result in the noodles being too soft, breaking into shorter lengths during cooking. I prefer to add the noodles directly into the pan as shown in the recipe. The firmness of the noodles is however also highly dependent on the brand. Cooking dry rice vermicelli noodles
Adding too much water may result in the noodles being too soft. Always refer to the cooking instructions on the packaging.
A wok is the most suitable cookware for cooking Pancit Bihon. If it is not available, use any wide skillet with slanted sides. This makes tossing the noodles easier.
Make Pancit Bihon better
The noodles can be cooked in broth instead of plain water. That helps to enhance the flavors. When it comes to ingredients, there is no limitation. Pork, chicken and vegetables are the common ingredients added to the noodles. You can add seafood such as shrimps, quail eggs or tofu. Meat lovers may add more squid balls, kikiam (meat rolls) or even Chinese sausage.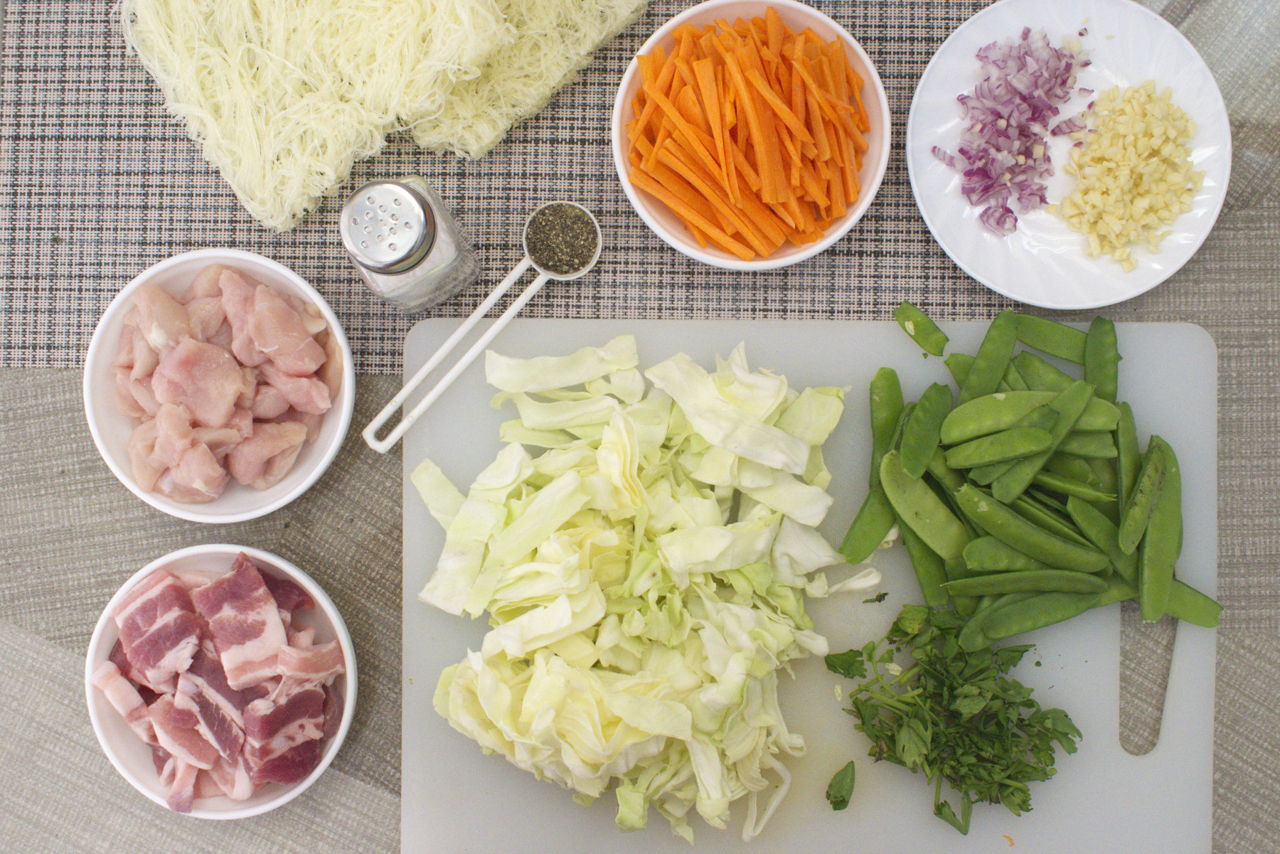 To make it vegan, just use vegetables and it will still taste delicious. The fragrance of the noodles and its chewy texture completes the whole dish.
What do you serve with pancit?
Pancit Bihon is served warm. At parties or celebrations, it may be even served at room temperature. Often, the dish is served with popular Filipino bread, pandesal or any other bread. The noodles are placed in between the bread as the filling. Other favorite side dishes are fried chicken and Lumpiang Shanghai (Filipino spring rolls).
Difference with pancit canton
Pancit Canton is also known as Luglog The difference between the two dishes is the type of noodles used. Pancit Bihon is made of thin translucent rice noodle while Pancit Canton includes egg noodle with a thicker texture. If you like, mix Pancit Bihon and Canton together for a noodle dish with two different textures. In the Philippines, we call it Miki Bihon.
Refrigerating and freezing pancit bihon
Yes, you don't have to worry about wasting leftover Pancit Bihon. You can extend the shelf life of the noodles by storing it in a well sealed container and refrigerate it overnight or for up to 5 days.
Otherwise, this dish freezes well too. Place the airtight container in the freezer for up to 2 months. Rice noodles freezes well and should not have much difference in texture once thawed. Reheat by steaming or microwaving the dish. In both cases, Pancit Bihon must be cooled to room temperature before storing it in an airtight container.