Mango float is the perfect dessert for those who love ice-cream and cake. The Philippines is known to produce one of the tastiest mangoes as they are juicy and hearty. When combined with chilled cream and graham crackers, it becomes a simple icebox cake, one of the tastiest dessert you may have ever tasted. If you love tiramisu or cheesecakes, you will love mango float.
This Pinoy style Graham cake uses only four ingredients and the procedure cannot be simplier. It is so easy that even a child can make. As it is served chilled or frozen for an ice-cream consistency, many love making this cake for events and celebrations. Be it Christmas, birthdays or graduation parties, this no brainer mango float is the dessert to go.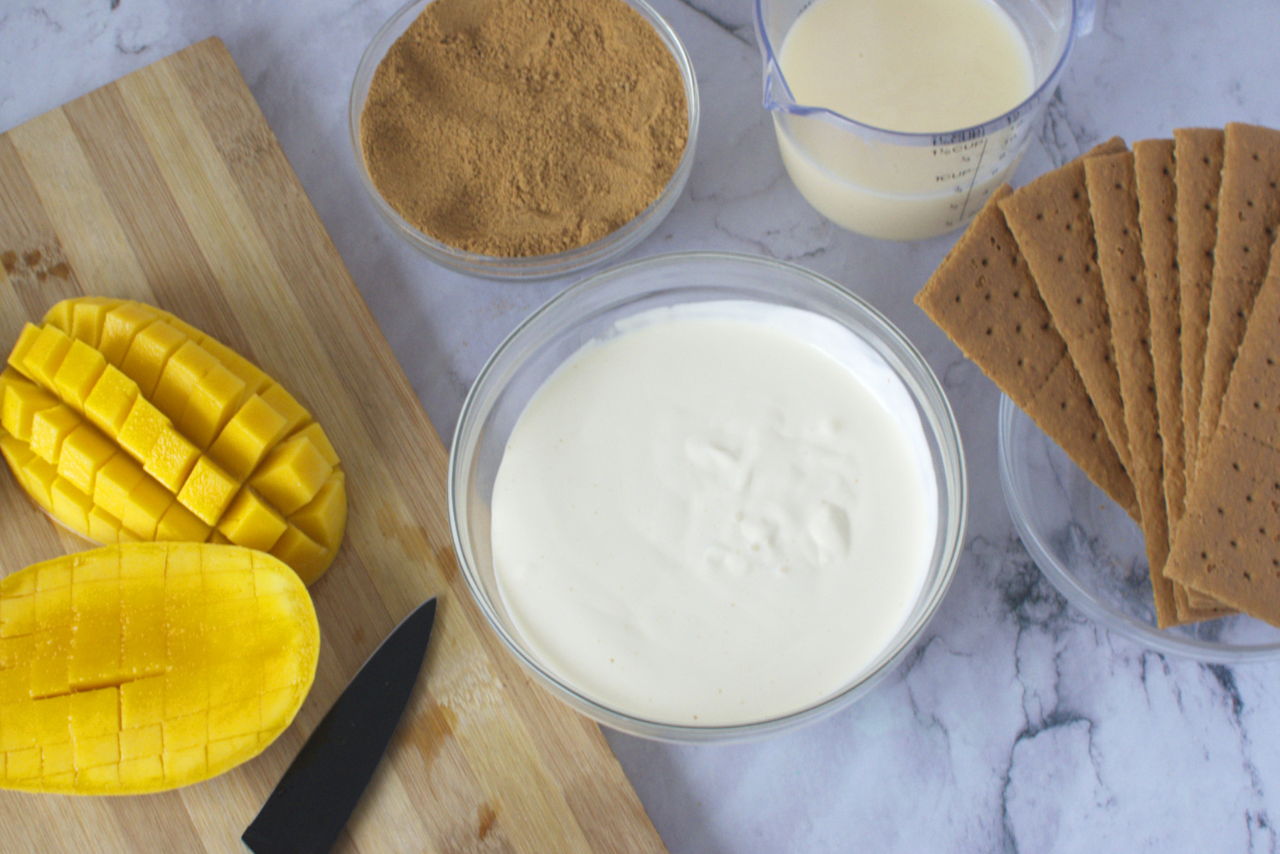 Origins and history
It is without a doubt that mango float is from the Philippines. Ladyfinger cookies or broas are commonly used in making mango cake. In this recipe, instead of ladyfinger cookies, graham crackers are used. Graham crackers which are made of coarsely grounded wheat are already popular for its use in pies. They are used as the base layer or topping in many other recipes as well. The combination balances the flavours while adding delicious thin layers to the cake when used in making mango float.
Alternatives for Graham crackers
No graham crackers in hand? As mentioned, you can use ladyfinger cookies to prepare mango float instead. Biscoff, digestive biscuits or other plain butter cookies may also be used.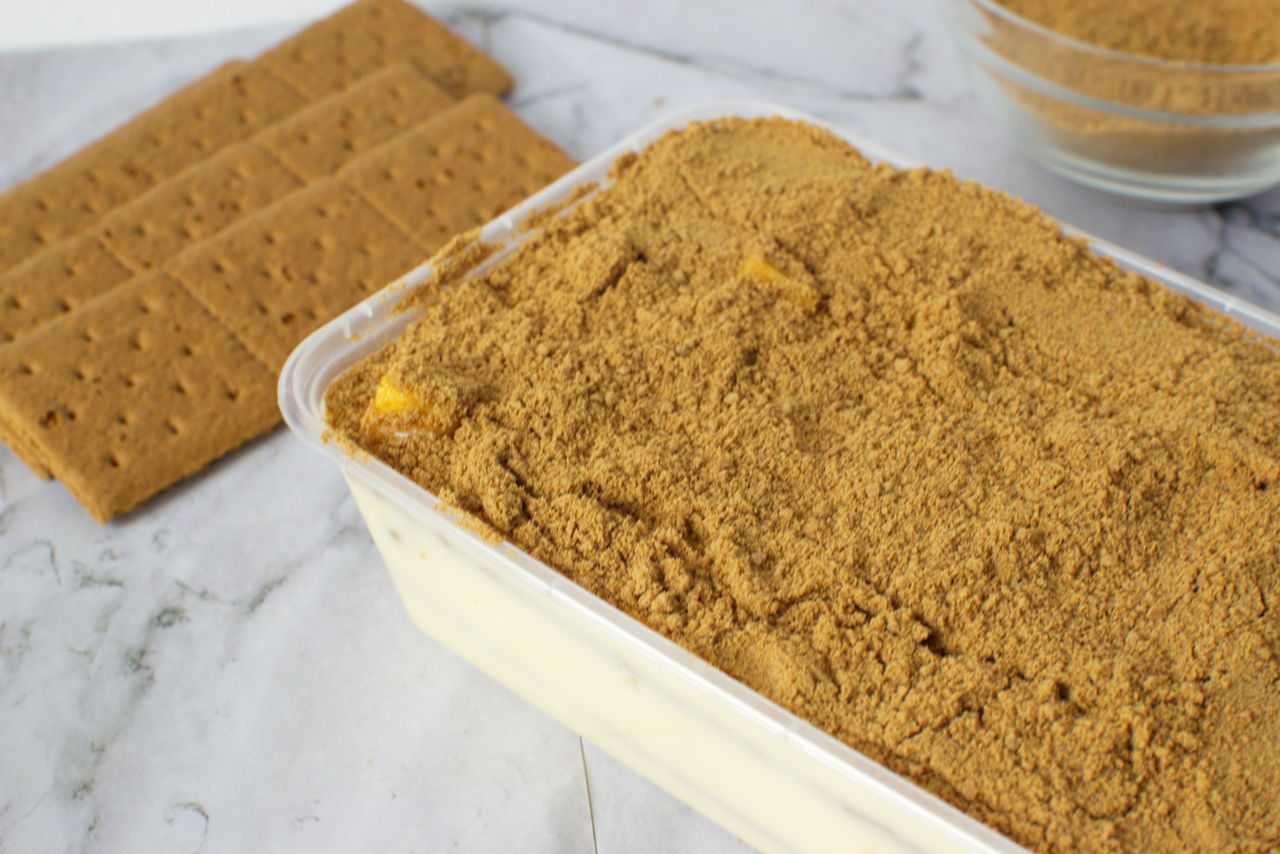 Mangoes or other fruits
Fresh ripe mangoes are the best! Fruits which are in season such as peaches, avocados or strawberries make delicious graham cake too. You may also use canned plums or even fruit cocktail as alternatives. Just make sure to drain the liquid or you might end up with a watery cake.
To whip the cream or not?
I always make mango float without a mixer. You do not need to whip the all purpose cream which is simply low fat cream (20%). If you cannot find it, replace with whipping cream or heavy cream at a ratio of 1:1. A vegan alternative is using coconut cream which must be chilled and its liquid removed. Whip the whipping cream, heavy cream and coconut cream for a fluffier or more airy cake.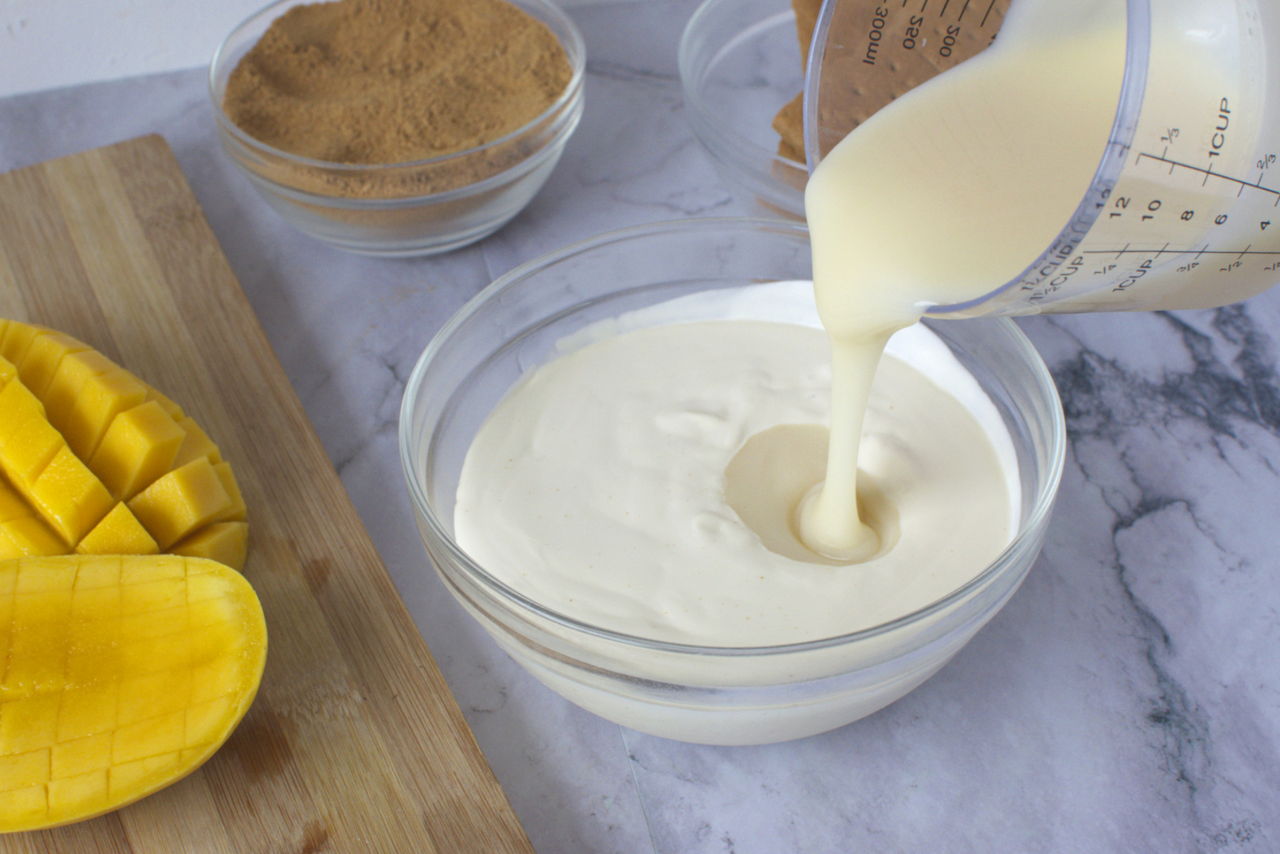 3 common problems
Mango float is a super easy dessert recipe. Just be aware of the following problems and avoid them. They are simple mistakes which could spoil the final result.
Too sweet: Mangoes are naturally sweet. Adding too much condensed milk may make the cake unbearably sweet. Add the condensed milk a little at a time and taste as you go along.
Watery cake: This could be due to excess water from canned fruits. Avoid using frozen fruits as they have the tendency to be watery.
Crackers sticking together: When the all-purpose cream is at room temperature, the texture is quite fluid. It is important to
chill it first and allow the cream to set before using.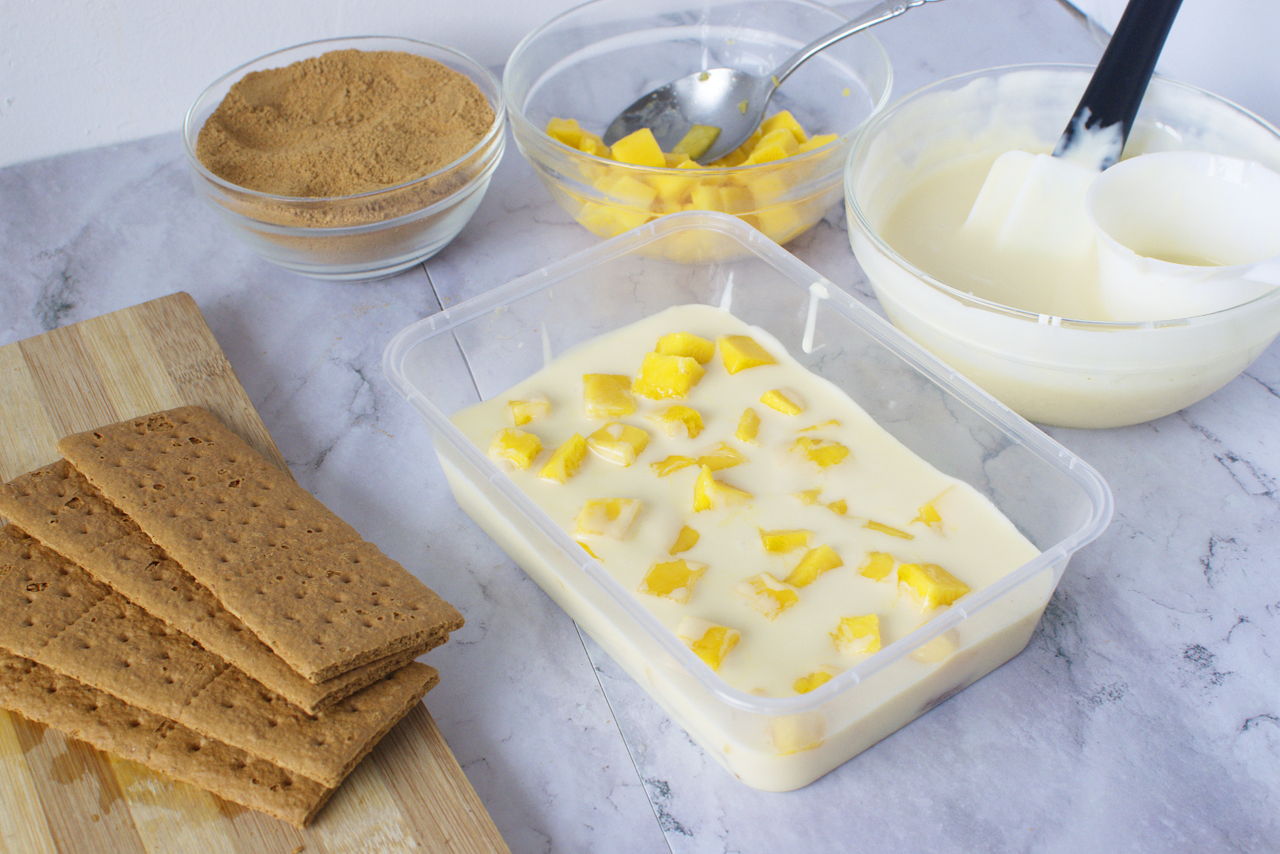 Types of container to use
I used a 16cm x 11cm food container. If you are preparing single portions you can use cups, small tubs or jars. Crush the graham crackers if the whole cracker is too large to fit in. Otherwise, use a deeper food tray or container for a thicker cake. Pour a thin layer of cream and use more graham crackers. For plating, you can sprinkle more crushed graham and serve with fresh mango chunks.
How long can mango float be kept?
Mango graham cake must be left in cool temperature at all times. It lasts up to 3 days if kept in the refrigerator. Do store it in an air-tight container to preserve its flavours. If store in the freezer, the cake can be kept for up to a month. The cake will lose its flavour if kept longer.