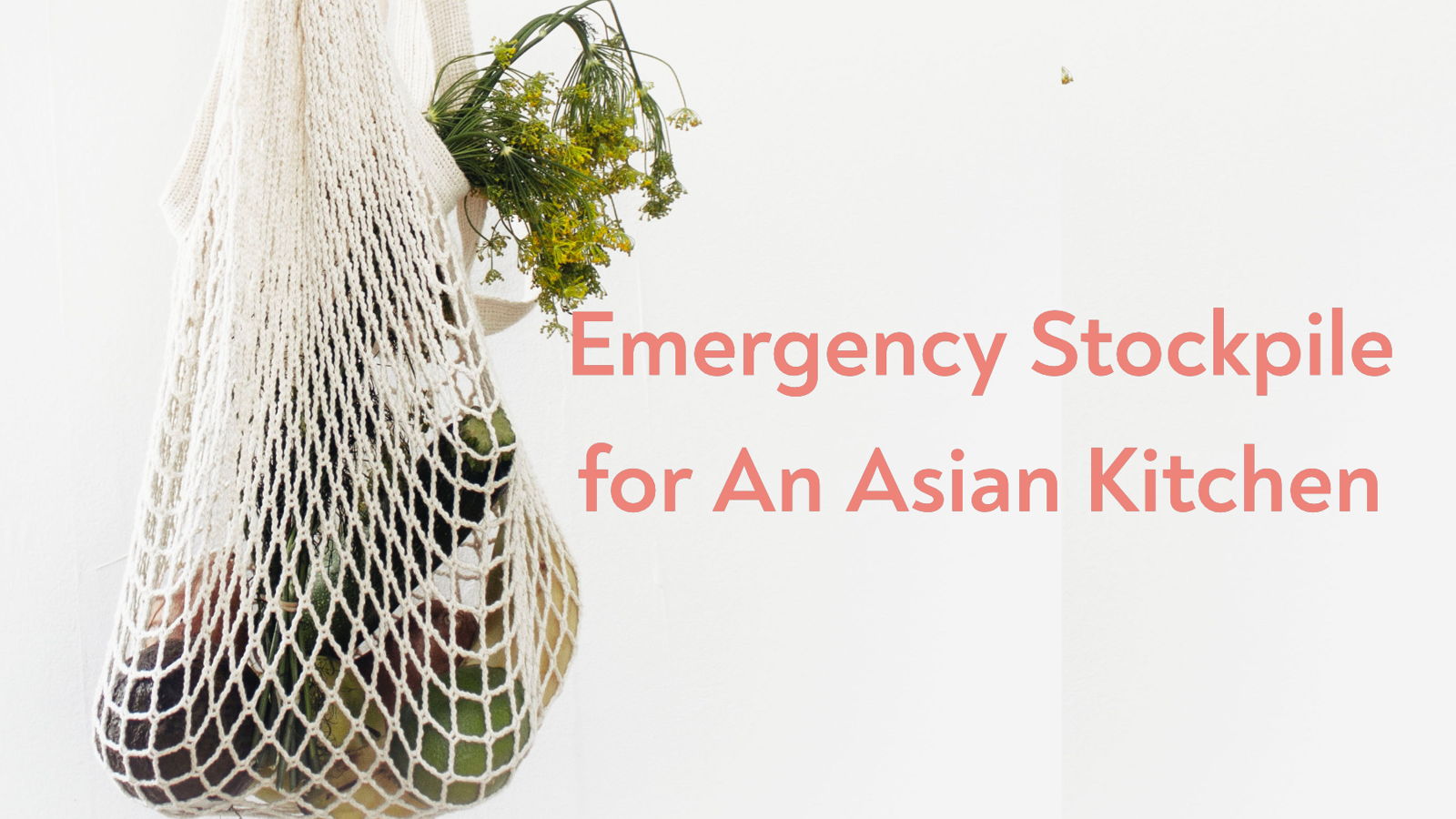 Emergency Stockpile for An Asian Kitchen
Most countries have already declared some form of lockdown due to the current pandemic emergency. In such a crisis, you'd want to stock up on items which are shelf-stable and long-lasting to create delicious balanced meals during the days when you're in-home quarantine.
---
A worldwide crisis kicked in, causing many to rush into grocery stores to stockpile on food during this emergency situation. Panic buying is not at all recommended. As a good and responsible prepper, it's important to buy only useful food items which you can use for your day-to-day meal because we cannot be eating pasta or canned food daily. Having a rough idea on the type of meals you would be very helpful. Being well stocked up will allow you to stay at home and practice social distancing as recommended by most government and health officials now.
For those who are in a budget, you can choose and pick the ingredients to see if they are relevant for you. The list was made to ensure that the food can be kept for a long time and must be versatile. That means, the ingredients can be used in several cuisines, cooking methods and are so easily used.
We'll also add some recipe recommendation which are typically what we usually have on Nyonya Cooking but we're going to keep the recipes easy. This list is made with the assumption you have the basics, such as oil, pepper, salt and sugar. If you don't, it's time to add it to your shopping list.
1. Dried food
Dried Shiitake mushrooms always have a spot in my pantry. They are great in stir-fries, stew and as meat substitute. Do not pour away the water used to hydrate the mushrooms as you can always add them as to the dish for extra umami. They can be kept in airtight container or bags, away from sunlight. Recipe examples are mapo tofu, stir-fry broccoli and mushroom or pong teh chicken.
Besides that, legumes such as dhal, white beans or chickpeas are great to be added into curries, soups or any stew of your choice. They are not only filling but very delicious.
If baking is your kind of thing, I strong suggest getting flour - both bread flour and all purpose flour. Flour can be made into bread, cookies, noodles and pizza. It really helps to have a variety of food at home. Remember, a happy tummy makes life so much more easier!
Speaking of carbohydrates, stock up on noodles and rice, of course! What's an Asian kitchen without rice and noodles. If you only want to get one type of noodles, I'd say go with Itallian spaghetti. They are not only delicious in pasta dishes but also work really with in the Asian cuisine. Try Indonesian Mie Goreng or add it to any soup noodles of your choice.
2. Condiments
Common condiments such as soy sauces (light, sweet and thick), sesame oil, Shaoxing wine, oyster or mushroom sauce, curry powder and a chilli sauce of your choice are must-haves. They also come in really handy to flavour your dishes. As a bonus, I'd highly recommend miso paste.
Personally, I like to have mayonnaise as it's a versatile condiment which can be used on its own or mixed with other sauces to create different flavours. I love adding wasabi or Sriracha to mayonnaise. Use it as a dip or toss it with some fried tofu or meat. They are very yummy with a bowl of rice or noodles.
3. Canned food
When it comes to canned food, I normally wouldn't suggest ready-made canned meals. Since this list is all about having versatile ingredients which you can always whip into all sorts of dishes, my favourites are peas, corn, mushroom, tomato sauce and tuna.
With peas, corns and mushrooms, these vegetables can be added into stir fries, stew or fried rice. Soups using corns or mushrooms are absolutely delicious too. As for tuna, I usually add it to fried rice, make a sandwich with it or a pizza.
Pureed tomato sauce is useful, not only as pasta and pizza sauce. It can also be the base of curry dish when spiced with some chilli powder, garam masala and other aromatics such as cloves and cardamom. If these spices are not available in your pantry, simply add any curry powder or paste of your choice. This curry base is fantastic with meat of your preference and potatoes.
If vegetables are added to the tomato sauce and diluted with water or stock, it can be a delicious minestrone soup. This is also where you can add legumes of your choice.
I also enjoy this ingredient as a breakfast dish. Shakshuka is a Middle-Eastern dish which is very simple to make if you enjoy eggs and tomatoes. Heat up some onions and garlic before adding spices to the dish. A pinch of cumin and some paprika slices or powder will make change the flavours of the tomato sauce. Don't forget to season with salt, pepper and a bit of chilli powder for heat. The latter is optional. Once the dish comes together, it's time to break an egg into it and you're done!
4. Frozen vegetables/meat
I always have frozen vegetables and meat in my refrigerator. Portioning meat for one meal is very helpful so there is no need to defrost what you do not need and may not even use. In fact, frozen vegetables are said to be as good as fresh ones. My picks are frozen beans, spinach, mushroom mix (not Shiitake only) and slices of capsicum. I use frozen vegetables every few days. Whether it maybe a simple stir-fry or stew, these ingredients always come in handy. In fact, add an egg to make an omelette out of it and that could be easily one meal.
5. Fresh vegetables
The trick here is to pick vegetables which last long. Onions, garlic and ginger are already staple ingredients in my pantry. Other durable vegetables are carrots, potatoes, celery or pumpkin. Tomatoes may not last as long but they are pretty durable, just store them at room temperature.
When shopping for food, it's always important to buy a lot and risk in wasting the food. For example, one portion of pasta is usually about 80g per person. Or, if a pack of chicken consists of two chicken breast, that would make two meals. That way, you can do the math to see how much you'll need to buy for a certain period.
At the end of this, it's a habit you'll need to maintain if you plan to cook more often at home. Having the ingredients in hand makes it so much easier to cook.
Published: March 17, 2020
---
0 Discussions
Give us your opinion!
Log in
and start posting.