Staub Wok with Lid, 37 cm
Woks
Buy New in Singapore
SGD 648.00
Free delivery above SGD 200
Ships from our warehouse in Singapore. All prices for items sold on Nyonya Cooking are inclusive of GST.
---
The cast iron wok from Staub retains and spreads heat evenly. Above all, it is able to contain extreme high heat to replicate the 'breath of the wok' which is highly important in Asian cooking. You can use it to shallow and deep fry, steam and slow many delicious Asian recipes.
Cast iron is the ideal material for a wok. Heat is dispersed equally throughout the wok. So, even the wok's upper sections can quickly achieve the required cooking temperature. Staub wok has a matt black enamel interior which is robust and scratch resistant. Most importantly, it has non-stick functions which improve after every use. Browning meat or searing fish is made easy in this wok. The rounded surface of the wok makes it easy to toss food for even cooking. With the ability of retaining high heat and having a non-stick surface, dishes like char kuey teow are whipped up with ease. Cleaning the wok is fast without much effort.
The wok is suitable for any hob type, including induction and is equipped with a glass lid so that food can be observed at all times. Put the lid on to contain heat and flavour while cooking. The lid is also useful when steaming food. When needed, the wok can be transfered to the oven/grill too.
---
Package Contents
1 Wok, 1 Glass Lid, 1 Draining Rack
---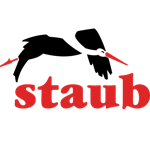 About Staub
Staub gathers people around good food in the kitchen and at the table. Each of our heirloom pieces comes with a story. Born in Alsace, a French region known for its craftsmanship and cuisine, our cast iron cookware bring a taste of authenticity to every meal. Just look for the Staub seal on every product. Our name is our promise to you that you're cooking with the best of France, wherever your kitchen may be.
Product Reviews
Wok with Lid, 37 cm has not been reviewed by the community yet. Be the first to purchase and tell us your opinion.