Zwilling TWINSHARP, 165 mm
Buy New in Singapore
SGD 36.80
Free delivery above SGD 200
Ships from our warehouse in Singapore. All prices for items sold on Nyonya Cooking are inclusive of GST.
---
Specifications
ABS Plastic, Stainless Steel, Ceramic
Made in Germany
The TWINSHARP knife sharpener ensures that you can effortlessly sharpen even the bluntest knives in seconds. The sharpener is impressive with its light weight and resilience. It has a sturdy black ABS plastic handle and is therefore hard-wearing.
Always have a knife sharpener to hand should chef's knives or vegetable knives become blunt over time or after heavy use: your knives will be immediately ready to use again after being sharpened followed by a quick wipe of the blade. They'll cut through the softest tomatoes with ease!
Thanks to the curve of its handle, the TWINSHARP is comfortable to hold, with additional safety being provided by the distance between the blades and the handle of the sharpener. Use this practical implement for most popular knives, except for knives that have an Asian blade or a serrated cutting edge. This ZWILLING knife sharpener will help you to restore your knives to their original quality and sharpness and help to ensure a high level of safety when using them.
The stainless steel and ceramic discs enable rough and fine honing of the knife in one step – for simple and safe sharpening.
The cutting angle of approx. 35° is pre-set.
Suitable for all knifes with a smooth cutting edge.
---
Package Contents
1 TWINSHARP
---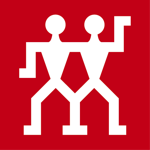 About Zwilling
The Zwilling brand has been synonymous with high-quality products since 1731 and is one of the world's oldest brands. Offering customers the very best kitchen and beauty products has always been Zwilling's passion. Zwilling works together with renowned designers, who share Zwilling's values and visions. The broad-based product range offers products for contemporary home kitchens—from knives and pots to frying pans, flatware and kitchen gadgets.
Product Reviews
TWINSHARP, 165 mm has not been reviewed by the community yet. Be the first to purchase and tell us your opinion.