Ballarini Stew Pot
Buy New in Singapore
SGD 74.80
Free delivery above SGD 200
Ships from our warehouse in Singapore. All prices for items sold on Nyonya Cooking are inclusive of GST.
---
A nonstick stew pot which has a hard coating and is very reliable. It does not contain dangerous materials such as PFOA. Use this pot for easy cooking!
An advanced formula in the history of finishes to find the flavors of a distant time, when the food was the primary creative output created by the combination of water, air, earth and fire. A clever use of heat through the high heat capacity of the metal, the strength of the rock, bring back the gestures of cooking to a renewed relationship with nature.
A ratio of greater authenticity and closeness with the elements that we rediscover not only in taste but also in natural color and tactility in particular the collection: the ability to return to every gesture the pleasant naturalness of a time when men were cooking their food on the stone. REINFORCED WITH MINERAL PARTICLES THAT GUARANTEE:
• Long tool life • Perfect cooking and healthy • Surface-proof non-stick fork • Total resistance in dishwasher • Easy to clean cooking surface • Warranty of intolerances and allergies to heavy metals and nickel. It does not contain PFOA GRANITIUM the result of the research and technology 1 Waterproofing a maximum non-stick 2 3 Double-layer hardening materials, optically visible, for exceptional resistance to scratching, cutting, wear Layer 4 of the intermediate coating to widespread resistance reinforcement structure with a high mineral filler 5 layer coating anchor 6 recycled aluminum body previously treated with controlled roughness 7 External coating to fully cover
---
Package Contents
1 Stew Pot
---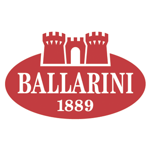 About Ballarini
To us, "Made in Italy" means much more than originating in a place on a map. For over 120 years, we've infused Italian heritage, family values, and local tradition into every piece of Ballarini cookware. We design every product as if it's for our own kitchen—because as far as we're concerned, everyone who cooks with Ballarini is part of our extended family.
Product Reviews
Stew Pot has not been reviewed by the community yet. Be the first to purchase and tell us your opinion.