Zwilling Set of Knives, 3 pcs.
PROFESSIONAL S
Buy New in Singapore
SGD 328.00
Free delivery above SGD 200
Ships from our warehouse in Singapore. All prices for items sold on Nyonya Cooking are inclusive of GST.
---
Specifications
High Carbon Stainless Steel
Made in Germany
The 3-piece knife set from the PROFESSIONAL "S" series offers knives suitable for all ingredients in all textures, whether raw or cooked. The chef's knife, slicing knife and paring knife are flexible for various cutting tasks in the kitchen.
The high quality 3-piece knife set are high-quality knives that can be used for all cutting tasks such as peeling garlic, mincing ginger, cutting fruits or slicing fishes. The short and versatile paring knife works also as a garnishing knife. With the all-purpose chef's knife and sturdy slicing knife, you can do all cutting tasks with ease.
The FRIODUR® blade with exceptional cutting edge retention has been refined through a special ice-hardening process. It impressively combines high quality and corrosion resistance with incredible flexibility. The chef's knife is also a SIGMAFORGE® knife. Forged from only a single piece of steel, it is very durable, hard-wearing and ensures optimum cutting performance.
The plastic handle impresses with its three-rivet design with continuous tang as well as its comfortable handling. Even when used for a long time, the chef's knife remains comfortable to hold. This knife set makes every cutting work look and feel professional.
---
Package Contents
1 Chef's Knife, 1 Slicing Knife, 1 Paring Knife
---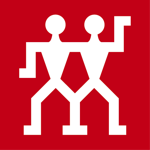 About Zwilling
The Zwilling brand has been synonymous with high-quality products since 1731 and is one of the world's oldest brands. Offering customers the very best kitchen and beauty products has always been Zwilling's passion. Zwilling works together with renowned designers, who share Zwilling's values and visions. The broad-based product range offers products for contemporary home kitchens—from knives and pots to frying pans, flatware and kitchen gadgets.
Product Reviews
Set of Knives, 3 pcs. has not been reviewed by the community yet. Be the first to purchase and tell us your opinion.