Staub Round Cast Iron Cocotte, 14 cm
Cocottes
Buy New in Singapore
No Price Available
Free delivery above SGD 200
Ships from our warehouse in Singapore. All prices for items sold on Nyonya Cooking are inclusive of GST.
---
Staub cocotte creates tasty slow-cooked sauces, baked goods, stews and fried food. Use this mini pot for small cooking tasks or for individual portions. You can also serve dishes in this French-designed pot.
When you need to cook a small portion, this is the size to look out for. Despite known for its cast iron benefits such as developing fork tender dishes, this pot can be used for rice, vegetables, pasta and potatoes. Think claypot chicken rice or curry chicken. Despite its size, it works great to prepare small or individual portions of sauces, stews or baked goods. Deep-frying tasks work extremely well in this cocotte as cast-iron spreads heat evenly throughout the pot.
It is easy to care for this mini cocotte as the special Staub enamel is highly chip resistant and very durable. The enamel coating doubles as an enhancer to the properties of cast iron which retains heat longer compared to other material. Due to the heavy lid and self-basting spikes, food will remain juicy and tender as it cooks. Use it directly on the stove or in the oven. Suitable for all types of hobs such as induction oven or grill.
---
Package Contents
1 Round Cocotte, 1 Lid
---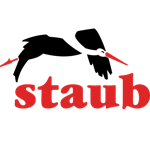 About Staub
Staub gathers people around good food in the kitchen and at the table. Each of our heirloom pieces comes with a story. Born in Alsace, a French region known for its craftsmanship and cuisine, our cast iron cookware bring a taste of authenticity to every meal. Just look for the Staub seal on every product. Our name is our promise to you that you're cooking with the best of France, wherever your kitchen may be.
Product Reviews
Round Cast Iron Cocotte, 14 cm has not been reviewed by the community yet. Be the first to purchase and tell us your opinion.