Staub Rice Cocotte, 16 cm
Special Cocottes
Buy New in Singapore
SGD 328.00
Free delivery above SGD 200
Ships from our warehouse in Singapore. All prices for items sold on Nyonya Cooking are inclusive of GST.
---
This cast-iron cocotte cooks rice perfectly and it doesn't stick to the pot. The size allows stews or soups to be cooked in it. With the special shape inspired by the traditional Japanese Hagama pot, heat and steam are distributed evenly during the cooking process.
This is a beautifully design cast iron pot which is inspired by the traditional Japanese rice pot, Hagama. Cooking rice in this special pot is great as rice always turn out perfect. It also doesn't stick to the material. Cast-iron is able to retain heat longer and it spread evenly throughout the pot. This reduces the time to cook the rice.
Without the strong heat directed to cooking rice, the material also reduces chances of having rice burnt. Besides rice, other dishes such as stew or soups can be made. Since cast iron is rather heavy, the size makes it very convenient to cook and clean. You can too use the same pot to make a fast soup like miso after serving cooked rice. Since it doesn't stick to the pot, cleaning is fast. This cocotte size is suitable for two to three servings of rice. You can add other ingredients such to cook along with the rice to make dishes such as briyani. The pattern of the lid encourages the rain-effect steaming process to cook food evenly.
---
Package Contents
1 Rice Cocotte
---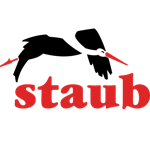 About Staub
Staub gathers people around good food in the kitchen and at the table. Each of our heirloom pieces comes with a story. Born in Alsace, a French region known for its craftsmanship and cuisine, our cast iron cookware bring a taste of authenticity to every meal. Just look for the Staub seal on every product. Our name is our promise to you that you're cooking with the best of France, wherever your kitchen may be.
Product Reviews
Rice Cocotte, 16 cm has not been reviewed by the community yet. Be the first to purchase and tell us your opinion.