Staub Pumpkin Cocotte
Special Cocottes
Buy New in Singapore
SGD 468.00
Free delivery above SGD 200
Ships from our warehouse in Singapore. All prices for items sold on Nyonya Cooking are inclusive of GST.
---
A bold and elegant cinnamon Cocotte in the shape of pumpkin has the benefits of the Staub cast iron pot and can be put on the table to serve right after cooking. Serve your delicious stew, roasted meat or baked dishes in style.
The special pumpkin shape of cocotte is made to be presented at the table. It is visually attractive and has all the benefits of a cast iron, whereby it stores the heat particularly well and releases it slowly. That makes this pot energy efficient. With the capacity of 3.45 litres, a cooks will enjoy cooking a variety of dishes. The height also makes it perfect for braising or stewing. With the heavy lid and a fitting lid, the aroma of the dish stays in the pot and flavour is well preserved.
The pumpkin-shaped Cocotte is also very robust and easy to clean because its interior is matt black enamel. This enamelling simultaneously improves the stewing properties and enhances the natural flavour of meat, vegetables and other ingredients, so that flavours unfold perfectly. For those who want a healtier cooking option, you can cook with very little oil or water. The material do not leach out to the food. If heated up properly, food very almost doesn't stick to the pot despite the lack of oil.
In this Staub Cocotte your dishes will be particularly tasty when you invite family and friends for dinner. It is suitable for any type of cooker, including induction hobs.
---
Package Contents
1 Cocotte, 1 Lid
---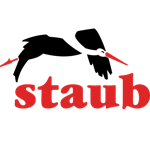 About Staub
Staub gathers people around good food in the kitchen and at the table. Each of our heirloom pieces comes with a story. Born in Alsace, a French region known for its craftsmanship and cuisine, our cast iron cookware bring a taste of authenticity to every meal. Just look for the Staub seal on every product. Our name is our promise to you that you're cooking with the best of France, wherever your kitchen may be.
Product Reviews
Pumpkin Cocotte has not been reviewed by the community yet. Be the first to purchase and tell us your opinion.