Staub Bouillabaisse Pot
Specialities
Buy New in Singapore
SGD 728.00
Free delivery above SGD 200
Ships from our warehouse in Singapore. All prices for items sold on Nyonya Cooking are inclusive of GST.
---
Specifications
A classy and intense dark blue cast iron pot which is made in France. Whether it is for searing, stir-frying, stewing or steaming, this bouillabaisse pot contains delicious flavours within the dish. The antique and modern style makes the pot a great match to any kitchen!
This is a great day-to-day pot as it is not too deep or shallow. The shape of the pot makes it large enough for a stir fry and material of the pot makes it ideal for searing, stir-frying, stewing or even steaming. Just like all Staub's cast iron pots, this bouillabaisse pot is energy efficient. After cooking, set the pot aside with its lid close and food can remain warm for a longer time compared to conventional pots. Not only heat, this pot remains cool for hours if it is chilled or frozen. Best for serving desserts such as ice cream, pudding or sweet soups like pear with snow fungus.
The matt black inner enamelling is ideal for particularly crisp searing. Perfect to creating the golden brown crisp layer on meat while keeping it moist. With a heavy lid, the pot is sealed tightly to retain moisture within the dish. The constant basting process which is encouraged by the unique lid structure produces juice, tender and intense flavours during cooking. For those who want a healtier cooking option, you can cook with very little oil or water. The material do not leach out to the food. If heated up properly, food very almost doesn't stick to the pot despite the lack of oil.
It's the unique antique design of the knob in the shape of a fish makes it even more attractive. Prepare the dish on the stove and move it to the oven without any concerns. In short, this is a very durable pot which is highly chip and scratch resistant.
---
Package Contents
1 Cocotte
---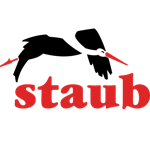 About Staub
Staub gathers people around good food in the kitchen and at the table. Each of our heirloom pieces comes with a story. Born in Alsace, a French region known for its craftsmanship and cuisine, our cast iron cookware bring a taste of authenticity to every meal. Just look for the Staub seal on every product. Our name is our promise to you that you're cooking with the best of France, wherever your kitchen may be.
Product Reviews
Bouillabaisse Pot has not been reviewed by the community yet. Be the first to purchase and tell us your opinion.