Based on 829 ratings Watch Now
Ingredients
A
2

garlic clove(s)
1 tbsp

dark soy sauce
4 cube

red tofu (fermented)
1.5 tbsp

sugar
—

salt
—

water
B
3

Chinese cabbage leaves
3

black fungus/mu-er mushroom(s)
3

shiitake mushroom(s)
25

lily buds (dried)
—

glass noodles
1

carrot(s)
2

dried bean curds sheet(s)
Background
According to Chinese beliefs, eating vegetarian dishes on the first day of Chinese New Year enhances longevity. I looked forward to the vegetarian dish which my grandma never fails to prepare for us when we visit during this festive season. I actually long for it as it tastes exceptionally good besides being a healthy dish. Needless to say, it has become my favourite vegetarian dish.
Since the core taste of this dish comes from the fermented tofu, it is not easily substituted due to its unique taste. Without the fermented tofu, this dish will end up as any other stir-fry dish. Try to get most of the ingredients but it is totally fine if you miss one or two of them. Just a reminder, the shiitake mushrooms have to be soaked in water for at least four hours to ensure it is soft and tender.
Zhai Choy with Fermented Tofu is also known as: 南乳焖斋菜
Steps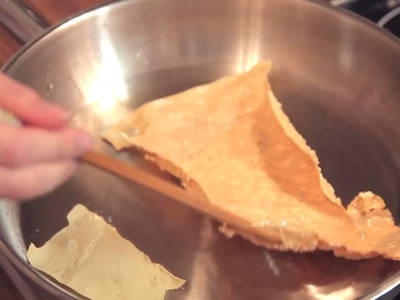 Step 1/4
Fry dried bean curd pieces in oil until golden brown and crispy. Then, soften fried bean curd pieces in a bowl of water.
Step 2/4
With the same pan, pour access oil away and lightly fry chopped garlic until fragrant at low heat. Add fermented tofu (mashed using a fork) to the pan.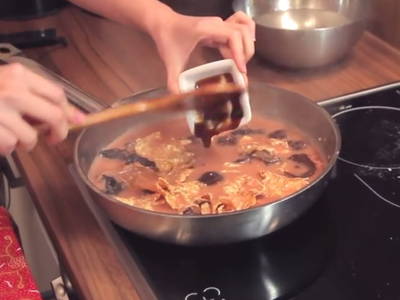 Step 3/4
Add water and allow it to boil. Once gravy boils, add shiitake mushrooms, black fungus, dried lily buds, dried bean curd pieces (broken into smaller pieces) and dark soy sauce. Ensure that gravy must be enough to cover all the ingredients. Otherwise, add more water.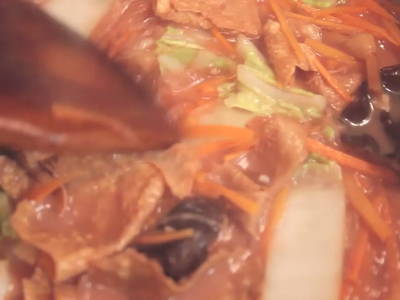 Step 4/4
Once gravy boils again, add carrots, glass noodles and Chinese cabbage. Add sugar to taste. For more saltiness, add salt or another cube of fermented tofu. Let the dish simmer for another 10 minutes or until all ingredients soften.