Mamak
Mamak is the term used for food establishments by the roadside and usually ran by the Indian community, migrated from Southern India. In fact, the word "Mamak" is commonly used to refers to an elderly Indian man. This word is used interchangeably depending on the situation.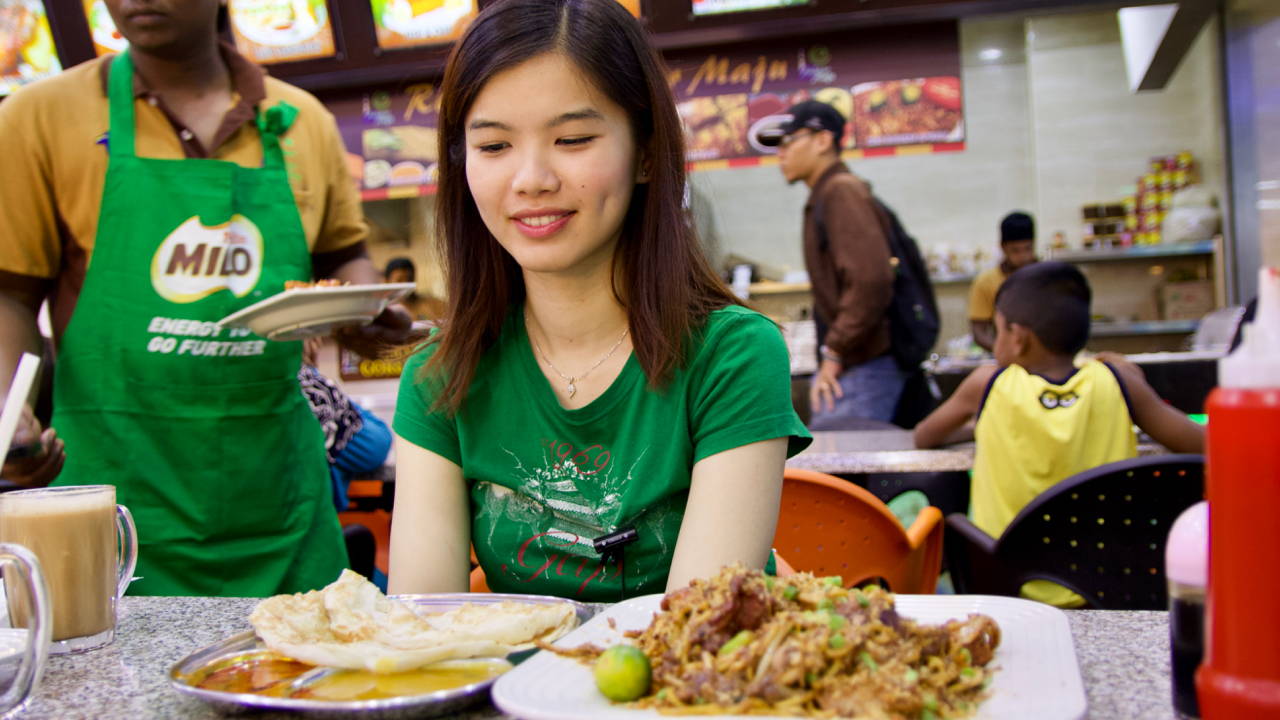 ---
As the Mamak culture grew in popularity, the term is now widely used for stalls or restaurant of a similar set up. Mamak stalls are also run by local Malays. There may be no beef served in Mamak establishments which are managed by Hindus while beef dishes are available if the Mamak establishment is run by Muslims.
Atmosphere
What started out by the roadside eventually evolved into brick and mortar eateries with Wi-Fi and TV. The concept, however, remained whereby food is kept to its authentic recipes, bold flavours and traditional atmosphere. Mamak eateries offer fantastic tasting food.
It is a popular place among Malaysians to catch up with friends. It is also the place to hang out after school, discuss a project or even catch the World Cup live! If you are hungry during the wee hours of the morning, Mamak will be to your rescue as most Mamak eateries open till 1 am and there are some which stay open for 24 hours. Some Mamak eateries will even offer Wi-Fi.
Walking into Mamak feels like being in a relative's home due to their friendliness. Not only that, you may also reach out to the waiters by calling them "A-neh", a term for Elder Brother in Tamil) or "Bang", an abbreviated Malay word for 'Abang' which also means Elder Brother. It really does feel like everyone is family there!
Why Mamak?
Besides being unpretentious and casual, Mamak offers food at great prices. Depending on the location of the Mamak of course, prices can begin from just $0.20 USD! Back in 2012, I was at a Mamak with my family and we paid $6.14 USD for the 5 of us! Certain Mamak eateries which are located in prime areas such as Kuala Lumpur City Centre can cost even more.
The prices are undeniably attractive. What is even more attractive about Mamak is the fact that most of the food is cooked before your eyes. Noodles are fried in a big wok as soon as your order is received. It is also always possible to catch the action of flat bread, known as Roti Canai, tossing to prepare the fluffiest flat bread you have ever eaten or the tallest sweet flat bread (known as Roti Tisu). Whatever it is, you will be there to smell the aroma of the freshly made food!
In larger Mamak establishments, you will also get to choose from a selection of dishes from a buffet table. These dishes are continuously freshly cooked and added to the buffet table. The choices of available curries is already a very good reason to be at a Mamak!
Types of Food in Mamak
Do not be surprised if you are not able to find any menu in a Mamak because you are expected to know your stuff! The dishes available in a Mamak are generally the same across all the eateries. Among the basic dishes and drinks available at all Mamak eateries are:
Roti Canai Biasa/Telur (Plain/with Egg)
Roti Tisu
Roti Rawa
Roti Naan
Nasi Lemak
Mee/Maggi Goreng
Nasi Goreng
Murtabak
Rojak
Thosai
Mamak eateries now tend to be more creative with their dishes and selection of food available to stand out from the others. Some of them offer food that has more Chinese influence such as Chinese-style fried noodles and Western dishes. There are also others who try to be different with their presentation by following the latest trends - think unicorn, think colourful! Check out this colourful Roti Canai. Not my kind, I'd say. I prefer the plain Roti Canai and a cup of delicious Teh Tarik.
Did you enjoy this article?
Tell us your thoughts in the comments section below. If you want to receive new recipe ideas regularly in your inbox, subscribe to our free newsletter!