Glutton Street
Glutton Street is the direct translation of the better-known term, Wai Sik Kai. There is not much of history with regards to this street. It is a concentration of food stalls mainly manned by Chinese stall owners.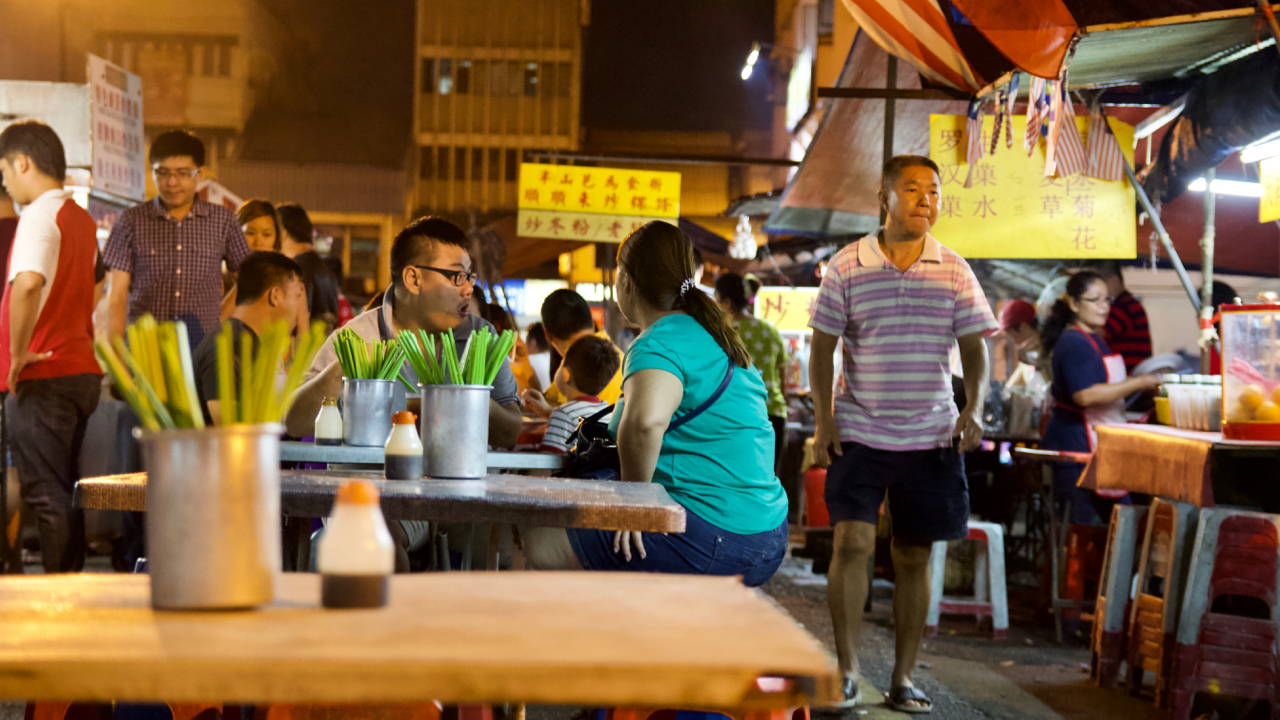 ---
Back in the 19th century, a large Chinese community immigrated to Malaya (now Malaysia) for the tin-mining boom. Many stayed on after that and used their own culinary skillset to make a living by selling food from door to door. Then moved on to settling up stalls by the roadside. My mother, for instance, grew up helping her grandmother sell noodles.
While some stalls may be individually located, some of them eventually gathered in a specific location to benefit from the crowd who is attracted to a wide selection of food available in one place. Each stall sells their own speciality. In certain Glutton Streets which have been there for years such as those at Pudu, Kuala Lumpur and Muar, Johor, the stalls are passed down from one generation to another. Some up to 50 years! Glutton streets usually open daily, though some might have a day off during the week.
Atmosphere
Most Glutton Streets operate from 5 pm until 10 pm. Therefore, the street is always brightly lit with fluorescent lights. You will also hear cooking sounds from every corner. The sizzling sound of crackling pork, sparkles of flames from barbeque skewered meat and the sound of friction as spatula hits the wok, tossing noodles as quickly as possible! Definitely makes one hungry instantly.
Why Glutton Street?
The stalls selling in Glutton Streets have perfected their recipe as they specialize only in one dish with a variety of ingredients for you to choose from. For example, a stall may be selling Char Kuey Teow (stir-fried rice noodles) for years. So, when you are there, you know that you will be served with a good plate of Char Kuey Teow.
Food found in Glutton Streets are typical local specialities and home cooked dishes. That is also why Glutton Street is so popular among the locals especially those who often finish work late. Although frequenting the same Glutton Street daily, you will be able to get different dishes all the time.
Types of Food
Each Glutton Street offers its own specialities. As the stalls are passed down from one generation to another, you can trust the quality of food. For example, the Glutton Street in the heart of Kuala Lumpur is known for its famous grilled chicken (Wong Ah Wah Siew Kai Yik).
It's important to do your research on the types of food you can get at each Glutton Street. The best way is to take a walk along the street before you decide. Though some sellers may pressure you into their stalls, never feel the rush to make your decision. Take your time.
Of course, the most obvious trick is to be where the queue is! Most of the time, stalls with really good food will have a long queue. The locals know best!
Did you enjoy this article?
Tell us your thoughts in the comments section below. If you want to receive new recipe ideas regularly in your inbox, subscribe to our free newsletter!